Vintage 'Retail Experiment' Opens On The Hill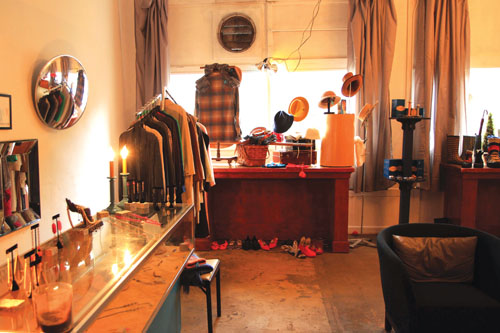 "When did you guys open?" asked one customer as she picked through a rack of quirky, vintage dresses. "You guys came out of nowhere."
"That was the idea," responded Paul Mendes, owner of Style Syndicate 206, without missing a beat.
Style Syndicate 206, on 12th Ave. in the old Capitol Hill Market space, presents a unique twist on the average retail store. Round racks of vintage clothes are scattered throughout the store, chandeliers of different colors hang from the ceiling, and a glass case on the far right of the space displays a collection of Grace Gow jewelry. All this, along with a couple of burning Birch Wood candles and a glittery, bright blue accent wall, creates a unique ambience for Mendes' eclectic shop.
Mendes himself flitted around the store, pricing items and chatting with customers about the origin of the business.
"I have a number of friends who are designers. My neighbor does Moth & Crow clothing, my good friend Cat does Grace Gow jewelry," Mendes said. "After leaving corporate America in May, I was like, 'I have a basement full of furniture that I should probably get rid of.'"
Although Style Syndicate 206 was just launched almost two weeks ago, Mendes is already thinking about the evolution of the store.
"The original business plan of the store was for it to pop up in different places where we can get a short-term lease. We really want it to feel interactive…so the next mission…will involve the feedback we get from this space," Mendes said. "We call it a social and retail experiment."
Mendes hopes to achieve this goal by having more group interaction than a typical store. By utilizing the products of local designers and artists, as well as encouraging customer collaboration with classes and feedback, Mendes expects Style Syndicate 206 to merge the social and material aspects of retail.
Although this idea seems like it was put together in one fluid process, it is actually a combination of Mendes' personal taste and the tastes of his close friends.
"I'm lucky to be surrounded by very talented and interesting people," Mendes said. "We sit there and talk about this stuff all the time. The idea had kind of developed itself before the opportunity was even there."
As Mendes went through the list of products available in the store, it became clear that Style Syndicate 206 is truly a collective venture. The Grace Gow showroom, the jewelry line spearheaded by Mendes' business partner Cat McCadden, will allow McCadden to meet with buyers and create custom jewelry for them. A round table near the front of the store features Kaarskoker, a local designer who makes decorative candle sleeves.
Colleagues and friends gave inspiration to the inventory and décor of the store, but Mendes' individual qualities also appear throughout. The art and some of the furniture for sale are treasures extracted from his basement; the chandeliers were a Do-It-Yourself project that Mendes and a friend created for a birthday party; the glittery blue wall was the result of a 4 a.m. paint session with McCadden.
Mendes's personal touch can be seen in Style Syndicate 206's clothing as well.
"I've always liked vintage and the construction of vintage clothing as opposed to what you get now at Forever 21," Mendes said of his choice in product. "[Forever 21 is] always about hitting quick trends now, while vintage trends are made to last."
In order to increase the level of consumer-employee interaction, Mendes plans to host clinics that will make the store more social. These clinics encourage customers to come in and learn from the local designers that have products in the store. McCadden intends to teach a clinic that focuses on deconstructing ugly jewelry and rebuilding it to create a personal piece. The designer of Moth & Crow will show interested patrons how to make tassels.
"We are talking about having them be more social events, in a setting that's not classroom-like," Mendes said. "You know, wine and cheese, learn how to make a leather tassel."
One of the more unusual clinics offered was inspired by Mendes' grandmother.
"My grandmother was huge on etiquette and now I'm a stickler for manners. We're talking about doing charm courses, etiquette courses. Just fluffy and fun," Mendes said.
The editor may be reached at
[email protected]
Leave a Comment