Rowing Has Strong Showing In First Regatta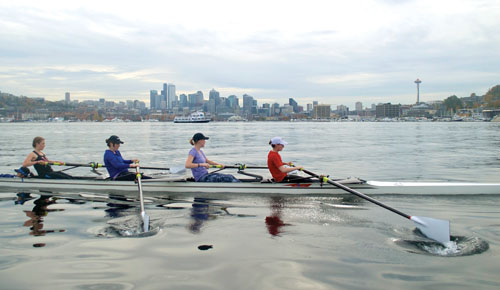 On Sunday, Oct. 28, Seattle University was well represented by the women's rowing team at the Portland Fall Classic. This was not just an ordinary race but also the team's first race as a Division I program. The varsity team got sixth place out of nine and the novice team came in fourth out of 10, with times of 18:52:78 and 20:56:88 respectively.
Junior Darian Borst said this was a great race to "dust off the cobwebs and… a good way to test our endurance since they are
longer distances."
Darian Borst heads the team alongside Hana Wilder, Keara Collins and Katie O'Neill.
"It was a great way to start the season," said Portia McGee, head women's coach and 2008 Olympian.
The women's rowing program was an initiative by the university to ensure more female varsity sports in order to equalize the gender imbalance and thus the program has years of work ahead of it, especially with very competitive adversaries who have more rowing experience.
McGee said they may have lost to some teams in the Fall Classic but adds, "I am sure they can beat Puget Sound… The girls had fun with the goal being to pass somebody."
"You only remember a race if it's bad. You are so tired physically and mentally at the end of a good race that you forget the details," Borst said. "The cheering of our teammates towards the finish line was what motivated our boat to have a strong finish."
Borst also shared the excitement of novice rowers at the races when they saw the results of their hard work and rigorous practices culminate in their fourth place finish.
The team practices six days a week, both on water at the Seattle Rowing Center and on land using rowing machines, where they do a "full training load." When they are not out on the water, they lift weights and erg every Wednesday.
"An erg is a land rowing machine… Our workouts are often grueling and mentally taxing but a great tool to monitor progress," Borst said.
"Rowers are pretty tough," McGee said.
However, this should not deter anyone interested in being a part of the team. McGee described rowing as a unique sport because prior experience is not necessary for excelling in the sport, as proven by the novice team.
"We are always looking for athletes who are interested," McGee said.
The editor may be reached at [email protected]
Leave a Comment