Cafe Pettirosso Gets A Makeover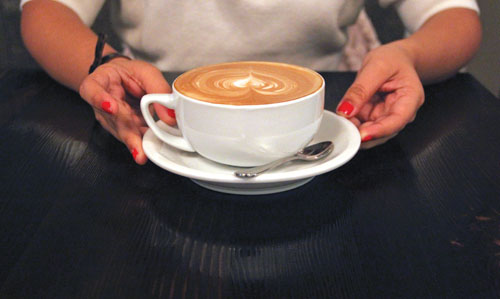 Even though Café Pettirosso just opened its doors, it has already withstood the test of time.
The café saw humble beginnings as Capitol Hill's first coffee cart. For perspective, when Pettirosso opened, Value Village was still REI. After a number of years as a coffee cart, Pettirosso moved into its current space on 11th Ave. and Pike Street.
Former owner Robin Wright chose to retire about a year ago and it seemed that Pettirosso might close. Then sisters Miki and Yuki Sodos came to the rescue.
Yuki worked for Wright for six years managing the old Pettirosso, and the sisters, who hail from New Mexico, also own the Southwest-inspired Bang Bang Café in Belltown.
"If sisters/owners Miki and Yuki Sodos can't put you in a good mood for the day, nothing will," said The Stranger in its review of Bang Bang Café.
"There's no one that I'd rather have continue this," said Wright, who is happy to see the café live on.
"Nobody wanted to see it disappear," said Miki. "I see a lot of the old regulars coming back."
The sisters infuse Pettirosso, formerly described by The Stranger as "cute," with a bit of hard-rock sensibility. Both are young and tattooed, and Miki is the guitarist for popular Seattle band Absolute Monarchs.
After a year of renovations, Pettirosso is now open and all grown up: it features an expanded seating area and a full wait staff, as well as a bar that stays open until 2 a.m.
It was important to the Sodos to maintain the integrity of the early 20th century building that houses Pettirosso.
"We really just kind of worked with the building to see how we could best fit the vibe of the building. I hate it when new businesses go into an old building and ruin it," Miki said.
Wright is happy with the changes.
"I love [the remodel]," said Wright. "I think they did nothing wrong, it's just great."
The old Pettirosso was renowned for its sandwiches: The Stranger's Megan Seling called their caprese "one of the best sandwiches I've ever put in my mouth." Therefore, it felt criminal to visit Pettirosso and not give one of their breakfast bagels a try. I went for a whole wheat bagel with house cured salmon, dilled cream cheese, pickled red onion, and fried capers. I braced myself for the worst, suspecting that two Seattle restaurateurs from the Southwest couldn't possibly do this New York staple justice.
I'm pleased to say I was wrong. The bagel was a deliciously Northwestern take on bagels and lox—dare I say, it even improved on the classic. The pickled onions and capers provided the perfect level of acidity to cut through the cream cheese and salmon, which can often become one-note and tedious on a gigantic, bland bagel.
Though bagels are a Pettirosso classic, it would be a mistake to bypass the rest of the menu. The breakfast portion offers a selection of "little things," including a red potato hash, grapefruit brulee and fresh fruit with olive oil and mint.
Their breakfast plates include a sinful-sounding winter squash, ricotta and hazelnut brioche French toast. The coffee eclipsed Caffé Vita's overly roasted brew and I could easily see it becoming my go-to coffee—a strong statement coming from a Seattle native and coffee addict.
They also offer vegan macaroni and cheese and two soba noodle dishes.
"It was an Italian café before, and we wanted to broaden the scope and incorporate some vegan options," Miki said. "We wanted a European-style café. I went to Paris a long, long time ago and you could get an espresso, or a bourbon, or whatever you wanted at any time during the day… It was more of a community feel. We're trying to get as close to that as we can."
When I went on opening day, service was understandably hectic and slow. However, Pettirosso has quickly overcome the pains of being a newly opened restaurant, and seemed to be running much more smoothly when I returned a few days later.
"It's going a lot better than I expected," said Yuki. "We haven't even advertised at all."
Despite its numerous successes, Wright is overjoyed about one aspect of the new Pettirosso above all else.
"The thing that I love most about it is that I don't own it," laughed Wright. "And you can quote me."
Caroline may be reached at
[email protected]
Leave a Comment