Not Your Grandfather's Moto Community
Traditionally the motorcycling world has been a male-dominated space. However, in recent years, different organizations and individuals have worked on making the community more inclusive. The history surrounding motorcycle culture has turned many people off from it and made it unapproachable, especially for women. 
Despite the ugly history, all available evidence indicates that women are currently the fastest growing demographic in motorcycling. At the forefront of the wave are organizations like The Litas, Motolady and others, which work to break down barriers and establish female role models. 
Kim Okabe is the global community director for The Litas, a women's motorcycle collective. The Litas are an organization that has over 400 branches in 34 countries entirely comprised of female riders. In her role, Okabe makes sure that all the different segments are running well and in line with The Litas' overall ideals of "empowering womxn to raise a little hell and RIDE"
"Essentially, we just want to get people together and have them meet more people on their level," Okabe said. "I think that's the most important thing. When it comes to riding, community is the most important aspect."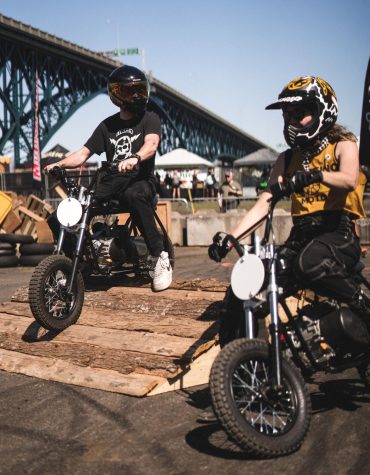 April 28 through 30 was The One Motorcycle Show in Portland, Oregon. The show brought in 300 custom motorcycles, multiple demonstrations, dozens of vendors and over 20,000 attendees. During the event, The Litas held new rider introductions and meet and greets to connect and encourage female riders while showing how fulfilling a motorcycle can be. 
The Litas were not the only female-focused organization at the event, however. There was also representation from several others, including Motolady. Motolady was started back in 2011 by Alicia Elfving as a blog on Tumblr. She took her love of journalism, photography and storytelling and used it to share the stories of women motorcycle riders. 
With her blog, she researched where photos of female riders came from to find a community of female riders, eventually, she made that community herself. The popularity of her blog took off, and soon, the Motolady brand was in full swing, becoming a hub for the custom, weird, choppers side of the female motorcycle community. 
"There were few resources for women in motorcycling at the time," Elfving said. "And they were pretty traditional, biker style, big Harleys, road glides and that sort of thing, which is a legitimate and awesome part of motorcycling, but it's just a sliver."
Motolady isn't Elfving's only contribution to the community. Elfving also founded the Women's Moto Show in California, which is entirely composed of bikes built by women builders and mechanics. 
Some generational values are still fading out. Despite changes that have been made over the years, a lot of motorcycle clubs still don't allow women. However, these days people are less surprised to see things like a women's motorcycle show existing or motorcycle clubs led by women, according to Elfving. 
"People are still pretty surprised to hear that I built my Ducati," Elfving said. "But that's changing too. People are way less shook by the fact that it's my bike. I hear, 'Oh, is that your boyfriend's bike?' a whole lot less."
With larger shows like The One Moto, changes can also be seen.With 300 motorcycles present, around 10% were built by women. The show was capped off with an award presentation for all the different categories of motorcycle builds and helmet art. One award winner was Nicole Andrijaukas, a painter and artist who won the category for the best motorcycle built by a woman.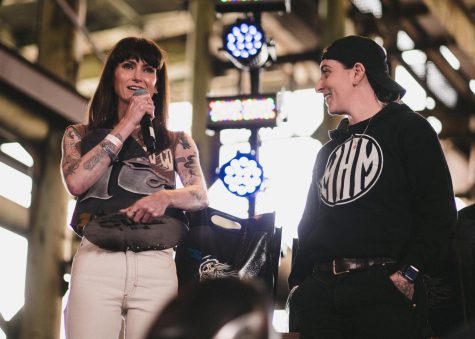 "There's a lot of us. There's more and more women that ride every year," Andrijauskas said.  "And we're just as capable as men at building bikes and getting creative. Plus we do it in a way that is something to be proud of." 
One club, the Twist and Play Scooter Club out of Portland, has been working to make the environment they create as inclusive a space as possible. Their Vice President Amber Paige encourages women to come out to events, rides and meet-ups even if they are not affiliated with a club or organization. 
"As a member of the LGBTQ community, I was guarded when I first started hanging around," Paige said. "I quickly realized how many other queer people there are in this scene and how many other women there are. We are welcomed, and it is not a scene that takes very kindly to bigotry."
According to both Elfving and Paige, women riders are there to support each other. The environment is not combative, and connections form quickly between new motorcyclists and veterans. Elfving spoke about how women can feel more comfortable if they have someone else bring them into the community. 
"In this day and age, I think everybody just longs for a sense of connection," Okabe said. "I know it's intimidating to walk into a room of women that you don't know, but just take the plunge if you can. We're all super friendly, super welcoming and we just wanna see new faces and meet new people and make motorcycling as easy as possible."
View Comments(1)