Coffee and Competition Creates Community
Anchorhead Coffee Company, Seattle University's neighbor and a frequent haunt for many Seattle U students, held a latte art competition, otherwise referred to as a Thursday night throw-down. This event saw 32 competitors from all over the country gunning for their shot at victory. 
"Latte art throw-downs are a big tradition in coffee culture," Ross Beamish, sales manager at Anchorhead, said. "I've worked in specialty coffee for 20 years now, and competitive latte art has really transformed into a really big deal in that time." 
Including the competitors, the event had around 100 people in attendance. This group was composed mostly of Seattle U students, customers of Anchorhead and attendees of Coffee Fest PNW, a large-scale event happening in Seattle this past week. 
"We've had throw-downs in the past, when we've opened new locations," Beamish said before the event. "This one will be pretty big because there's a lot of people in town specifically to compete in latte art. They had the first day of competition at the festival today and a lot of those people will probably come to this event to try to win some cash."
Throw-downs at Anchorhead are just as much about the competition as they are about creating a community. These events bring  individuals together in and out of the field of coffee in a space that helps them grow and connect with each other. 
"This is my third time competing at an Anchorhead throw down," Kyle Dols, a barista at QEDCoffee said. "I discovered the throw-down scene and it exploded my professional career. I started making friends in the business, who then helped transport my career."
Because of events like this throw-down, Dols' career went places he never would have thought of before. 
"These past ten years have been the best of my life," Dols said. "I found a community, I found ways to expand myself professionally, I got a job working with Mavam Espresso, making espresso machines. Through latte art I was able to find a different profession in machine manufacturing and get on board of this startup."
The thrown-down took advantage of the coffee industry professionals coming from out of town by having Coffee Fest judges judge the event. 
"People who are very invested in latte art have their discipline," Chris Deferio, head judge of the Coffee Fest World Latte Art Championship Open, said. "That discipline has a ripple effect, into other areas of competitors' professional lives. Disciplining themselves to improve in one area makes it easier for them to improve in other areas."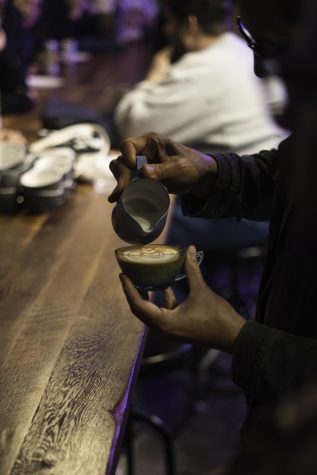 When a judge assesses latte art in a competition, they look for a few things. First is whether the design is in the center of the cup. Then it is checked for symmetry, if the design is evenly spaced and a mirror image on each side. Finally, the milk density is observed to see whether the milk is firm enough to create a clean design.
"The best part of judging these competitions is seeing everybody support and encourage each other," Deferio said. "Every time it's very powerful to see the community that is involved in competition."
This is the first throw-down Anchorhead has had at the Capitol Hill location due to it being opened in the middle of the COVID-19 pandemic. When it came to opening a cafe in this location, it wasn't a question Beamish and owner Jake Paulson had to think long about. The space lent itself to having an in-house bakery and enough space to hold events like the throw-down, as well as its close proximity to Seattle U all lent themselves to making the space what it is. 
"This has been such a cool spot for the community," Beamish said. "I think because it's private enough for the college kids to have a place where they can hang. We get rushes of students in the morning and I think it's awesome that they start their day here."
In the future, Anchorhead is hoping to host more events at the Capitol Hill location including educational events and classes for those interested in learning more about coffee tasting, latte art and other aspects of the industry.
Leave a Comment