Fall Quarter kicks off the year with a jam-packed calendar of campus events to ease students in to the Redhawk spirit. From student involvement fairs to a newly rebranded and revamped Homecoming Week, the year's opening 10 weeks are met with an exciting array of activities. The most recognizable fall event is a ball, and not the men's basketball Homecoming game in Kent, Washington, but a different kind of ball: Fall Ball.
Seattle University's annual semi-formal dance is a signature event run by Student Events and Activities Council (SEAC).
"It's a huge tradition that students really enjoy," Junior Siena Miller, executive director of SEAC, said. "It creates a lot of school pride."
---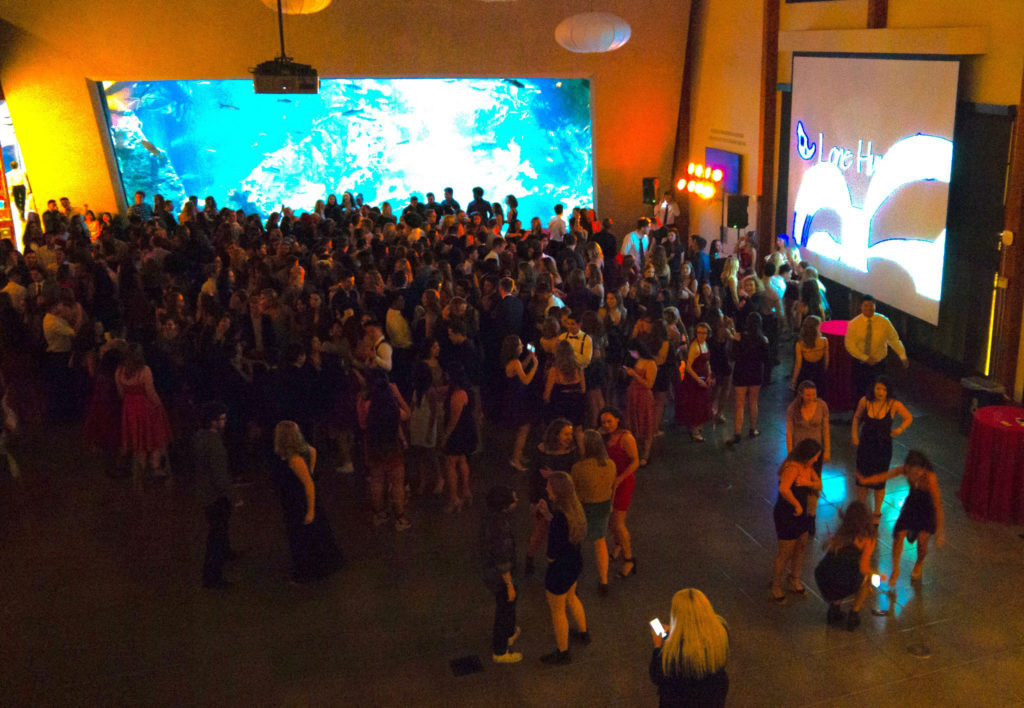 The 2018 Fall Ball, hosted at the Seattle Aquarium, was a night of dancing, music, and views of the ferris wheel and Puget Sound.
---
SEAC designates a chairperson for their larger, annual events. Junior Julia Davis headed up this year's Fall Ball planning as the Fall Ball Chair. SEAC chairs document their past events to help all the current chairs plan their events, which is standard for most student-run organizations. Legacy documents were at Davis' disposal to bring the event together.
"The first step is contacting the different vendors to try and get estimates and try to understand why they would be a good fit for the event," Davis said.
The chair looks for venues that are in the budget and have a good relationship with the university.
"Also, [we look for venues] that are able to respect the Seattle U pillars of how Seattle U conducts with other venues, and that they'll be reliable," Davis said. "I am grateful that we are allowed back at the Aquarium this year."
Fall Ball has been at prominent Seattle venues, such as Benaroya Hall, Seattle Art Museum, and the Museum of Pop Culture, which was the venue two years ago. Davis confirmed that she heard Fall Ball is not allowed at the Museum of Pop Culture, although the cause is undetermined.
"Fall Ball last year was super successful at the Aquarium and we wanted to go back. I think we also signed a two year contract with them, so we were there for two years," Miller said.
This year, Davis has been busy with the planning process and excited to see it all come together.
"Feeding off of everyone's energy has been really helpful, especially with everyone in midterms and with other stuff going on, it can be really hard to remember how excited I was at the beginning of the year," Davis said.
Excitement for the venue is shared by Clare Beymer, a junior biology major and exhibit interpreter at the Aquarium. Beymer has been a volunteer for a year, and enjoys the opportunity to combine her passions for science and working with children. Although some of her favorite memories are working dissections for kids, she believes the Aquarium has something for everyone.
"We have guests of all ages and from all over the place visit, especially in the summer. We have these cruise ships that come into town, like every other week we have people from Australia, from London, from India, and Japan," Beymer said. "On the weekends, we have a lot of college students and people from Seattle U, obviously, and even adults on dates."
The Aquarium offers the option for people that may have more fun with starfish and sea otters to enjoy the tanks and tide pools, instead of being limited to the standard activities on the dance floor.
"Almost everyone I talk to and have a real conversation with there tells me I have the coolest job in the world… and that they want to hang out there all day," Beymer said.
When college students attend the Aquarium for a dance, however, extra precautions are taken by SEAC to ensure a safe and enjoyable time for all students.
"Fall Ball is for the students, which is what SEAC aims to do in all our events, to make sure that they are enjoying them and feel safe at them, so it is successful for everyone," Davis said. "We do have to take extra precautions for the Fall Ball event to make sure people are safe…and also aren't destructive of the aquarium, so it's a good event for everyone."
SEAC had extra security at the entrance—Seattle U Staff, SEAC workers and volunteers, venue security, and extra hired security were present at the event. Pat down and bag checks were conducted upon entrance. Workers float around the venue during the event in case a student is in need of extra assistance.
"The intention with having that many people in a space is that it has to feel safe and secure," Miller said.
Jacqueline may be reached at
[email protected]