Students Open Late Night Snack Company
Unfortunately, I have spent many late hours in the second floor computer lab of Seattle University Lemieux Library. In a fog of studies, I have experienced nights where, between the midterm essay deadlines, upcoming exam and the daily trivialities of UCOR assignments, there really is not time to t in food beyond a gourmet assortment of Whatever Happens To Be Within Arm's Reach And Roughly Not Expired.
For this reason, I was interested to see if new snack delivery company Three Bites would bridge the gap between Seattle U students and a lack of low-effort late night snacks.
Three Bites was started by a duo of Seattle U students, who felt that there is a void to be filled in terms of nighttime food options for Seattle U students. They were compelled to create this company by their experiences of making food in the Seattle U dorm rooms.
"[I want] other people to have the same experiences, and better food," Co-founder of Three Bites Jerry Wei said.
The Three Bites team spent this past summer developing their idea. The duo wanted to fill a niche for Korean food in the area, so the food has roots in Korean cuisine.
Three Bites seeks to satisfy Seattle University students' late night cravings for food by delivering meals "straight to Seattle University dorm rooms." They are open 7 p.m. through 9:30 p.m., Monday through Friday, and during that time Three Bites will deliver meals for a $1 fee.
First of all, is 7 p.m. to 9:30 p.m. late night? I do not know and do not want to ask anyone to work the graveyard shift, but is that time slot a niche that needs filling for Seattle U students? Maybe I am exposing myself as an night owl of the worst regard, but 9:30 p.m. is just about when peak activity hours start.
On their opening night I ordered ddukbokki skewers, pop chicken, a tuna mayo rice triangle and pomegranate tea. In total it cost $18.80. They committed to delivery in twenty-five minutes, and they did only charge a one dollar delivery fee.
A little past the twenty-five minute mark, the delivery arrived. At Seattle U, straight-to-dorm-room deliveries are not exactly possible so I did have to leave my dorm to get the food. I scuttled back up to my dorm to devour this paper-bag feast.
---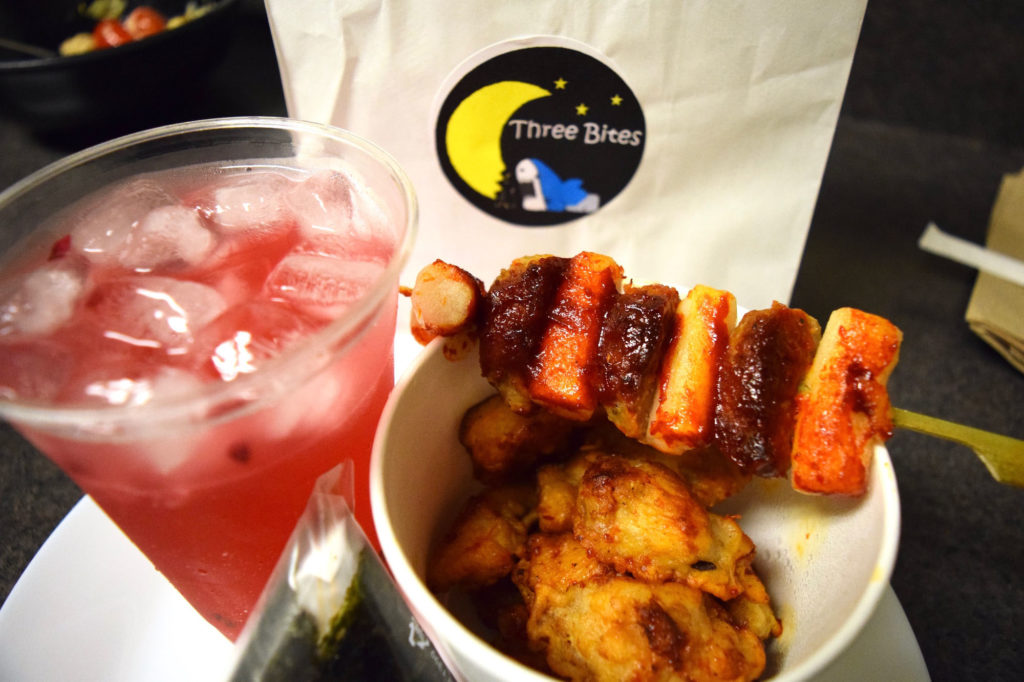 Started by SU students, Three Bites delivers to satisfy your late-night cravings with Korean tidbits, such as Ddukbokki skewers, pop chicken, and pomegranate tea.
---
The ddukbokki skewers, which I tore into first, had a light spicy glaze that balanced well with the rice cake and sausage. Though tasty, I found myself wishing some of the pieces had a more liberal coating of the glaze. The combination of sausage and rice cake, I admit, were something I had not tried before. To the unpracticed palate, Three Bites provided a good introduction to ddukbokki. I enjoyed this little dish for the entertaining mouthfeel and the pleasant spice and would recommend it for those reasons.
I was really interested in the pop chicken, which looked and sounded delicious on their website and the first thing I put in my cart. I found that these snacks were tasty, but not perfect. The seasoning was delicious, adding a snap of spice that could be augmented with the mainstay spicy condiment of your choice. The coating, however, was inconsistent and at some points falling off the chicken. Still, the small pieces were ideal for study- snacking double-tasking and I would not discount them just based on the coating.
The rice triangle was a high point of their culinary experience. I tried the classic tuna mayo filling, which Three Bites adds onions to "for extra crunch and flavor." I liked this because I thought the handheld delivery device of this snack was most reasonable for those late nights where dexterity has gone out the window, and the rice- to- filling ratio was on point. At three dollars, this snack is definitely worth going back to try the other flavors.
I was excited to follow all of this snacking with their pomegranate tea, which is described as "full of flavor and antioxidants" on their website. Presentation-wise, it was cute and pink and worth taking a snap of for my Instagram story, but it was so sweet I was not able to drink more than a few sips.
On living up to their mission of satisfying late night cravings for food by delivering delicious meals to your dorm room, they got delicious down, as well as late night if this is indeed your definition of late night. Three Bites was a reasonable option for late night snacks, in price and in quality. As a Seattle U student-run company serving Seattle U students, it will be interesting to monitor their success as a new food service company.
The editor may be reached at
[email protected]