Pink hats and picket signs flooded the streets of Capitol Hill last Saturday for the second annual Women's March. The first one, which happened last year after Donald Trump was inaugurated, was the biggest single-day protest in U.S. history. An estimated 5 million people around the world participated. The movement's endurance to reoccur one year later demonstrates the strength and resolve of American citizens across the country.
From Los Angeles to Austin to Washington D.C., thousands of protestors congregated in cities and towns across the country and the world. There has been significant growth in the movement since last year, even in Seattle.
This year the march began in Cal Anderson Park, whereas last year it started in Judkins Park. Several protesters on Saturday commented on the vast improvement of this location change, as last year was said to be much more crowded. The protesters gathered at 10 a.m., began marching around 11:30 a.m. and ended around 3 p.m. at the Seattle Center near the Space Needle.
---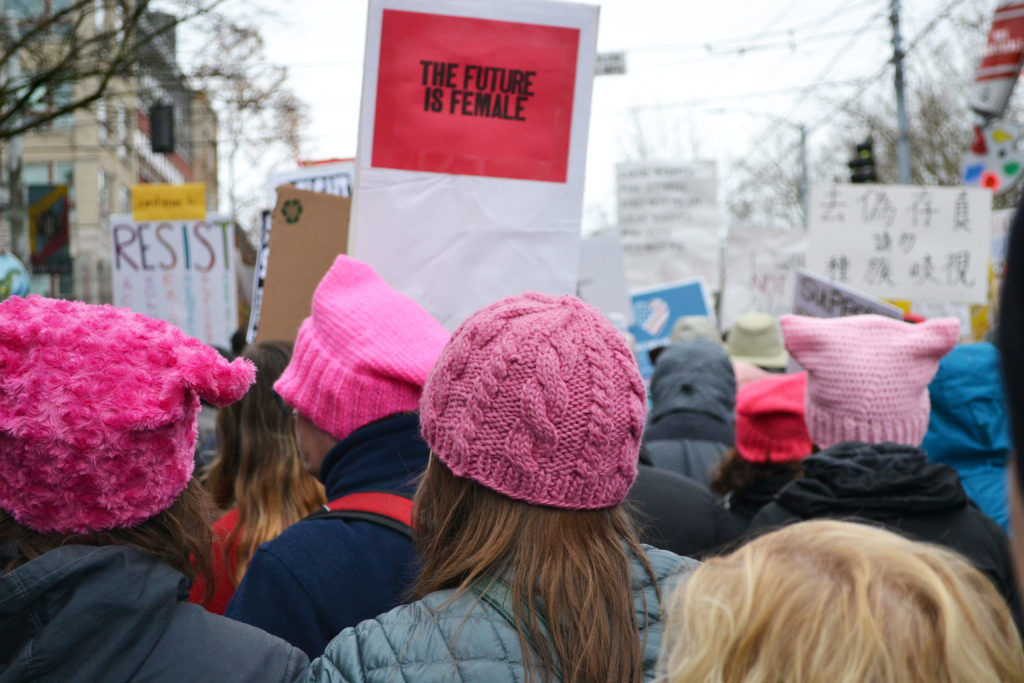 Thousands upon thousands of people crowded the streets on January 20, 2018 for Seattle's Women's March 2.0.
---
The Rosen family, all of whom attended the event last year as well, commented on the changes from last years march.
"It is much bigger than I expected," Annie Rosen said. "The organization is better, it seems more focused this year."
Josh Rosen stood next to Annie holding a blue poster with a yellow equal sign on it. Little Beau Rosen sat on his shoulders looking with wide eyes at the enormous crowd around him.
Annie Rosen also commented on what she thinks should be the specific goals to achieve through this years march.
"It brings these issues to everybody's consciousness," she said. "The status quo in the White House right now is not okay. The Democratic leadership needs to develop a strong narrative."
The Seattle March was led by the Missing and Murdered Indigenous Women Washington organization (MMIW), which focuses on raising awareness of an overlooked injustice that has occurred throughout U.S. history.
"For 250 years, indigenous women have been being raped and abused. Women go missing all of the time and it never gets reported on in the news the way that it would if it was a caucasian woman," MMIW member Nancy Shippentower said. "We have lives too. Our children matter, our lives matter just as much as anyone else's."
This violence is widespread in Canada and the U.S., affecting the First Nations, Inuit, Metis and other Native American people.
Seattle was not the only Women's March this year that was led by indigenous women. People at the march in Seattle and in many cities across the country wore red to express solidarity with the MMIW movement. The color red has long been a symbol in Canada of missing and murdered indigenous women.
Sarah Stewart attended the march and discussed the issue in further depth.
"Many of the cases of indigenous women who die are either not reported or misclassified as suicide despite clear evidence that it was not so," Stewart said.
Stewart was carrying a large poster with specific statistics about the numbers of indigenous women who have gone missing or been killed. She has been aware of the issue for a long time and came to the march this year with First Nation friends who came down from Canada to join the Seattle protest.
With the MMIW organization leading the protest through the Seattle streets, this years march showed significant growth from last years march, which was criticized for lacking intersectionality and focusing mostly on the issues of white women.
---
---
The Women's March has taken many steps to make the movement more inclusive to people of all sexualities and ethnicities.
EMPOWER is an initiative of the Women's March Youth to spread the Unity Principles to high school and college age people, giving them tools to collaborate with other young people and make positive impacts on their communities.
The march organizers and Conde Nast collaborated on a book called "Together We Rise" which details the original Women's March and the effect it had on our culture over the past year. This book was just published on Jan. 16 in celebration of the second march.
These same women who have been organizing these events and the Women's Convention last year in Detroit, pushed a new agenda this year called "Power To The Polls." is mobilization towards voter registration took place on Jan. 21 in Las Vegas, but signs popped up nationwide that represented this push to vote in this year's midterm elections.
One common sign that recurred across the country was "Grab Him By The Midterms," a pointed remark stating exactly what the goals were of this years march.
Other signs at the march included "The rise of women is the rise of the nation" and "Look back, march forward."
People in Seattle held signs regarding many different ethnicities, sexualities, and social issues in general. There were signs for The Blackfeet Nation, The Socialist Alternative, Black Lives Matter, Defend DACA and then many straightforward anti-Trump signs.
Because of this spark, women around the world have found the strength and courage to tell their stories and uplift one another during all of this. Movements like #MeToo and #TimesUp have come from groups of women coming together and feeling safe about sharing their stories of sexual abuse from men and realizing that they no longer wanted to let that stand by for anyone.
---
The #MeToo Movement is one in which emboldens people from all over the world to speak out about sexual assault and harassment. |
---
Marches and social media movements are not necessarily the only ways to enact real change and cause a ripple effect; much has already been accomplished by women right here on campus.
Seattle U received an ADVANCE Institutional Transformation grant from the National Science Foundation in 2016, which is significant for a mission-driven comprehensive liberal arts university, as this grant is typically awarded to larger research institutions. Grants vary in amount, though most are typically over $1 million, and focus on institutional imbalance among women and underrepresented minority faculty in STEM fields and social sciences.
The Seattle U ADVANCE team is investigating how faculty members of different genders at Seattle U do different kinds of work, and how this disproportionately affects the number of men who are promoted to tenured faculty compared to women.
The basis for research is that women faculty at Seattle U tend to do more institutional service and leadership work, whereas men complete more research-based work. The problem lies in that research work is often the basis for promotion, thus affecting the number of women faculty who are promoted to tenured positions.
Jodi O'Brien, professor of sociology and the principle investigator of SU ADVANCE, said that over the next three years, SU ADVANCE will look for ways for the university to better take advantage of and recognize the contributions that women make at the university.
"Most universities, but this university in particular, has a lot of incredibly talented, skilled women faculty [members] who bring very unique contributions," O'Brien said. "We will be better as a university when we find ways to really engage those women and their talents, rather than sidelining their voices or asking them to do activities that don't necessarily reflect their talents."
---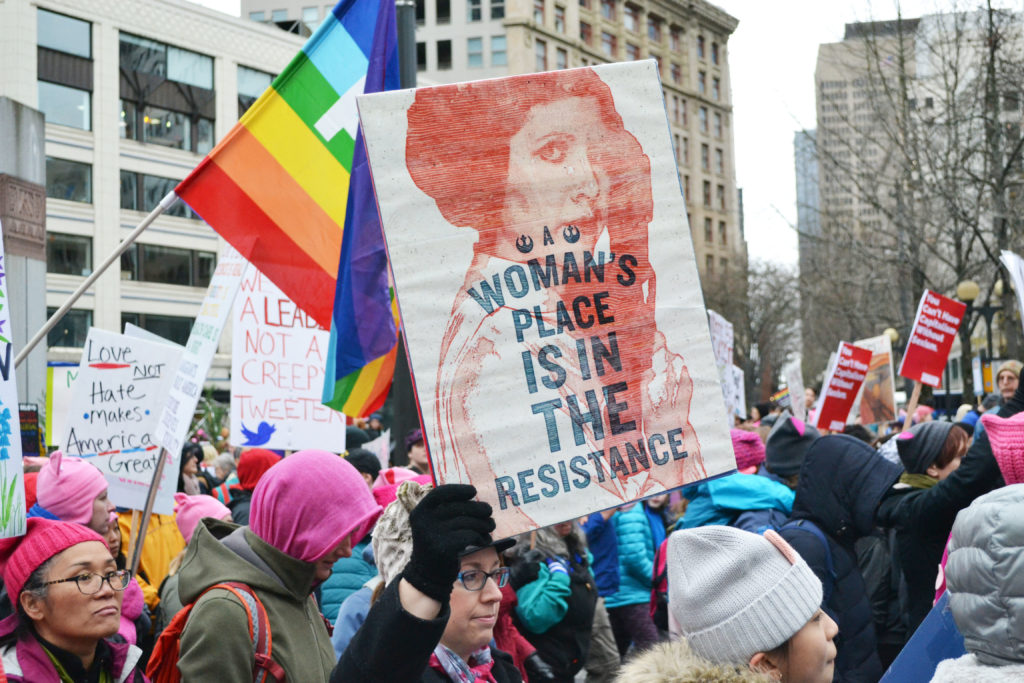 Thousands upon thousands of people crowded the streets on January 20, 2018 for Seattle's Women's March 2.0
---
The Women and Gender Studies Program Director, Theresa Earenfight, also said that this year marks the 25th anniversary of the implementation of the Women and Gender Studies minor at Seattle U, and there are plans to celebrate all the amazing women on campus.
"In 1992, there were brave, tough women who had to break down a lot of barriers just to get the minor approved," Earenfight said. "These women demanded a university curriculum that was not only including women but placing the lives and experiences of women at the center of study."
Earenfight spoke highly of former students of hers who went on to grad school, medical school and law school, or successfully involved in politics, technology, business and the military.
"These women are not just empowered to make their own lives richer and more fulfilling, they paved a way for a new generation and continue to mentor younger women to do their best work and live their lives to the fullest," Earenfight said.
Earenfight attended the march this past weekend and stated how amazing and awe-inspiring it was to be there.
"It was cold, wet, we all stood around a long time and marched slowly, but what a powerful action it was. This is what empowerment looks like."
Frances Divinagracia and Anna Kaplan contributed reporting to this story.
The editor may be reached at
[email protected]