Known for uniting the Capitol Hill neighborhood by producing original works written by local playwrights, the Eclectic Theater closed its doors for the final time on Oct. 31.
Located on 1214 10th Ave., across the street from Seattle University's campus, the professional theater company hosted standup comics, improv troupes, films and more.
---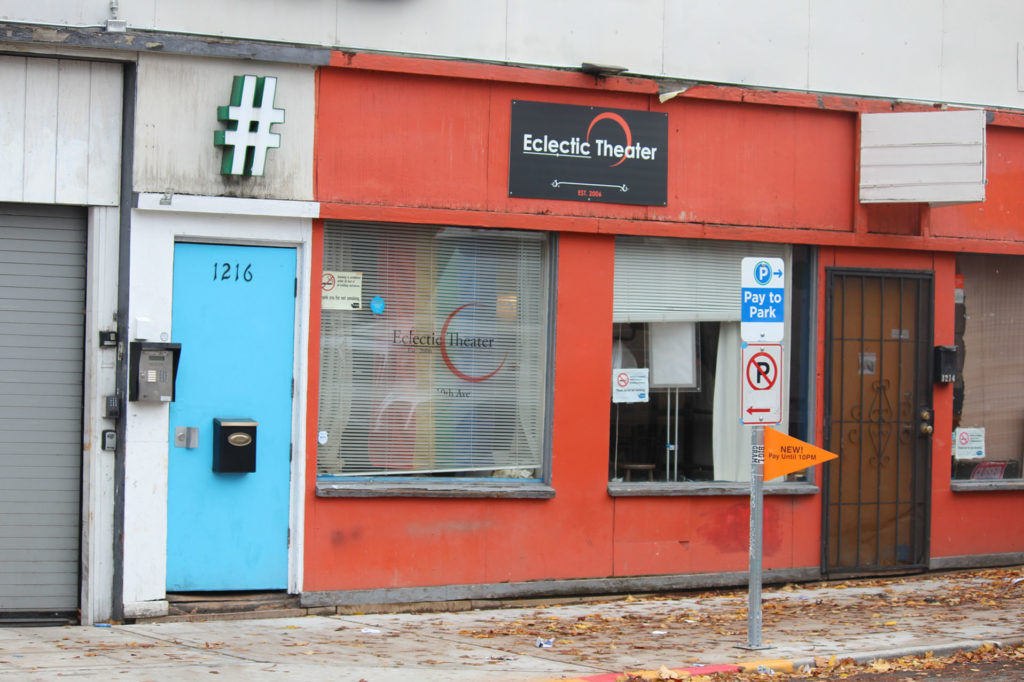 "We are sad to see Eclectic Theater close down because of high rents.  Eclectic Theatre was part of the community spirit of Capitol Hill. Whether you were a producer, actor, or audience member, Eclectic Theatre was part of the social fabric of Seattle," Allen said.
---
The beginnings of Eclectic Theater began with founder Rik Deskin's "Green Theater Project" while he was a junior at Cornish College of the Arts. It then grew to become Green Theatre Productions, which produced eco-friendly productions in Kirkland, Bellevue, Seattle and Auburn.
"In 2006, we took over The Eclectic Theater space, which at the time was called the 'Odd Duck Studio', Deskin said. "My wife thought we should rename the company Eclectic Theater and I thought it sounded cool so we went with that and we renamed the space to go with the company."
Blood Squad, a group of veteran improvisers that act out various subgenres of horror films based on titles given by the audience, were frequent performers at Eclectic Theater.
"Our early shows were at different theaters and comedy stages around Seattle," Blood Squad member Elicia Wickstead said. "After seeing one of our shows, an audience member with ties to Eclectic suggested that we should check the place out. We met Rik and started producing shows at Eclectic shortly thereafter."
Wickstead said that Eclectic Theater was the right fit for the group because it was small and affordable, and also helped them grow an audience.
"As with most groups, we started with small crowds but word-of-mouth spread, our audience grew and we started getting good reviews," Wickstead said. "We will be forever grateful to Rik for the opportunity to play at Eclectic and for the care and support he gave our shows. It was a very important part of our growth as a group."
Eclectic Theater served as a venue for many smaller companies and acts that did not have their own spaces. Hari Kondabolu, a standup comedian, was able to test new material for his comedy shows at Eclectic Theater.
Deskin is also the President of the Screen Actors Guild‐American Federation of Television and Radio Artists (SAG-AFTRA), a union for actors, broadcast journalists, dancers, DJs, singers and other media professionals in Seattle.
At Eclectic Theater, SAG-AFTRA members could attend some of the performances for free admission.
"Rik wanted to make sure that union members, specifically Equity and SAG-AFTRA members, could attend the theatre for free," Executive Director of SAG-AFTRA Seattle Local Shellea Allen said. "As far as I'm aware, no one was ever turned away because of funds. That's the kind of guy Rik is."
Though the theater provided great opportunities for up and coming Seattle performers, the company faced obstacles developing an audience for the new works.
"When working with theater artists at various levels, they don't typically know how to market themselves, which is a variable involved with trying to sell tickets to people," Deskin said.
With the rising cost of rent on Capitol Hill, the company struggled to keep up with the rent of the venue. Deskin said that fans of Eclectic Theater should not lose hope because the company plans to open a new venue next year.
"We only closed the venue, but the theater is still alive. We've got plans to produce a show next year. This past year we became behind on rent we had the list until Oct. 31 and we got help from one of our board members to catch us up and give us a clean slate" Deskin said.
The theater company is seeking to secure November and December slots for next year at 12th Avenue Arts if they can raise enough money. They are only going to produce shows when they can afford the venue and pay equity wages to the actors and crew. People can donate to the theater through the "Click to Pledge" button on their website.
Though the Eclectic Theater Company will live on, the happiness, laughter and cheer it brought to audiences at its 10th Ave. venue will be missed by the Capitol Hill community.
The editor may be reached at
[email protected]