"Art to Read" Showcases Complexity in Books and Comics
Intricate drawings, abstract art, and rhythmic music filled the Seattle Center for the Short Run Comix and Art Festival on Saturday, Nov. 4.
The Short Run Comix and Art Festival showcased artists that created work imagining books in obscure ways through art and comics. Artists reimagined books through installation pieces, hand-drawn comics and sketches. Some of the artists chose to draw comics large scale on styrofoam or used hand-cut paper technique and ceramic tiles.
The festival kicked off with a reception for the art show "Art to Read" at the SOIL Gallery on Thursday.
---
---
"Folks are kind of pushing the boundaries of the idea of a book and how we read comics, how we read books, arts and that sort of thing so we have eight artists in the show," Jessica Hoffman, co-curator of "Art to Read," said.
Hoffman, along with co-curators Eroyn Franklin and Kelly Froh from Short Run facilitated the idea of having a book centered art show and made the proposal for this exhibit during their annual open call for shows.
"It was attested so the three of us put together this show and to coincide with the Short Run Comix and Arts Festival," Hoffman said.
Along with being a curator, Hoffman has two of her pieces featured in the gallery including a piece titled "Alternative Motive Communication of the Era of Digital Surveillance" and an experience called the "Imagination Hut" that was the collaborative effort of Hoffman and 14 other artists.
"'Alternative Motive' is a paper phone made out of a cone shape with string and you pull it and you can talk into it kind of like a tin can phone," Hoffman said. "It's based around this idea that there's a lot of surveillance and our phones are always on the radar, so this is the way we can communicate with someone feeling like no one will interfere in your conversation or record it."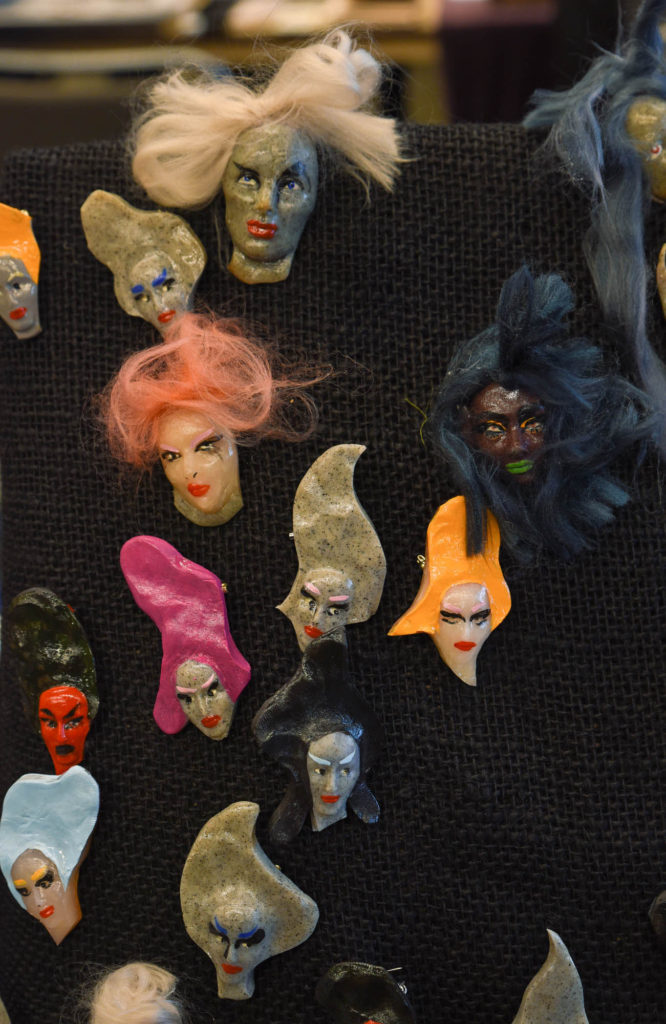 Head pins by Andrea Lukic at the 7th Annual Short Run Comix & Arts Festival.
Visitors can view and step inside the "Imagination Hut" a large fort made out of fabric in a tent-like structure. On the inside of the hut, pockets are filled with books that were donated to the curators by exhibitors at the Short Run Comix & Arts Festival.
"You can go in there, there are some little beanbag chairs, and you can sit and read comics and then there's a vinyl installation. So it's kind of like this all-encompassing little cozy little room to read," Hoffman said.
Artists Yuka Petz and Martine Workman also provided artwork for the show, creating pieces that challenge the way society views books and letters.
"'Travel Plant' is the piece I'm most excited about," said Workman. "It's a portable plant in a book."
Workman creates zines and features a series of drawings about her living room at the gallery.
Petz's piece "Structural Qualities of Serifs" included serif letters that visitors of the gallery were encouraged to interact with.
"The letters I've really spent a long time with the idea that people would engage with them and lay with them and build," Petz said. "The structure of the serifs allows it to kind of hang on to itself so you can actually create these interesting organic forms."
Petz also had a video piece featured in the gallery, which incorporated different letters dropping and moving through different backgrounds. Petz said that she found interest in analyzing letterforms off the page, and wants people to have a moment to think about letters as more than carriers and objects.
"They are really amazing modular components and elements and I think it's interesting to consider their form and consider them as unique objects and what happens to them," Petz said.
The festival ended with color, lights and music at The Vera Project, where Short Run hosted an after-party. Guests mingled as they enjoyed beverages, listened to groovy music provided by DJ Pepperazzi and DJ Traditional Grrl, take pictures at a photo booth and enjoyed additional art pieces.
While exploring ideas about books, arts and comics, the festival provided a space for thought, creativity, and imagination. "Art to Read" is free of charge and is open through Dec. 2, 2017.
Hoffman said, "We pulled together some artists that are doing some really interesting things. They are thinking about a book as an installation piece and thinking outside the box."
The editor may be reached at
[email protected]
Leave a Comment