Seattle U (18), faced off against Air Force (12), on Wednesday in a double overtime tie. Medo Youssef lined up a shot 18 minutes into the first half, making it 1-0 in favor of the Redhawks. Habib Barry scored with a header, this was his first goal of the season and it set the score to 2-0. However, Air Force scored a goal towards the close of the first half.
"We came out really fast in the first half," senior captain Alex Roldan stated. "We let them think that they were back in the game with a soft goal at the end of the first half." Air Force got another goal in the second half, while Seattle U went scoreless, making it 2-2 at the end of the second half. This continued into a scoreless overtime.
"We have to be more aggressive in the box, cleaning up set pieces, that's our goal," junior captain Nathan Aune said. "[Against UKMC] it was a similar story, we couldn't close it out, but we were able to hold on and get the win."
The Redhawks came back for a physical game against University of Missouri-Kansas City (UMKC) on Friday. Featuring 33 fouls, eight yellow cards and a red card, it was another demanding game for Seattle U, who won 2-1.
---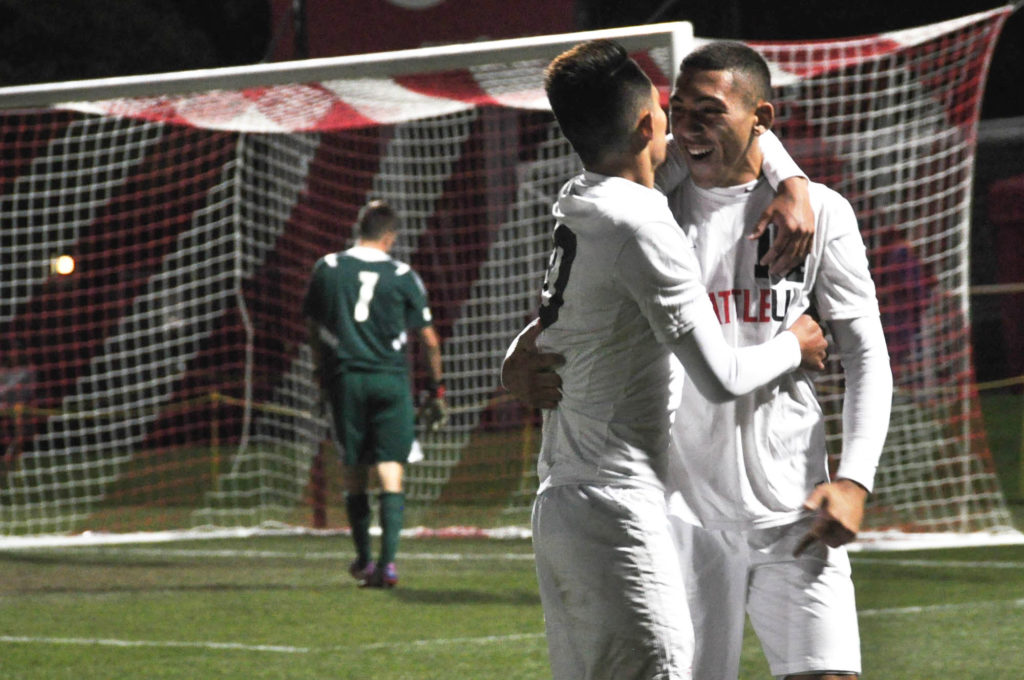 SU mid-fielder, Sergio Rivas (second from right), celebrates with teammate, defender Tyler John (far right), after scoring on UMKC's GK Filippo Errico (far left).
---
Roldan scored a goal off a breakaway pass against UKMC, his fifth goal of the season. "Out on the field I was trying to be there for my teammates today, and it started out kind of hectic, but we were able to settle it down and get that win," he said.
Looking back on his time as a leader on the team, Roldan said, "We haven't had this type of chemistry, and I think it is going to carry us a long way more than it has in past years."
"It's not just the eleven on the field or the sixteen that are getting minutes, it's the whole thirty that are pushing us at practice…We're all working together to do something special this year," Aune concurred.
---
---
The Redhawks lead the nation in shot attempts (19.9), but turning those shots into goals is proving to be the real challenge for the Redhawk offense.
"The biggest thing is finishing our chances and putting teams away," coach Pete Fewing said. "We create opportunities, but the longer it goes with us not scoring, the tougher it is to put a team down." Seattle U went 2 for 21 against UMKC, and 1 for 24 against Air Force. Half of their games have been shutouts and eleven different players have scored.
Despite two tough games this past week, Fewing expects more out of his team. "They're great guys, first and foremost, and they're committed to the process. We're 10-2-2, and I'm disappointed with that record, to be honest, and so I am proud that we expect more."
Air Force was the last team the Redhawks faced in the 2016 WAC tournament, losing to them in the semi-finals. "Hopefully we can meet up with them in the WAC tournament," Roldan said, "if we can put them out in the first half, it can go in our favor."
Jacqueline may be reached at
[email protected].