This week was Mental Health Awareness Week, and both Seattle University and the Capitol Hill community collaborated in ways to widen the way we think and talk about mental health, using everything from breathing exercises to cupcakes as ways to spread awareness. On Oct. 4, Finding Strength: A Mental Health Panel, offered a space for mental health professionals to share their expert opinions, some familiar with assisting Seattle U students and athletes.
Local bakeries decorate the desserts with sad decorations and grey frosting to represent mental illness weighing people down. They then make the inside colorful and sweet to represent the hope and vibrancy everyone has.
The program was a collaboration between Seattle U Athletics and Seattle U Wellness and Health Promotion to unpack the effects of being a student athlete on mental health.
Leila Orji, a first year on the basketball team, attended the panel with her teammate, first year Kallin Spiller.
"The most interesting topic was the fine line between excellence and perfection," Orji said. "That really hit home for me."
Orji also touched on another major topic of the panel: how to cope with disappointment when one's performance as an athlete is so linked to self-worth, saying "[the panel] helped me realize that disappointment is inevitable, but also something that is not just only on me."
The therapists explained that they were not only properly trained to help athletes build resilience to disappointment or trauma, but to provide effective care for their clients when the unexpected does occur. One of the difficulties of their job, they said, was trying to prepare for the "unpredictable."
In the conversation on mental health, the panelists expressed that it is difficult for people—especially athletes—to realize that failure is a positive thing; they wanted to demystify that struggle. Many panelists reiterated that failure is a gift because it is enables growth.
---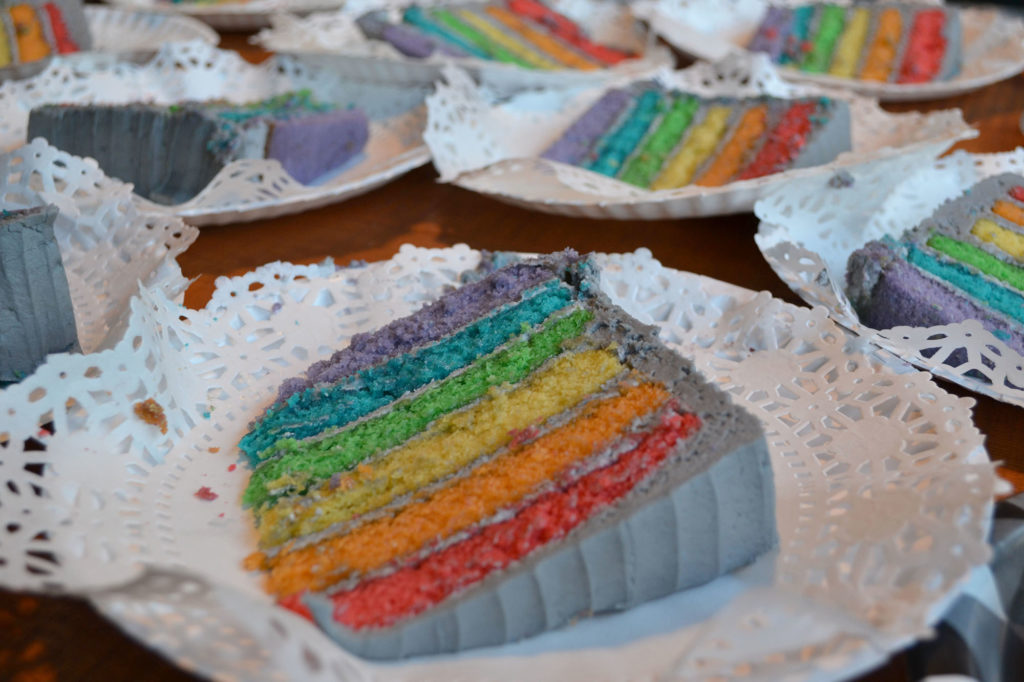 One of the more famous desserts at this event are the grey frosted cakes with a colorful inside that represent the hope and strength that resides within everyone who battles with mental illness.
---
Kallin Spiller, a member of the girl's basketball and volleyball team, also expressed a personal connection to the topics discussed in the panel, elaborating that it was reassuring to "just have these conversations open and available to the Seattle U community."
Wellness and Health Promotion Coordinator for Mental Health Avery Whittington, the moderator for this panel, stressed the importance of providing resources that students can connect to for help. For example, Counseling and Psychological Services (CAPS) on campus is open to any student, with daily emergency hours posted on their website that allow a student to come in and receive immediate care. CAPS also provides referrals for low-cost counseling.
On Saturday, Capitol Hill got a little more colorful with the worldwide event known as the Depressed Cake Shop. The atmosphere of the event reflected what the cakes were intended to symbolize: gray on the outside with a pop of color, showing the hope in everyone's mental health struggle. The gray exterior of the cakes symbolized "the gray cloud that can descend over a beautiful world when someone is struggling with mental health issues."
Ashley Fontaine, Executive Director for National Alliance on Mental Illness (NAMI) Seattle, is the director of the fifth annual Depressed Cake Shop. The money raised from the event benefits NAMI, an organization focused on filling in the gaps of our mental health system by offering support, referral, education and outreach to citizens.
Optimism Brewery hosted the Depressed Cake Shop for the second year in a row, and Fontaine thanked them and other partners on behalf of NAMI.
All of the workers were volunteers, ushering hundreds of people in and out of the cake room and serving different goodies to the guests that approached their tables.
---
---
Keertana Sureshbabu, a third year psychology student at University of Washington and volunteer, found out about the opportunity to volunteer through a Facebook event, and got involved in the Depressed Cake Shop because of her own interest with mental health awareness.
"When I read up on [Depressed Cake Shop], I knew it was something unique and meaningful," said Sureshbabu. "The concept of it was super cool so I decided to volunteer. It's such an interesting fundraiser to bring people together and spread awareness."
"We have over 20 bakeries who make and donate really unique creations," Fontaine said. "It really is an easy entrance point for people to come in and talk about mental health. I can't think of a more fun, friendly and non-intimidating event."
People ogled and commented on the cuteness of someone's colorful cake slice, creating an energetic and kind atmosphere for families and children of all ages to gather for some sweet desserts and an even sweeter message.
Even if it's only for one week in October, Seattle brings out lively and informative events that echo the importance of acceptance and awareness surrounding mental health. From just one block away in the heart of Capitol Hill or a walk across campus, there are many opportunities to join the conversation.
Jacqueline may be reached at
[email protected]