Approaching President Donald Trump's 100th day in office, Governor Jay Inslee stopped by Seattle University Wednesday night to talk about current events and the future of public service in the Trump era. Everyone from climate change activists to concerned Seattle citizens gathered in Pigott Auditorium to open conversations about the current political climate.
---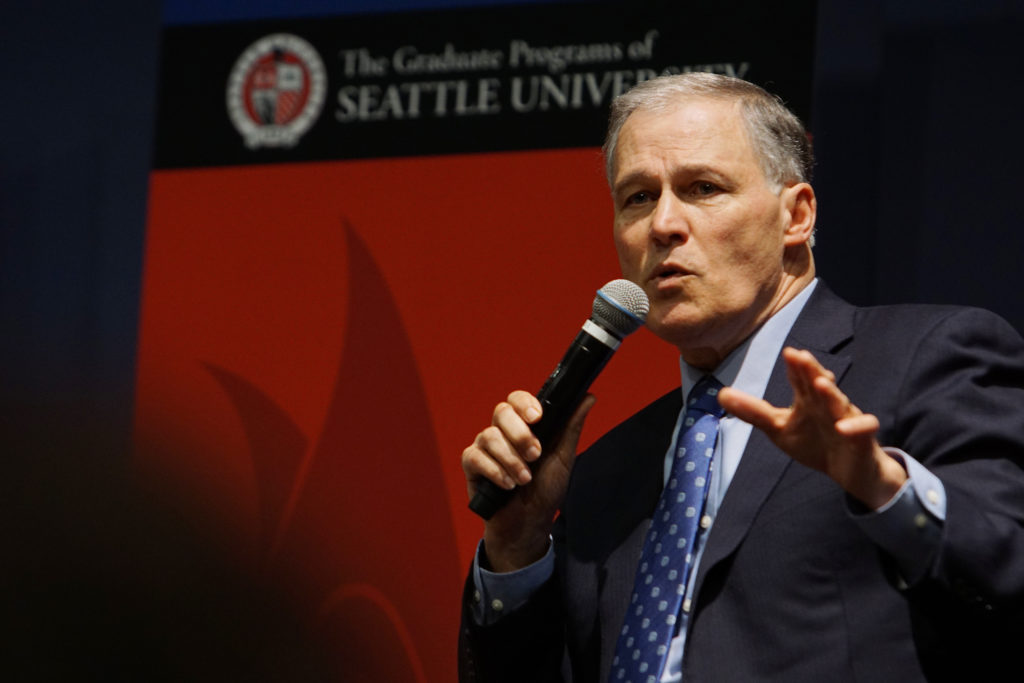 Washington State Governor Jay Inslee took a few jabs at the White House administration when he spoke in Pigott Auditorium last Wednesday.
---
Christina Patterson, a 2001 Seattle U graduate, attended the talk to hear what Inslee had to say about immigration and to get a gubernatorial perspective on the state of affairs. Concerning immigration, Inslee discussed Washington State's responsibility as a sanctuary state and his individual duty to be honest with folks suffering from the travel ban.
His technique for dealing with immigration issues is to be truthful, be a good listener, practice transparency and be honest with people when you can't help them. Inslee outlined his technique but also spoke against Trump's orders and pledged that Washington will remain a place that welcomes people of all faiths, nationalities and circumstances.
During Inslee's visit, a group called 350 Seattle was holding up signs during the talk that read, "NO METHANOL" in opposition to a proposed pipeline that would run through Columbia River should it be approved. In response, Inslee was extremely honest answering audience questions about climate change and the proposed pipeline construction.
Although Inslee expressed that he wanted to discuss this issue further, Inslee shared that he is prohibited from discussing permits because of his position on the board that decides whether or not to complete its construction.
Nick MaGruder from 350 Seattle was holding one of the signs. He was concerned about climate change and cautious about "Fake green natural gas projects." He said Seattle is seen as the "greenest state in the country," but said himself and other Washingtonians he knows think the state could be doing more.
MaGruder expressed that Inslee could've expanded more on opposing new fossil fuel projects, addressing pipeline leaks, and fracking—and he wasn't alone. Audience members were eager for Inslee to say more about stopping pipeline construction, but he kept repeating that he is legally bound and cannot disclose information about where the board was in the process of making a decision.
Instead,he talked about tools to combat climate change that are within his power. Inslee discussed alternate ways to produce plastic other than using coal, all the while pointing out how hard it is to turn away from plastic in an era where nearly every object and device has plastic in or on it.
Inslee then discussed a bill he wants to pass that would install more solar panels in the state and would additionally open up some job possibilities. The bill is one of Inslee's combat tools to reduce carbon pollution in Washington.
Inslee shared one of his goals to reduce carbon emissions to the level they were in the 1990s. One of the ways he proposed to do this would be to require fossil fuel corporations to get a permit that would have to be renewed yearly based on carbon emission output levels; this is called the "Clean Air Rule" and Inslee is urging the legislature to pass it.
On a different note, the homelessness crisis was also discussed heavily throughout the night. More specifically, the mental health issues that affect people experiencing homelessness, especially youth. Inslee discussed a plan of action to help solve homelessness, which is to first create a preventative system rather than a reactive one, then rebuild the state hospital system. Finally, he suggested the state builds a community-based support system for people exiting the mental health care system.
Inslee noted the mental health issues many homeless individuals experience and acknowledged how difficult it is for them to get adequate health care. Inslee's proposed plan will work to prevent youth from experiencing homelessness. Even if some of the repercussions could not be avoided, there would be a plan to support those people.
Wednesday night's agenda was set up to discuss current political policies and address citizens' concern for America's future under Trump. When tensions got high in the night, Inslee expressed to the audience, "When you're going through hell, keep going."
The editor may be reached at
[email protected]