Offense Reigns on Championship Sunday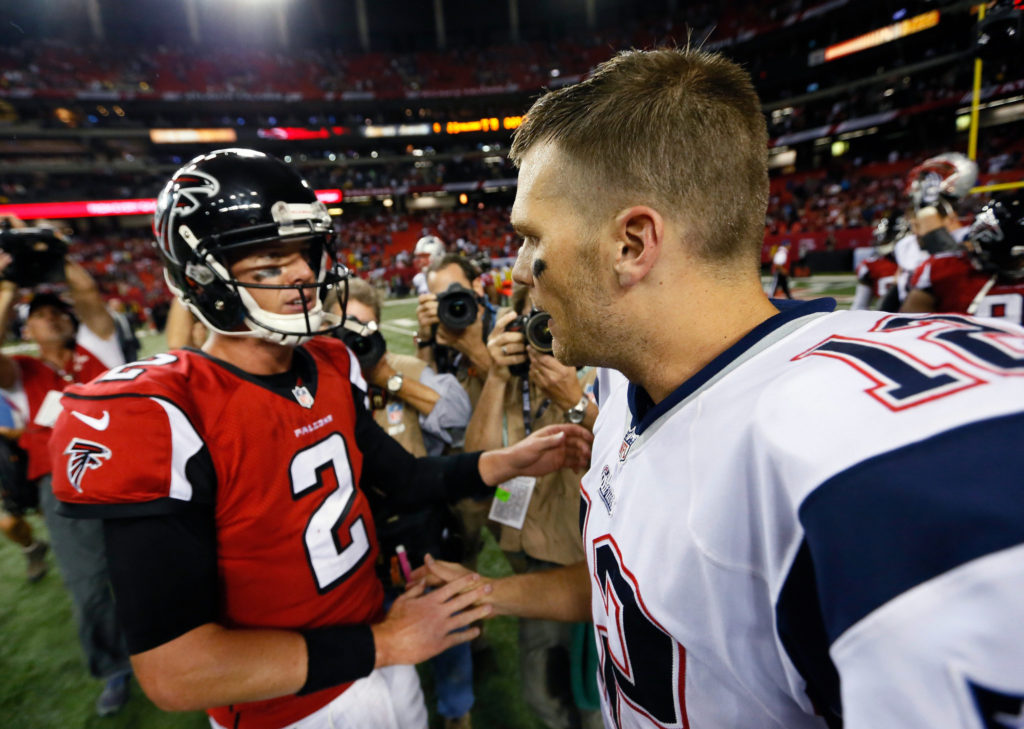 Matt Ryan (left) and Tom Brady (right) will face off in Super Bowl LI.
---
NFC Championship Game
Green Bay 21, Atlanta 44
In a game that pitted the NFC's top-rated quarterbacks against one another, it was the home team Falcons who finally put an end to Rodgers & Co. attempt to run the table, flying high with a convincing 44-21 victory over the visiting Packers on Sunday.
In the first of two championship games, the contest looked over as soon as it started. Atlanta burst out of the gate on Green Bay, scoring 31 unanswered points to take control of the narrative, and earn the franchise's second Super Bowl invite.
Atlanta's Matt Ryan was simply superb as he exorcised his playoff demons of the past in his ninth year under center for the Falcons. His 392 yards on 27/38 passing for 4 touchdowns and no interceptions was good for a 2017 playoff high rating of 139.4, and almost bested his own playoff-best mark of 396 yards passing in 2013 against San Francisco.
Despite the belief they could run the table all the way to the Super Bowl, the Packers were at a huge disadvantage against Ryan and the Falcons. For a Packers team that was going to have to stop Ryan through the air to survive, they entered the matchup depleted by injuries to the secondary—a weakness which showed.
Not only did Atlanta trounce Green Bay on offense, their mostly forgotten defense under coach Dan Quinn has been on the rise since the end of the season. The Falcons stymied Rodgers with pressure, and all but eliminated the running game. Case in point—Rodgers was the leading rusher with 46 yards.
After starting the season 4-6 in a weakened NFC North, the Packers got their act together as Rodgers performed epicly down the stretch. He would finish the regular season with 40 touchdowns to only 7 interceptions, however, it was not enough to stop the Falcons.
"I'm really proud of these guys. We battled," Rodgers said. "We had our backs against the wall for eight weeks in a row and won some big games. We just came up a little short."
In the last game ever played in the Georgia Dome, the Falcons and their 71,000 plus fans gave one special soundoff to their home since the 1992 season. The party-like atmosphere was understandable as the team returns to the Super Bowl for first time since their 1999 loss to the Denver Broncos.
"We'll enjoy it because it's hard to get to this point. I know that from experience," Ryan said. "But our ultimate goal is still in front of us."
The Atlanta Falcons will meet the New England Patriots in two weeks when the teams face off in Houston for Super Bowl LI (51). The Falcons enter as three point underdogs, but will aim to win their first ever Lombardi trophy. Since entering the league, Matt Ryan has yet to beat the Patriots, going 0-2 in his career against them.
AFC Championship Game
Pittsburgh 17, New England 36
After winning a game without scoring a touchdown last week, the Pittsburgh Steelers' inability to cross the goalline cost them big time against the New England Patriots who advanced to their second Super Bowl in three years in a 17-36 win in Foxborough.
In the final conference championship matchup of the 2016 regular season, the Patriots victory propelled them to a record setting ninth franchise Super Bowl berth after their sixth straight conference championship appearance.
Statistically the two teams battled equally, but visually it was all New England. Two Pittsburgh turnovers were the difference in opportunities, and the Steelers hurt themselves by going eight straight quarters without scoring a touchdown.
Entering the game's midpoint, New England held a 17-9 lead, which had to give Pittsburgh hope as they attempted to rebound from a tough first half.
In a game that pitted Hall-of-Fame quarterbacks against one another, neither team rushed the ball effectively. Both teams posting less than 3-yard averages, and failed to combine for even 110 yards total for the entire game.
Steelers coach Mike Tomlin was visibly perturbed at his team's lack of offensive production the last two weeks, especially after the loss of star running back Le'veon Bell late in the game's first quarter.
"We've got to be capable of overcoming those things,"  Tomlin said. "We didn't get a lot accomplished tonight."
Even Pittsburgh's epic hero Ben Roethlisberger could not salvage the team's hopes, though he tried. Without the presence of Bell, New England's defense pestered and harassed Roethlisberger who finished with 314 passing yards, a pick, and a garbage-time TD to make the game appear closer than it ever was.
The Patriots looked tough and resilient, breaking tackles for big gains, and airing the ball out down field when opportunities arose. No one looked better than wideout Ben Hogan, who caught 9 balls for 180 yards and two scores.
Patriots quarterback Tom Brady, who was remarkable all season, turned in his best playoff performance of his career. His 384 passing yards set a franchise record, and he threw three TD passes on his way to a 127.5 rating.
"It's been a long journey, but I've worked really hard to get to this point," Brady said. "We'll see if we can write the perfect ending."
The New England Patriots will meet the Atlanta Falcons in two weeks when the teams face off in Houston for Super Bowl LI (51). The Patriots enter as three point favorites to win their fifth Lombardi trophy under the direction of Bill Belichick, and Falcons coach Dan Quinn will aim to avenge his 2014 Super Bowl loss to New England when he was defensive coordinator in Seattle.
Les may be reached at 
[email protected]
Leave a Comment