Seattle University's South Asian Student Association (SASA) and Indian Student Association (ISA) welcomed spring on Friday, May 25, as students and faculty gathered on the union green to celebrate the Holi Festival. Participants came together and covered one another in chalk paint, ate food, danced and gave and received henna tattoos to welcome a season of rebirth and life.
---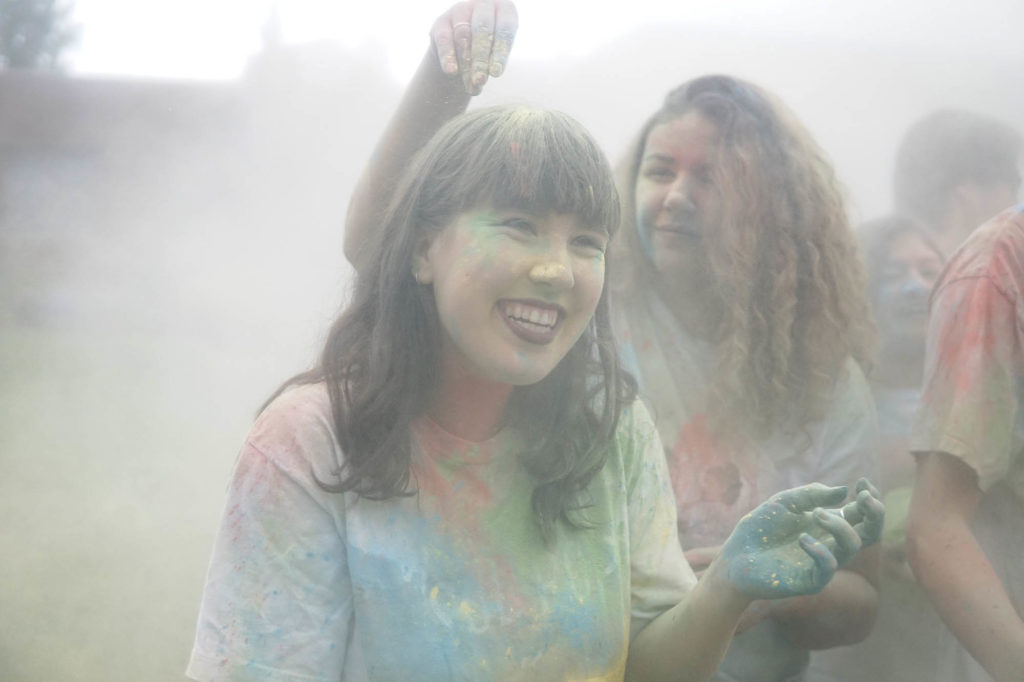 Maddy Mele adding the finishing touches to Lydia Grigg's chalk-covered hair.
---
Also known as the Festival of Colors, the Holi Festival is one of India's major holidays, and is used to signify the end of winter and the coming of summer. Festival participants will typically throw bright colors at one another to mark the start of a new season. The festival is very old; however, it has evolved to suit the modern era.
Sophomore biology and conservation major Ryan Jones shared his thoughts on the festival. He appreciated that the event wasn't just a group of people throwing chalk at one another, but was also an educational opportunity for those interested learning more about Holi.
"I think it went very well. They did a very good job of talking about how the festival signified the coming the spring," Jones said.
Jones wasn't just a participant, but also a volunteer. Having friends involved in both SASA and ISA, Jones wanted to show his support by helping to organize and execute the event.
"I wanted to help the festival in a way that was respectable, because it's not a part of my culture," Jones said. "I just let them know that if they needed me, I was there."
Jones valued both the opportunity to be present for the event, as well as the learning experience that came with it. As Jones sees it, events such as these can be places for learning, capable of broadening one's perspective and culturally educating oneself. However, Jones also found that while the event can serve educational purposes, not everyone comes with the intention of learning.
"You can learn, but you have to come from a place where you want to learn," Jones said. "Obviously people will just show up and get henna so they can Instagram it, but there is always going to be people who want to learn the culture, share it and experience it."
The Seattle U community is diverse and its doors are open to folks from many cultures and backgrounds. This is evident in the clubs that are established on campus, such as the SASA and ISA that hosted the Holi event. With this open community, sophomore nursing major Lainee Shaughnessy finds that one thing Seattle U does very well is welcome other cultures.
"I do think one thing that Seattle U does very well is being welcoming of others cultures, whether they're religious or just cultural," Shaughnessy said. "Also the popularity and support for the different cultural clubs is something I also find to be very special about Seattle U."
Shaughnessy participated in the Holi Festival and shared how those at Seattle U seem to go beyond what is expected.
"Whether we are supporting another religion or friend's event, we're trying to learn new things," Shaughnessy said, "I feel like those at Seattle U are always trying to do more than the ordinary. The Holi Festival was a good way to go out and celebrate. It was definitely educational, and who put it on did a really good job of explaining what its purpose was."
With the end of yet another Holi Festival, anticipation has already begun to build for next year's celebration. Grace Jvonivich, a first year International Business and Environmental Studies Major, expects to return next year, and encourages other students to do the same. According to Jvonivich, the experience was one that was valuable, and could help broaden students'understandings of other cultures.
"It was great to be a part of a new cultural experience. Being able to go out, be with your friends, and throw colors at them," Jvonivich said. "It allows one to have a new appreciation for spring, making it an overall cool experience. I would encourage others to attend."
Shelby may be reached at [email protected]