Before the doors opened at the Seattle College and University Film Festival (SCUFF) over the weekend, University of Washington graduate and festival creator Will Cadra paced along a busy line of patrons. His event was sure to be packed.
SCUFF had its first ever film-screening event this weekend, showing off student films from around Seattle.
The festival started as a Senior Capstone project from Cadra. This year, 17 short films were shown during the free screening event on May 15.
"I saw they have tons of stuff going on at Seattle college campuses, film clubs and production classes, but there wasn't a lot of unity through that," Cadra said. "I decided [it would be cool] to have a festival that shows off the films being made across Seattle."
After creating the festival as a one-man operation, Cadra recruited some close friends and faithful volunteers to help put the final pieces together.
"I didn't realize how big of a demand there was for a festival like this until I got 74 submissions," Cadra said.
This festival featured a $100,000 prize for a winner selected by guest judges Robert Horton from Seattle Weekly, and Todd Kaumans, program manager at the National Film Festival for Talented Youth.
---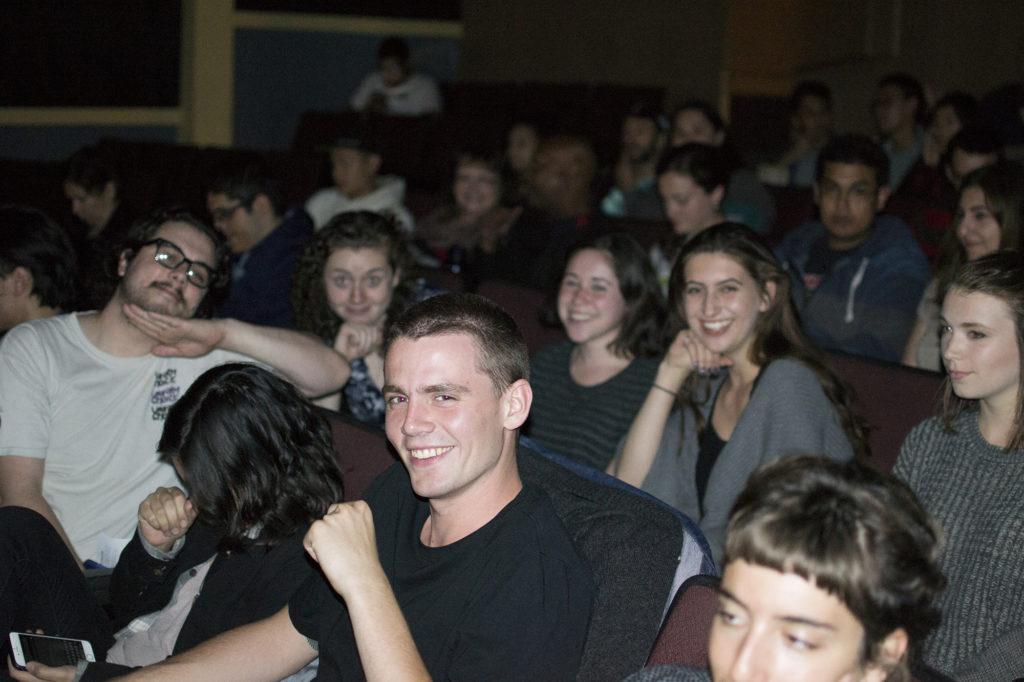 Seattle U students Aniello De Angelis, Morgan McDougal, Anna Block Gallegos, Chloe Jones, Zodie Waxman and Nick Weihe getting ready to view the films at SCUFF.
---
This year's winner was a film titled, "A Brief History of John Toews," by Nick Bragg, a senior at University of Washington. Seattle University students also submitted five films, though none received top honors.
One film, "New York, 2046," was directed by Seattle U senior Aniello De Angelis and sophomore Devin Allen. The film is a loose narrative, black and white film, featuring a blend of movement and still photography.
De Angelis refers to the five minute film as "kind of sci-fi, kind of experimental." It focuses on themes of illusion, time and love. They all come together through creative style techniques like shadow play.
"We didn't want to weird people out, we just wanted to be disorienting," De Angelis said. "If they hate it that's cool. If they love it that's cool. If they were like, 'what was that?' That's cool too. That's the nice thing about film is that everyone has a different reaction."
There was a common theme of eye-opening and mind-bending topics among the Seattle U student films.
Sophomore Morgan McDougal spent three months creating a six-minute short film on grieving and how to remain hopeful when one loses a loved one.
"I was partially inspired by a few of my close friends who lost somebody and I was able to observe them going through their own grieving process," McDougal said. "I also experienced that myself so it was also my interpretation about those events."
Moving forward, McDougal hopes other students can take initiative and find ways to experiment with film-making regardless of their major.
"I want to encourage other people, who are thinking about making films, to just kind of do it because the hardest part, at least for me, was starting," McDougal said. "But after just starting, people jumped on board and were really supportive."
Having strong support was also key in "Locked Perception," a 12-minute film directed by juniors Daniel Schiff and Anna Block Gallegos. The film is about social masks and how emotional baggage can affect one's social behaviors.
"It's really everybody's film, we had over 17 Seattle U students that helped us," Schiff said. "In it, we give our character a physical trunk to represent emotional weight that's handcuffed
to him."
Dealing with a sensitive topic that involves mental health, "Locked Perception" takes an artistic approach to something people commonly experience but do not as
commonly discuss.
"He actually doesn't talk in the film, like how people with anxiety struggle to communicate what they are actually feeling," Schiff said. "It's really just a matter of putting in perspective for other people how not everybody necessarily struggles in the same way."
Another of Schiff's films was also included in SCUFF, "Surgeon General," which junior José Chalit co-directed. The film is a poetic documentary in essay style. It draws a parallel between iPhone advancements and the early stages of cigarette popularity in America.
"We play with not only addiction but also advertising," Schiff said. "Everybody uses these things excessively but they haven't been around long enough to really see the consequences, just as cigarettes used to be."
Looking forward to next year, students from around Seattle will continue developing films and circulating interesting ideas.
The editor may be reached at [email protected]