Women's Rowing Opens Spring Season
teams opened their spring season last weekend at the Husky Open here in Seattle. The annual event was held in the Montlake Cut near the University of Washington on April 2.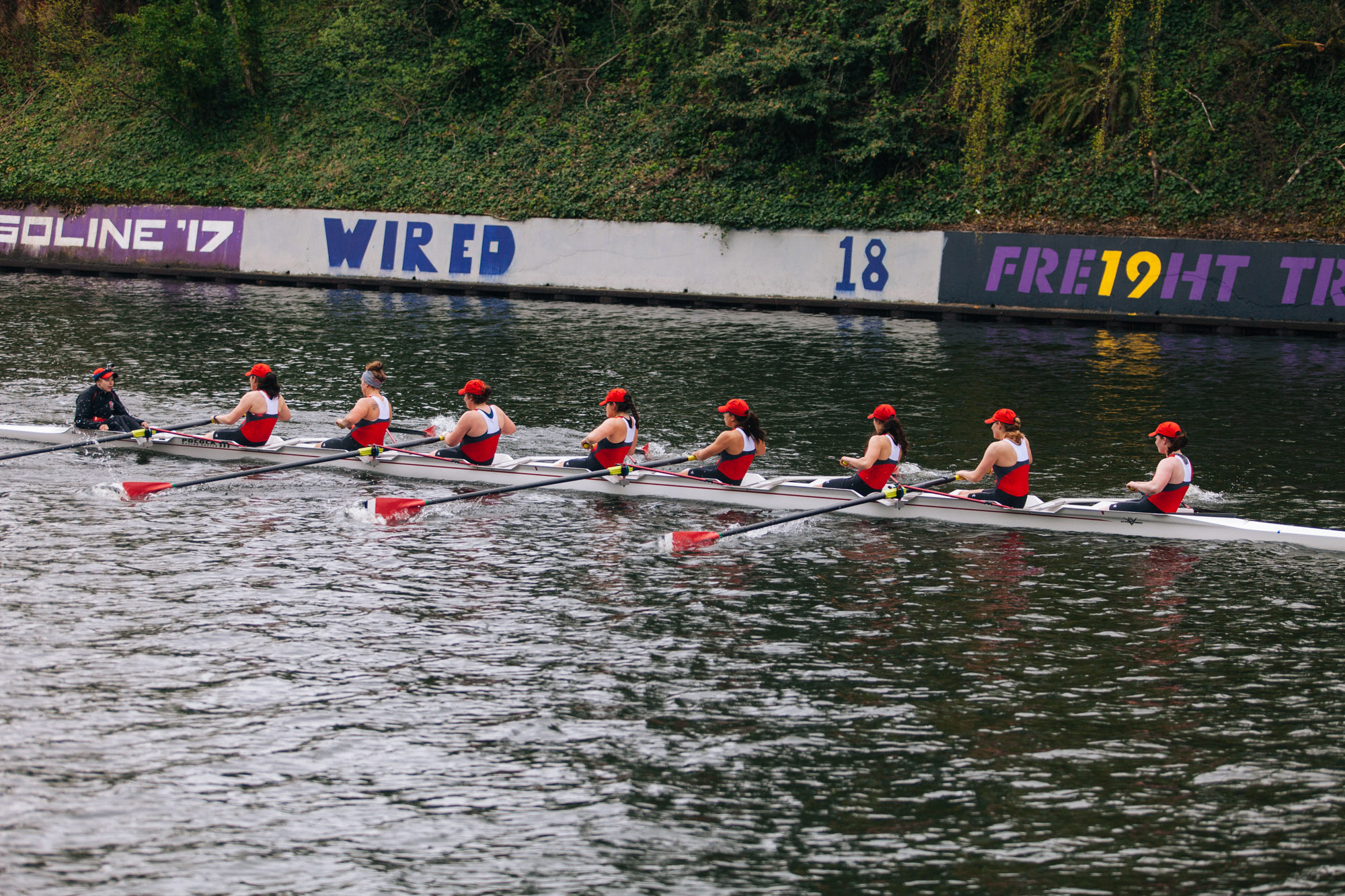 From left to right, the Women's Varsity rowing team consists of Abigail Wells, Meghan Ricci, Jennifer Cruz, Molly Hammond, Mariana Osuna, Rachel Wong, Rebecca Ravitz, Catherine Abajian, and Katherine Ollenbrook.
---
Seattle U had two boats competing in the event, consisting of the novice 8+ and varsity 8+ teams. The novice team was up first and consisted of Annika Sohlberg, freshmen Rosel Hermita, Taylor Woo, Danae Golding, Alyssa Ceccanti-Harris and Grace Stewart; sophomore Brittany Cassini and junior Gabriela Cabeza. The team placed third with a time of 7:46.542, behind the University of Washington (7:09.740) and Western Washington University (7:29.786).
The women's varsity 8+ was the second—and last—event of the day and consisted of sophomores Molly Hammond, Katherine Ollenbrook, Rebecca Ravitz, Catherine Abajian; juniors Meghan Ricci and Rachel Wong and seniors Abigail Wells, Jennifer Cruz and Mariana Osuna.
---
The varsity 8+ team finished second with a time of 7:08.813, behind Washington (6:45.233). Lewis & Clark and Puget Sound universities finished out the heat in third and fourth place with times of 7:11.107 and 7:24.961, respectively.
"I thought the varsity had a great race this morning," said head coach Jenny Park. "We've had a lot of improvements in the last week. The novices learned a lot today and are looking forward to making some changes this week. We're looking forward to the Covered Bridge Regatta next week."
Up next the team will head down to Oregon to compete in the Covered Bridge Regatta on Dexter Lake in Eugene, Ore. Both boats won their events last year and will look to defend their wins this weekend.
AJ may be reached at [email protected]
Leave a Comment