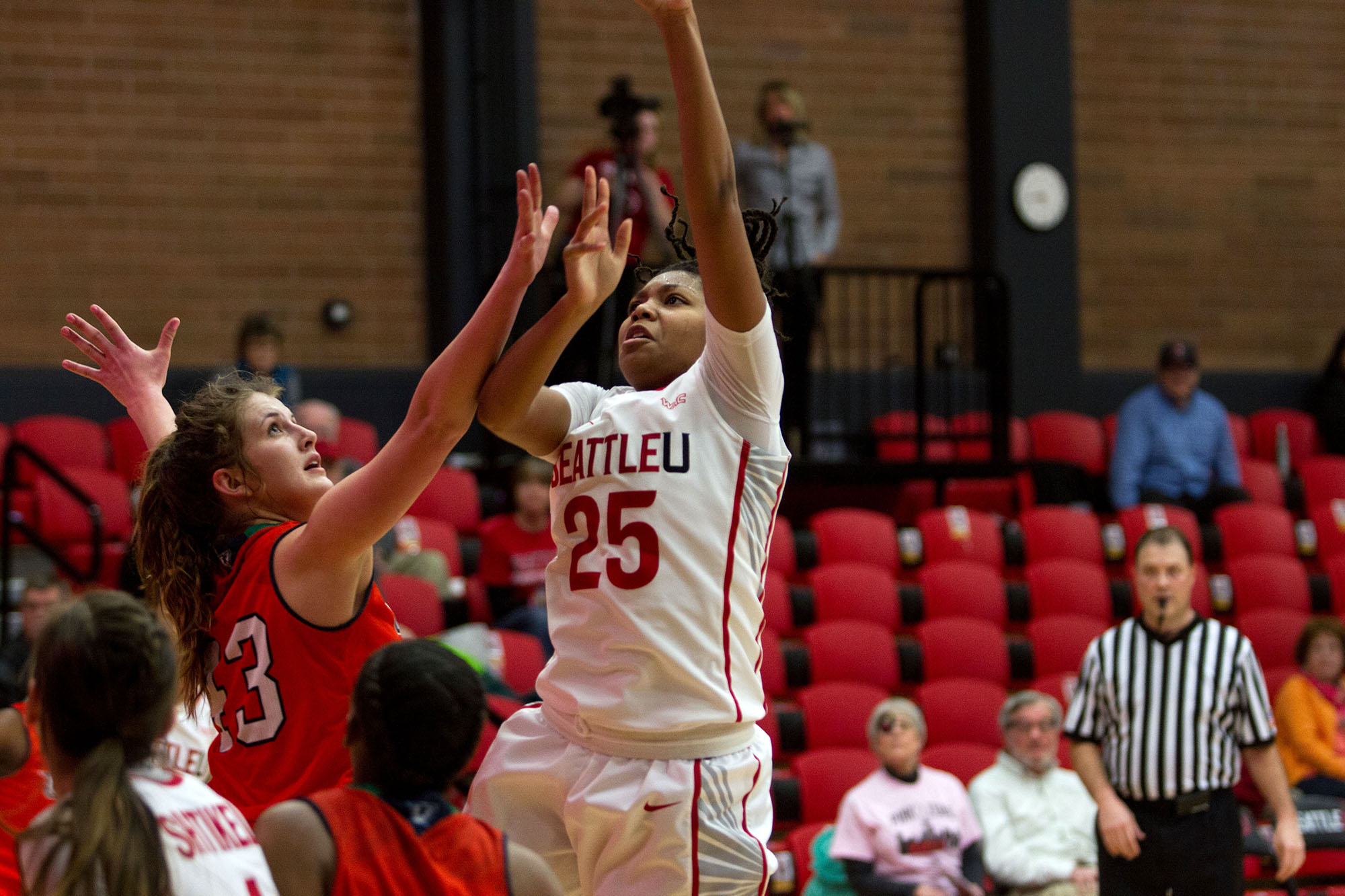 #25 Cydnee Ceballos makes a quick move to free herself up for the inside shot
---
The Seattle University women's basketball team was unable to end their current losing streak, dropping a pair of home games at the Connolly Center last week.
On Thursday, the Redhawks lost to UTRGV by a score of 76-71 after the Vaqueros scored 50 points in the second half and erased a double-digit deficit. The Redhawks defense held the Vaqueros to shooting 9-31 from the field in the first half but UTRGV heated up in the second half and were also able to generate a major discrepancy at the free-throw line. The Vaqueros went 18-of-23 from the line in the game, including 12-of-15 in the second half. In contrast, the Redhawks were 9-of-10 from the line and only had three free throw attempts in the second half.
Junior guard Shawnte' Goff led the Vaqueros, leading all scorers with 29 points. Goff shot 8-of-20 from the field and was able to get to the free-throw line 13 times, converting 11.
Freshman guard Tal Sahar led the Redhawks in scoring with 19 points, shooting 5-of-13 from the three point line and converting all four of her free throw attempts. Junior guard Kaylee Best flirted with a triple-double, scoring 10 points, hauling in nine rebounds and dishing out eight assists.
For the game, the Redhawks shot 41 percent from the floor, compared to 39 percent for the Vaqueros, and outrebounded UTRGV 42-36. But 19 turnovers from the Redhawks, coupled with their inability to get to the free throw line in the second half, was ultimately their undoing.
On Saturday, the Redhawks fell to New Mexico State by the score of 66-56. The Redhawks were able to force 19 turnovers and outrebounded the WAC-leading Aggies 32-31, but the Aggies were able to jump out to an early lead and never looked back, thanks mostly to their shooting better than 60 percent from the field for the game.
Despite the loss, senior center Taelor Ross led all players with 23 points and 10 rebounds. In the process, Ross became the 15th player in the history of the program to collect 1000 points for her career.
The Redhawks' (9-18, 3-9 WAC) losing streak now sits at seven games and they've lost nine of their last 10.
They'll look to put an end to their losing streak this week as they head back on the road to take on Utah Valley on Saturday, before coming back home the following Saturday in their regular season finale against CSU Bakersfield.
The editor may be reached at [email protected]