"Fifty Shades of Black" More Problematic than Parody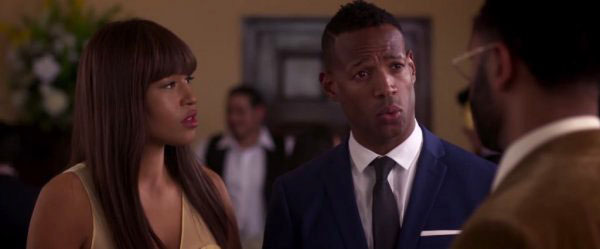 As the infamous "Fifty Shades of Grey," by E.L. James, has become a cultural phenomenon and earned its fair share of criticism, it was only a matter of time before someone parodied it.
"Fifty Shades of Black" puts its own spin on James' story by replacing the white cast in "Grey" with black actors and actresses. Full of cheap laughs, awkward sex scenes and racial stereotypes, "Fifty Shades of Black" isn't worth going out of your way to see.
The movie mirrors the plotline of "Fifty Shades of Grey," following enigmatic billionaire Mr. Christian Black (Marlon Wayans) as he pursues awkward college student, Hannah Steele (Kali Hawk), in hopes of starting a Bondage and Discipline, Dominance and Submission and Sadism and Masochism (BDSM) relationship with her by having her sign a contract.
---
---
The similarities between the two films end here, as Mr. Black is the exact opposite of Mr. Grey. Where Grey flaunted his private helicopter and sleek Audi, Black takes crowded public transport and steals his expensive cars. While Mr. Grey made all of his money with his company, Mr. Black earned his money by selling drugs. Most importantly, while Mr. Grey was at least satisfying in bed, Mr. Black is a disappointment.
Mr. Grey and Ana's characteristics are amplified and satirized in their counterparts in "Fifty Shades of Black." Mr. Grey's creepiness turns into full on stalking in Mr. Black, who has several restraining orders issued against him. Ana's physical plainness in "Grey" is parodied by Hannah's ugliness that breaks mirrors in "Black."
The movie was missing several scenes seen in "Fifty Shades of Grey," such as the glider scene in Georgia. It also has a different ending than its counterpart; while "Grey" concluded with the couple separating, "Black" ends with Mr. Black and Hannah still together.
The acting was not phenomenal, though this is unsurprising given that the film is a parody. But Hawk does justice to Ana's extreme awkwardness in her portrayal of Hannah, even going so far as to reverse her submissive role by "dominating" Mr. Black in one scene.
While sparse, the movie does have some genuine good humor; at one point during a sex scene, instead of using whips or floggers on Hannah, Mr. Black reads an excerpt from his copy of "Fifty Shades of Grey," the poor writing of which hurts both of their ears.
The movie also tries to spoof "Magic Mike" at one point, as Mr. Black recalls how he learned to dance by being a male stripper.
While "Fifty Shades of Black" successfully jabs the ridiculousness of "Fifty Shades of Grey" with over the top sex jokes and nudity, it does so at the expense of being severely racist. While this may have been intentional at some points, some of the jokes went too far.
During one sex scene, the camera scans over a line of Black's whips that have names like "12 Years a Slave" and "Django Unchained." The movie also references Bill Cosby's current rape allegations in a tasteless manner.
Admittedly (and unpopularly) I am a fan of "Fifty Shades of Grey." I have read all of the books and watched the movie multiple times. Having said that, I don't think "Fifty Shades of Black" would have been as funny if I had not seen "Fifty Shades of Grey" at least a few times to know the parallels in plot and extreme differences in character.
Taken for what it is, a spoof movie, I give "Fifty Shades of Black" 2 out of 5 stars. While it does successfully highlight what is ridiculous and problematic about "Fifty Shades of Grey," it does so by being problematic and ridiculous itself.
Callie may be reached at [email protected]
Leave a Comment