Fall quarter brings new members to student government who seek to serve the Seattle University community the best they can. Student Government at Seattle University President Mallory Barnes believes this year's representatives to be nothing short of phenomenal.
"They are astounding individuals with so many great ideas and very action oriented," Barnes said.
SGSU's current goals range from broad picture to more tangible, individual and group project goals. Barnes stated that SGSU is seeking to strengthen its relationship with clubs and address the student development divisional reorganization.
"We want students to be a part of this conversation to see what positive improvement we can make to campus," Barnes said.
The SGSU office has adopted an open door policy this year, with individual members having office hours in different places around campus for greater accessibility to students. Barnes will also be exploring ways to provide students with more financial support, such as possibly subsidizing meal plans or providing scholarships for volunteer based positions on campus.
The following is a sneak peek of what's to come this year from SGSU.
EXECUTIVE BRANCH
Myra Jackson
Executive Vice President
What are you most excited to start working on?
"I'm really excited for the team. We have a lot of new people and a lot of returning people too, but we have this dynamic where I know we'll go to great heights. Right now we're challenging each other to go further and even if there is stagnancy, we have enough relationship connections to where we can push each other to get through
the stagnant points."
Paul DeWater
Vice President of University Affairs
What are your goals for the year?
"I think individually, I want to leave some sort of strong foundation for not only just SGSU, but for Seattle University moving forward. I think student government and really any student leader position can be hard because it's a one year appointment, so the question becomes: what kind of impact can we have beyond our year?"
REPRESENTATIVE ASSEMBLY
Jonathan Miranda
Sophomore Representative
What are your goals for the year?
"The only project I really have to do is the Halfway There Retreat for the sophomores in spring quarter of next year. I've seen in the past it's sort of been about the free shirt, and although that's great, I think that sophomores need to understand we're getting close to the end. I'm going to work on ways to change [the retreat] so that it's about more."
Carlos Rodriguez
Junior Representative
What challenges will you be facing?
"I think for a lot of departments and groups on campus it's trying to get people involved in some way. Knowing how to do that is an important piece because [we] don't want to ostracize anyone in that process. We don't want to come into this position thinking [we're] going to fix it all. We have to know what the [students] really need."
Sam Wolff
Senior Representative
What are you most excited to
start working on?
"As someone who has never been a senior before and has never been in student government before…it's all new to me and I'm really excited to learn about all of it. Why I really ran for this position was to talk to the students more and to work with students and administration to create more comprehensive dialogue on campus on issues that
students care about."
Braden Wild
Students with Disabilities Representative
What are your goals for the year?
"I want to improve the way that students interact on this campus when they have a disability, whether that is when they interact with their faculty, with disabilities services or with an administrator. I want to make sure they have a voice. My largest concerns stem from faculty not always knowing how to handle a disability in their classroom or insensitivity, or lack of physical access on large
parts of this campus."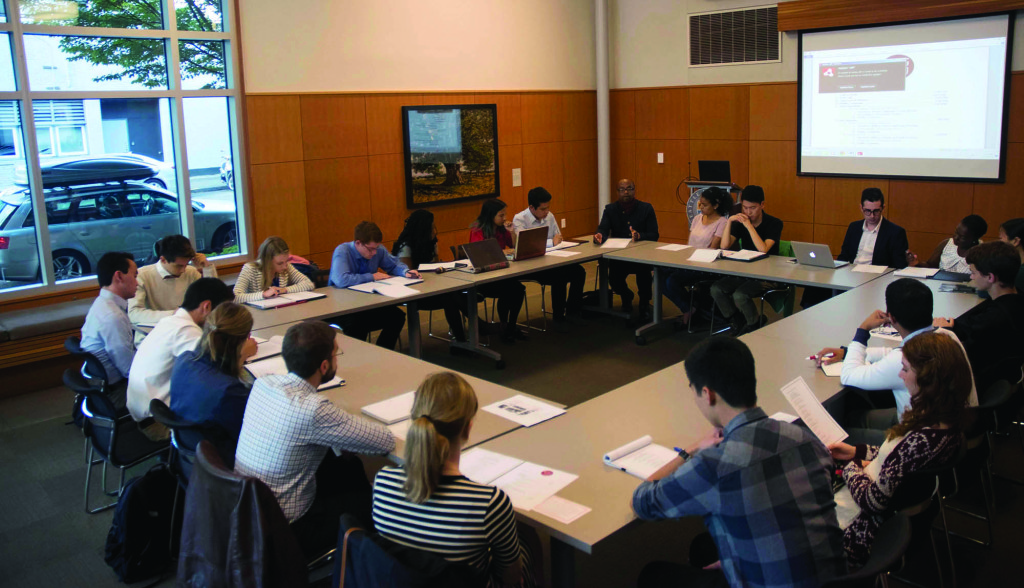 SGSU's first meeting.
CABINET MEMBERS
Izzy Gardon
External Chief of Staff
What challenges will you be facing?
"I think the challenge we're facing is one we've always had, which is just being relevant to students. I think a lot of students see SGSU as a group that doesn't really do anything, like it's student government and not anything official. You don't have any power. The truth is we don't necessarily have a lot of power, but that doesn't mean we don't have an impact on this campus."
Leela Sabaratnam
Internal Chief of Staff
What are your goals for the year?
"I think the biggest goal is to have support from the student body and having a positive image on campus for the students. The representatives this year are super active on campus in different organizations, not just SGSU, so I think that they're going to be representing different communities very well."
STAFF ADVISORS
Jose Vasquez
Assistant Director of the Center for Student Involvement
What challenges will you be facing?
"Personally, I take challenges as opportunities, and it's my opportunity to grow as a person and a professional. Transparency, advocacy, understanding the needs of the students and meeting the students where they are – that's how you usually provide support."
Mitchell Catalano
Advisor and Graduate Coordinator
What are you most excited to
start working on?
"On a personal note, I've been out of school for two years, so I'm starting the student development administration program. In the office itself, I'm really excited to continue to work very closely with my other graduate coordinators as well as the assistant directors and director of the office."
Vikki may be reached at
[email protected]