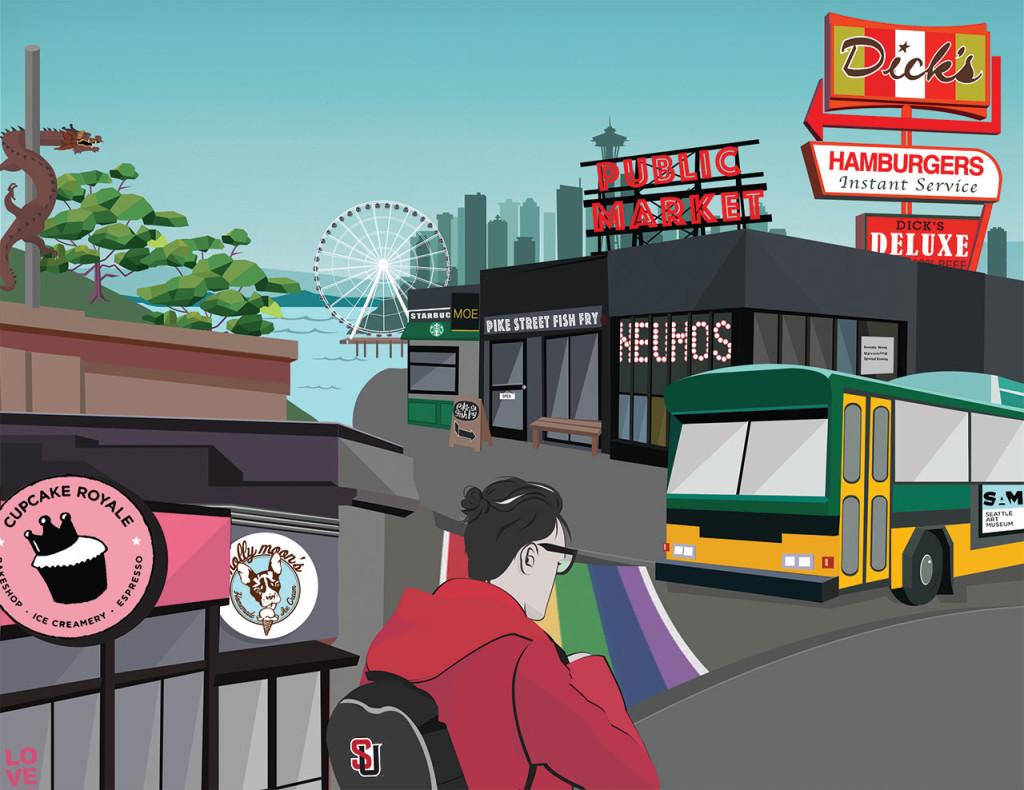 Design by Emma Fried • The Spectator
---
Welcome back, Redhawks. We know you've missed us, and Capitol Hill, too. Rediscover the hill and all its wonders with these suggestions from the Spectator editorial board.
---
Map design by Courtney Decker • The Spectator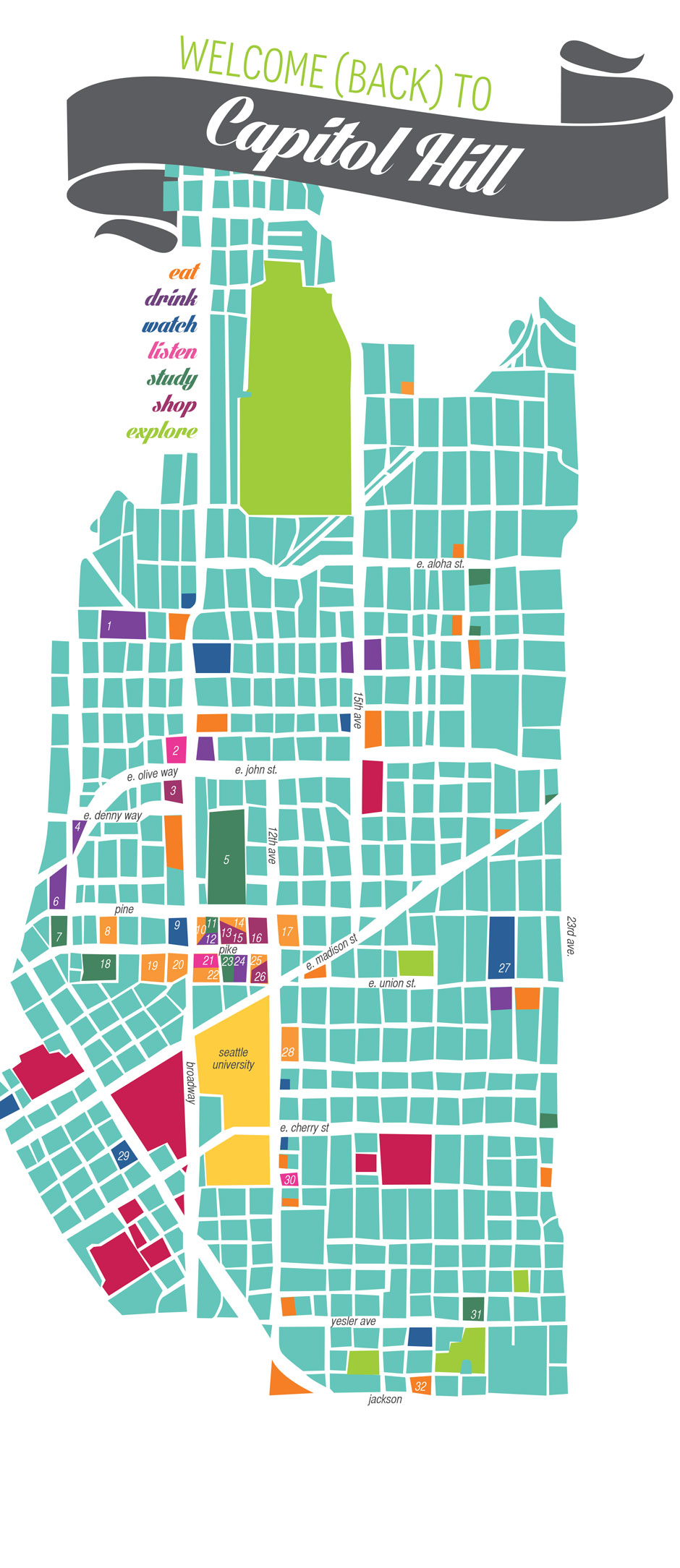 01. Sun Liquor
607 Summit Avenue East
If you're a cocktail lover, Sun Liquor is for you.  This local distillery is one of a few that also feature a bar and restaurant.  Give the "El Diablo" a try.
02. Jai Thai
235 Broadway East
Stop by Jai Thai Wednesdays at 8 p.m. to listen to some great slam poetry. Entrance is $3, but the artistry is priceless!
03. Phoenix Comic and Games
113 Broadway E
The perfect place to replace that d20 you angrily rolled off the table and into the abyss under your couch.
04. Montana
1506 E Olive Way, Seattle, WA 98122
A slice of the midwest in the middle of Seattle. Grab a moscow mule and a beer—or four—at this home away from home.
05. Cal Anderson Park
1635 11th Avenue
Bring a friend and a picnic to study, or—if you are so inclined—to people watch.
06. The Pine Box
1600 Melrose Avenue, Seattle, WA 98122
This former morgue turned bar features exotic, hard to find craft beer from all over the world. Taps are rotating constantly, so there is sure to be something for everyone.
07. Victrola Coffee Roasters
310 East Pike
A relaxing study space with lots of natural light. And the coffee is delicious.
08. Trove
500 E Pike St, Seattle, WA 98122
Whether you go for the noodles or the parfaits, you'll be sure to find treasure on the way down Pike Street.
09. SIFF Egyptian
805 East Pine Street
This theater shows a great mix of new releases, independent films, documentaries and restored classics. On select Friday and Saturday nights they have movies at midnight, including monthly screenings of "Rocky Horror Picture Show".
10. Moti Mahal
1520 Broadway, Seattle, WA 98122
With student specials and takeout to boot, this Indian restaurant is one of the best kept secrets on broadway.
11. Elliott Bay Book Co.
1521 10th Ave
Heaven on Earth for anyone who enjoys browsing through books. Well-known authors frequently come by to read excerpts and talk about their work, most of the time for free.
12. Comet Tavern
922 E Pike St, Seattle, WA 98122
With pitchers of beer starting at just $4 during happy hour, this is a great place to save a little coin.  Happy hour starts at 4 p.m.
You're welcome.
13. Everyday Music
1520 10th Ave, Seattle, WA 98122
This is an awesome used record and CD shop just off of Pine Street. It's a great place to pick up cheap vinyl records for gifts or to sell old CDs to make a quick buck.
14. Rancho Bravo
1001 East Pine Street
This spot is where college memories–the bizarre and hazy kind–are made. Even if you don't remember your night, you'll remember the tacos and horchata.
15. Value Village
1525 11th Ave, Seattle, WA 98122
It's always sweet to save money and Value Village will help you do just that. You might get lost in this world of affordable decor and clothes, but it'll be worth it.
16. "No Parking" Vintage Store
1102 E Pike St
From taxidermy bats to vintage postcards, this tiny vintage store has everything an antique hunter could want. Check out their $5 table for all the best deals from the 60s.
17. Momiji
1522 12th Ave, Seattle, WA 98122
Features some of the best sushi the hill has to offer.  With two happy hours every day starting at 4 p.m. and again at 10 p.m., what more do you need?
18. Kaladi Bros
517 E Pike St, Seattle, WA 98122
The best alaskan coffee in Seattle, the best playlist in Seattle, some of the best people in Seattle. Pull up a stool, a hot mocha and chill.
19. Honey Hole
703 E Pike St, Seattle, WA 98122
Very tasty sandwiches served until late at night. We recommend the Corleone.
20. Vostok
1416 Harvard Ave, Seattle, WA 98122
Prepare to crave dumplings for days! Take a friend down Broadway and enjoy inexpensive Russian-Ukrainian comfort food.
21. Neumos
925 E Pike St, Seattle, WA 98122
Neumos is the gold standard of music venues on Capitol Hill.  Great acoustics and a cozy atmosphere make this a great place to catch a show.
22. Pike Street Fish Fry
925 E Pike St
If you ever crave fish and chips at midnight, you'll be happy to know that this lovely little place is a short walk from campus. The fish tacos are a cheap option that are equally as delish.
23. Caffe Vita
1005 E Pike St, Seattle, WA 98122
Grab your caffeinated drink of choice and head up to the second floor of this place for a quiet study session free of distraction.
24. Cha Cha's
1013 E Pike St, Seattle, WA 98122
Worth it if only on dollar beer night. 4 to 7 p.m. on weekdays. You heard right. Dollar. Beer. Night.
25. Cupcake Royale
1111 East Pike Street
Sometimes you just need to pair your coffee with a cupcake. The frosting on these things will make you happy cry.
26. Pacific Supply
1417 12th Ave
Broken shower? Art project? Want to build a spear gun? They have almost everything you need and maybe some things you didn't know you needed.
27. Central Cinema
1411 21st Ave, Seattle, WA 98122
With old school movies, dining room theatres and wine, this theater is better than anything downtown. "The Princess Bride," Seahawk showings and "The Room"—what more could you want?
28. Street Meat
908 12th Avenue, Seattle, WA 98122
This is a small hot dog stand outside of the Chieftain on the weekends. Get there. Treat yo' self to a "Seattle Style" hot dog.
29. Frye Art Museum
704 Terry Ave
This little museum is a great spot to go get your culture on for an hour or two without the intention of drinking or going to class.
30. Red Lounge
1212 E Jefferson St, Seattle, WA 98122
Visit this quaint Mediterranean restaurant for some great food, but stop by on the last Friday of the month aroung 8 p.m. and you will find a great head-to-head poetry match.
31. Broadcast Coffee
1918 East Yesler Way
This coffee shop is quiet, away from campus, and near a beautiful park. Grab your books and get ready to study.
32. Cheeky Cafe
1700 S Jackson St, Seattle, WA 98144
Arguably the quirkiest cafe in Seattle, this Korean-American fusion restaurant serves up great food that is budget friendly. Try the Cheeky burger or the Okonomiyaki.