Seafood has a long, glorious relationship with the Pacific Northwest and with Seattle in particular—try a clam chowder bowl at Pike's Place and you'll know what I mean—and a new take on an old Seattleite favorite will be hitting the city this October.
---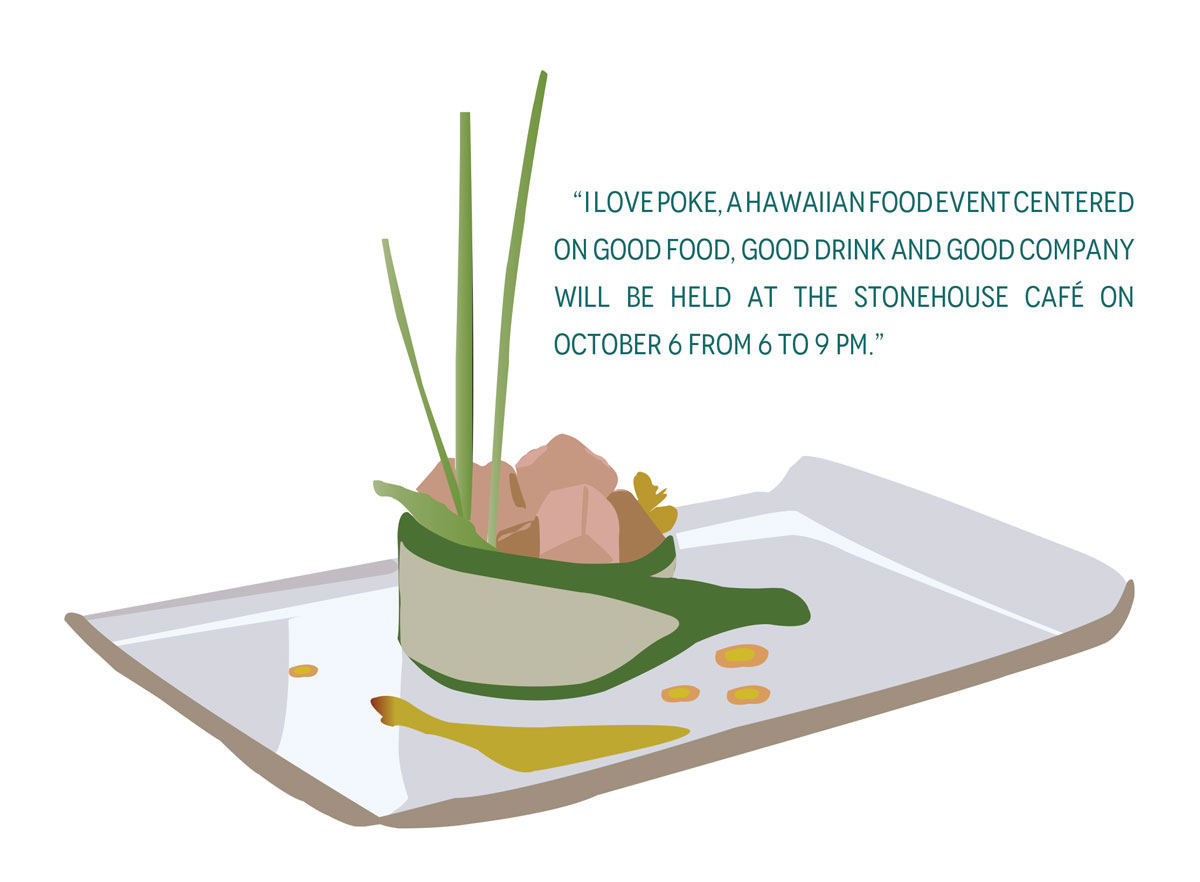 ---
I Love Poke, a Hawaiian food event centered on good food, good drink and good company will be held at the Stonehouse Café on Oct. 6 from 6 to 9 p.m. Event creator Nino "Neens" Camilo has teamed up with Chef Sam Choy, known as the "Godfather of Poke," and Max Heigh, Choy's business partner, of Poke to da Max Food Trucks, to bring professional chefs from all over the west coast to see which one makes the best poke. Their creations will be judged by Chef Choy and the winner will be announced at the end of the night.
For those who are new or unfamiliar with island cuisine, poke is Hawaii's most famous raw fish dish. It is typically made with cubed ahi tuna, fresh ingredients like raw onions, Hawaiian sea salt, soy sauce and an assortment of different oils. Chef Choy popularized the dish more than 30 years ago when he brought it overseas to the mainland.
"He's known for taking that little Hawaiian fish dish and exposing it through television, and recipe books that have been distributed nationwide," said Camilo, founder of Ono Yum, the company organizing the event. "I created the event because I saw such a large craving for poke in everybody that I came across that lived on the mainland [and] was aware of Hawaiian food. Because of our friends in Seattle we decided to bring it out there next as our third city. There's always been a strong islander presence in Seattle. People are open to many different types of cuisine."
The first I Love Poke event was held six years ago in San Diego. Since then, Camilo and Ono Yum put the event on annually. Every year attendance has been impressive.
In previous years, I Love Poke events have welcomed hundreds of people to enjoy the mouth-watering creations of their master poke makers. This year, the event will be held at an intimate venue: The Stonehouse Cafe on Rainier Avenue.
"I always like to be near the water," Camilo said. "Our venues in Southern California are right across from the ocean, or on the ocean, and it felt right when I went [to the Stonehouse]. It's a beautiful venue."
Most of the chefs who will attend and compete in the event this year are from Seattle, Portland, San Diego and San Francisco. On the roster: Dave Decker from 13 Coins Seattle, —who has won Sam Choy's Poke contest in Hawaii—Jason Velasquez from the Stone Lounge in Bellevue, Steven Ariel from Trace Seattle, Jeriel Calamayan from Kraken Congee, Geo Quivuyen from Food and Shit, as well as several others. In total, about 10 chefs will compete for 'best poke' bragging rights by displaying their delicious and fresh ingredients in the most creative way they can imagine.
"I Love Poke is not just about the food," Camilo said. "The food is our focus so it's a given that there's going to be good food there. What I think people enjoy the most, and what creates the best moment is that this is just a big backyard barbecue, Hawaiian style."
The purchase of a ticket will provide one person with entrance to the event, and a chance to taste each of the competitor's creations and other food items to provide a well-rounded Hawaiian food experience. As this is the first time the event will be held in the Pacific Northwest, admission will be limited to 125 tickets. Each ticket is $85.
Nick may be reached at [email protected]