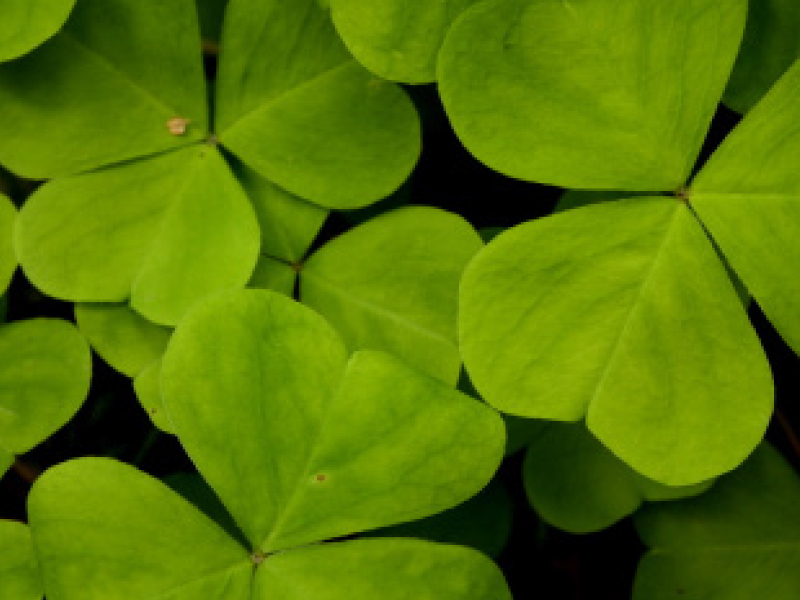 You start your day with a bowl of fruit: strawberries, raspberries, and blueberries. On the way to class, you grab an Asian pear. For lunch, a green salad topped with fresh herbs. It's all locally sourced, ethically produced, and organic. And none of it cost you a dime. You just had to know where to look.
Seattle University's campus beds are home to countless edible plants, all maintained by our hardworking grounds crew. With the exception of individual beds in the community gardens, all edibles throughout the campus landscapes are available for harvesting.
Though use of campus plants has been increasing year by year, many students have no idea that such a vast resource is at our fingertips. But it doesn't have to be that way—with just a bit of education, successful foraging is easy.
The scope of the campus' edible landscaping is subject to expansion in response to student interest, so the best way to make a difference is by getting out there and foraging. Positive change never tasted so good.
A comprehensive map of campus edibles is available at seattleu.edu/grounds/edibles. Groups can also request edible campus tours via the grounds website.
Fig
Our campus has two different fig species, Brown Turkey and Desert King. Look for fig trees in the Ciscoe Morris Biodiversity Garden behind the Casey building, in the orchard on the east side of the Columbia building, and in containers near Xavier and the Lynn building.
Look For: Small trees with a distinctive leaf shape and teardrop-shaped fruit. Ripe figs will be tender and mahogany or dark green in color.
Season: Summer through fall
Fig, Onion, and Goat Cheese Pizza
This sweet and salty pizza uses store-bought dough, so it's nearly as convenient as takeout. Look for premade pizza dough at Trader Joe's in the refrigerated section.
1 lb prepared pizza dough
2 tbl olive oil, divided
½ yellow onion, sliced
6 fresh figs, halved
5 oz goat cheese
1-2 tbl honey
Prepare pizza dough for baking according to package directions. Preheat oven to 450 degrees. Heat olive oil in a skillet over medium heat and add onions and a pinch of kosher salt. Saute until golden brown and soft, then set aside. Roll out dough on a floured surface, then transfer to an oiled cookie sheet. Lightly drizzle dough with olive oil, then arrange goat cheese, figs, and onions on crust. Bake for 15-20 minutes. Remove from oven and drizzle with honey, then serve.
Rosemary
Of the many herbs that grow on campus, rosemary is one of the most plentiful and easy to identify. It can be found in many locations around campus and the surrounding neighborhood—once you know what to look for, you'll see it everywhere. The bushes in the Shakespeare garden in front of the fine arts building are a great place to start.
Look For: Bushy pine tree–like plants with woody stems, bright – to muted-green needles, and occasional purple blossoms. The most foolproof way to identify rosemary? Give it a sniff. There's no mistaking that smell.
Season: Year-round
Rosemary German Pancake with Fresh Blackberries
Also known as a Dutch baby, a German pancake is a quick and delicious weekend breakfast The eggy, crepe-like batter puffs up in the oven before collapsing in on itself, resulting in a light texture and ruffled exterior. This one is infused with herbs, then topped with fresh berries and a dusting of powdered sugar. Be sure to wrap a dish towel around the skillet handle after you remove it from the oven—it will be very hot.
2 sprigs rosemary, more for garnish
2/3 cup whole milk
2 eggs
½ cup flour
Pinch kosher salt
2 tablespoons butter
Fresh blackberries
Powdered sugar
Pour milk into a small saucepan and add rosemary. Bring to a simmer over medium heat, stirring often. Once milk starts to bubble, turn off the burner and remove from heat. Let cool slightly. Remove rosemary and measure out ½ cup of the milk. You may have to add some more whole milk if too much evaporated during the boiling process, or you may have some milk left over.
Set milk aside and let cool to room temperature. You can stick it in the fridge to speed the process along if necessary.
Preheat oven to 425 degrees and place a large oven-safe skillet on medium rack while the oven preheats. Meanwhile, whisk together eggs, flour, and salt in a medium bowl until a pasty batter forms. Pour in about half the milk and whisk until mixture thins out, scraping sides as you whisk. Add the rest of the milk and whisk. Once oven is done preheating, put on an oven mitt and remove the pan. Put butter in pan and melt, swirling to coat the sides of the pan. Pour the egg mixture into the skillet and return it to the middle rack. Bake for 12 minutes, until pancake is puffed and golden brown. Let cool slightly, then dust with powdered sugar and garnish with fresh blackberries. Cut into wedges to serve.
Rhubarb
Bright red rhubarb can be found in the gardens behind the Admin building.
Be sure to only use the stalks. Discard the leaves, which are poisonous.
Look For: A red-stalked plant with large, oblong ruffled leaves. The stalks should be crisp and look similar to celery. Don't mistake umbrella plants or giant rhubarb, which also grow behind the Admin building, for edible rhubarb. These have larger, rounder leaves and green stalks.
Season: Mid-spring through mid-summer
Strawberry Rhubarb Lemonade
This is a refreshing, fruity drink that's perfect for summertime. Also try the strawberry rhubarb syrup mixed with lemon-lime soda or champagne. Strawberries can also be found on campus in front of the Lynn building, in the Admin garden, and in the Columbia building orchard in summertime.
½ lb strawberries, diced
2 stalks rhubarb, thinly sliced
1/3 cup sugar
1 quart lemonade
Ice
Combine strawberries, rhubarb, and sugar in a small saucepan. Add one tbl of water. Bring to a simmer over medium heat, stirring often. Reduce heat to low, cover, and continue to simmer until rhubarb and strawberries have broken down and the mixture is saucy. Pour into a bowl and refrigerate until cold.
To make a drink, pour a heaping spoonful of strawberry rhubarb sauce into a glass, then top with lemonade and ice and mix.
Blueberry
Blueberry bushes are plentiful all around campus. They can be found in front of the Lynn building, in the gardens surrounding the Union Green, behind the Admin building, in the orchard on the east side of the Columbia building, and east of the chapel.
Look For: Shrubs that first bear bell-shaped blossoms, then clusters of deep blue berries.
Season: Early summer through fall