Twenty-one protesters were arrested for civil disobedience last week—many of whom are members of the Seattle University community. On Wednesday, April 15, faculty and students were apprehended at 12th and Union after occupying Seattle University. The voices of students, workers and activists were among many speaking up in solidarity with a nationwide movement.
"We're not going to let business go on as usual… because something is wrong," said Adjunct Professor of communications Louisa Edgerly.
As one of those taken into custody last week, Edgerly stands with not only her fellow faculty members at Seattle U, but also with workers across the nation fighting for awareness about the invisible struggle workers face every day.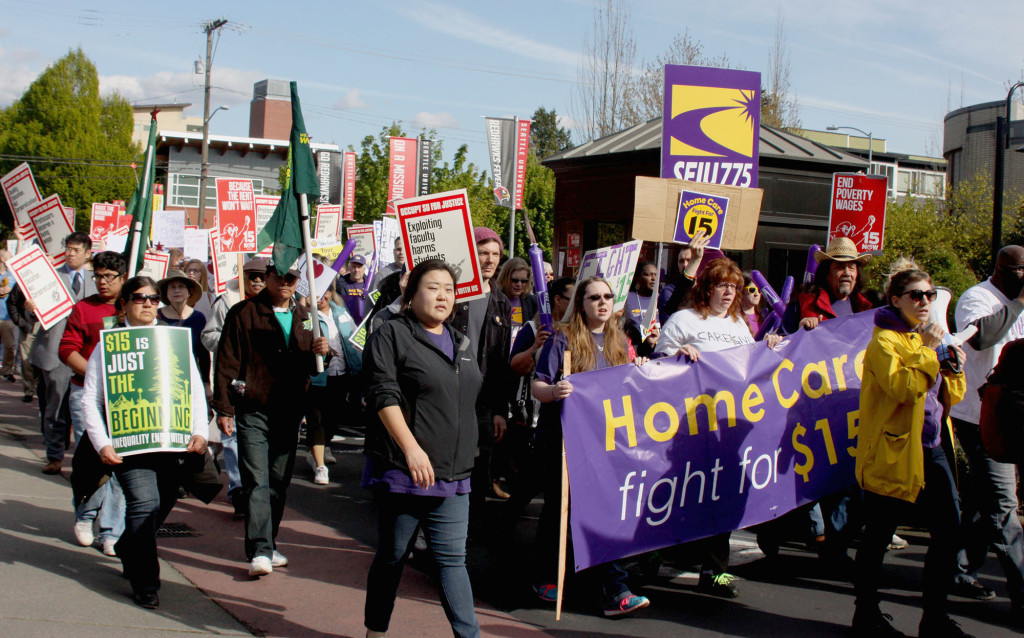 Protestors of all ages gather to rally on Capitol Hill and eventually make their way to campus.
The protest began at 3:30 p.m. in Cal Anderson Park, as a crowd gathered around prominent workers' rights and pro-union activists sharing their stories and struggles with wages. Fast food employees, union organizers, students, healthcare workers and adjunct faculty cheered them on. Organizations like Working Washington, a grassroots mobilization group for workers' rights, and The Socialist Alternative, the political party of Councilwoman Kshama Sawant, were present to fight against the common difficulties these people share.
"We're out here today to make sure all the universities know, and all the employers in Seattle know, that we're going to keep the pressure up until every worker in Seattle actually makes a living wage," said a representative for the Socialist Alternative, Kaylin Nickleson.
Moving from the park, this small portion of a nationwide protest for higher wages met up with a larger group from downtown and then turned towards Seattle U. This massive mobilization of workers was one of many, Nickleson said, as the fight for living wages on the April 15 took place from Orlando to Los Angeles.
Holding signs and chanting slogans, they made their way into campus and occupied Pigott. Workers, students and even city council member Kshama Sawant made remarks on the condition of workers including adjunct faculty. As she finished speaking the halls echoed with shouts of, "Whose schools? Our Schools."
The protesters then marched out of Pigott and to 12th and Madison, where a small circle of Seattle U students, adjunct faculty, as well as other members of the community sat in the middle of the intersection in an act of civil disobedience.
"I love this showing of solidarity I'm seeing out here, everyone coming together from labor rights activists, food workers, healthcare workers and Seattle U adjunct professors, and I think it's fantastic," said sophomore Dylan Gnatz as he watched on from the sidewalk with other protesters.
As one by one the sitting protesters were taken into custody by Seattle Police, the crowd surrounding them sang pro-union songs, shouting again and again, "We've got your back."
Reflecting on the events, Edgerly stressed that the goal of their actions was to empower workers across the country and to address issues she and other adjunct faculty have with Seattle U. For her, the situation of adjunct professors is more than just a salary problem. She believes that pressure these professors face from having short-term or last-minute contracts, class to class wages, limited tenure tracks and little respect from the administration ultimately hurts the students of Seattle U.
"Our working conditions are their learning conditions," Edgerly said.
Adjunct professor of Political Science Larry Cushnie agreed with Edgerly and sees the protests of adjunct faculty as more than just about wages. In his opinion, the efforts for unionization at Seattle U is part of a nationwide push against corporatization of university systems. He worries that adjunct faculty are not taken seriously, or given ample resources to fully help students.
"I never felt that I was in an antagonistic battle… What I've thought about is what is going to be the best outcome for students, and what is it that can be done so that the university can uphold its mission," Cushnie said.
Many adjunct professors expressed concern over the silence from the administration over a recent poll for unionization taken of adjunct faculty. The results of the poll have still not been released.
The administration responded to the protest in a press statement given to KIRO 7 news. They expressed a desire to work with the protesters and spoke of their own commitment to the University's mission.
"It is a disagreement over means, not the end. We share the same goal of supporting our adjunct faculty, who like all faculty are important contributors to our Jesuit Catholic inspired educational mission," administration said in the official statement.
Tim Marron and other members of Public Safety share this concern, as they worry over the precedent of outside events occupying the campus. Unlike other movements like Adjunct Walkout Day, the Occupy SU protest did not work through the university's mechanisms to allow protest and event management.
For Marron, this developing precedent raises important issues about protests on campus. With little coordination, public safety has to spread their resources thin and concerns arise over liability as well as legality of unauthorized marches on private universities.
Yet as those 21 protesters were led into police buses that evening, the protest's trending twitter tag #justthebeginning revealed that this single event was not the end of the nationwide movement for living wages.