Taking Math from Class to Community
From the beloved hashtag #fixitSGSU to living the Redhawk Experience, Seattle University has countless slogans that students recognize. But as an institution that constantly reiterates our mission to "promote a more just and humane world," the meaning sometimes gets lost in translation.
Within our math and science departments, however, Seattle U's social engagement is especially flourishing. Math professor Allison Henrich's mission-drive teaching style has rightfully earned her the 2015 Henry L. Alder Award for the quality of her undergraduate teaching. The award is given to no more than three higher education faculty every year.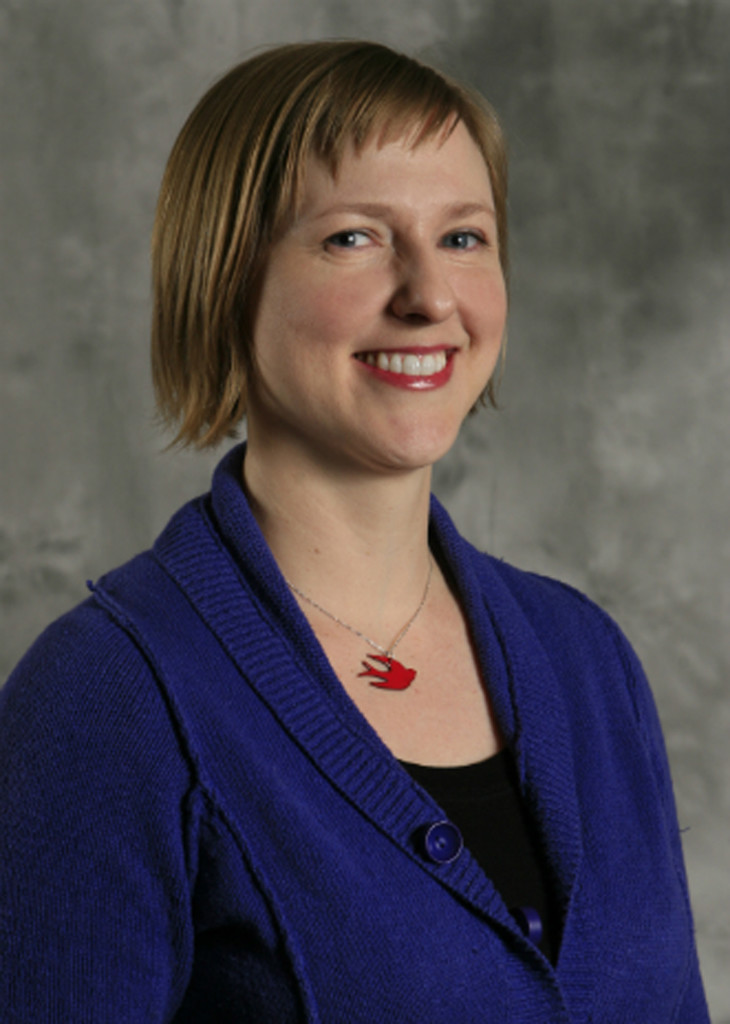 Allison Henrich's mission-driven teaching earned her the Henry L. Alder Award.
"Allison has added a lot of positive energy to the Department of Mathematics," said Dean Michael Quinn on the Seattle U Commons.
Henrich teaches service learning courses that encourage students to be more involved.
"What I love about this service learning course is that a lot of students are reluctant to do it at the beginning of the quarter," Henrich said. "But by the end of the quarter, almost every student says that it's an amazing experience."
Henrich also does research on her service learning class. As she has studied her students' growth throughout the course of the quarter, she has found that they gain a lot of confidence in their abilities in math by working with these kids.
Professor Katya Yurasovskaya also teaches service learning courses. In Henrich and Yurasovskaya's pre-calculus and UCOR 1200 classes, Seattle U students are required to tutor math.
The various tutoring locations range from Seattle Central and Washington Middle School to East African Community Services and Bailey Gatzert Elementary School.
"Professors know that to learn something very well, you need to teach it," Yurasovskaya said.
In teaching the basics, the professors hope that the students will gain a solid foundation on what they know and see the parallels between the material in class and applying it to people in need.
Besides mission-driven faculty, another group paving the path of connection to the community is our Bannan Scholars.
The Bannan Scholars are a group of 20-30 juniors and seniors in the College of Science and Engineering that receive the Bannan Scholarship. To receive the merit-based award, one must display exceptional academic performance by maintaining a GPA of 3.5 or higher, along with demonstrating an involvement in service.
Dr. Frank Shih has worked with the Bannan Scholars at Bailey Gatzert for the past five years.
"The measure of our success is how the passing rate in science [testing] in fifth grade has improved over the years," Shih said. "We're close to the state average of around 60 percent now, when we started at around 10 percent. It's very gratifying."
For many of the students that the Bannan Scholars tutor, English is their second language. The students come from a wide diversity of backgrounds.
"It's nice to go outside of the SU bubble and see the world as less sheltered. We all are doing one job and we can't let that job fail," Shih said. "It's a service where we make our mark."
A major value of the group is being able to rely on one another. Their endeavors not only help the young students in specific topics, but open up avenues for them to explore and discern their own careers as they grow up.
"We hope to inspire these kids," said senior Bannan Scholar Mia Bernardino. "That's our goal."
In these after school programs, access to the STEM field is especially emphasized. Every week, four to five of the scholars commit to being at the school to teach and build up confidence within these children.
"I always felt that [receiving] a Jesuit education and not being engaged was like going to an all-you-can-eat buffet and just having half a plate of food," said junior Bannan Scholar Maria Dalzell. "It's a lot of fun getting to ignite that interest in the kids."
While professors and club members traverse the classrooms at times to build up such opportunities, at the heart of service within our campus the Center for Service and Community Engagement seeks to create a culture of giving back that all students can participate in.
CSCE's strongest resource in recruitment is Seattle U students. Student Engagement Coordinator AyeNay Abye emphasizes that personal development and community development go hand in hand among their current volunteers.
"We want our involvement to reflect the population of the school," said Abye. "If there are people we're not reaching, that is so much potential lost."
In expanding our community on several other campuses, we in turn are expanding what community looks like here at Seattle U.
"There's no better way to connect with other people than giving them a little piece of yourself," Dalzell said. "To me, service just means making my life and career worthwhile."
Vikki may be reached at [email protected]
Leave a Comment