You would think that being surrounded by diverse eateries would help indecisive individuals to more easily choose a place to dine at, but think again.
Stroll down Capitol Hill and you are immediately bombarded by establishment after appealing establishment to tease the rumblings of your tummy. Whether it's the impeccable Mexican cuisine of Barrio on 12th Avenue or the savory sandwich stylings of HoneyHole over on Pike Street, Capitol Hill offers a wide variety of restaurants with diverse culinary themes.
What's a poor college student supposed to do in the midst of all this confusion? I figured I would try something Nue.
On Saturday, Jan. 10, Nue opened to the public, offering diners the chance to sample dishes that can be found around the world at an affordable price. Between Pike and Pine on 14th Avenue sits this international street food restaurant that embodies the flavors of the many countries it represents on the menu.
Chef Patron Chris Cvetkovich hopes to offer to his customers a unique experience. He has traveled to over 80 countries and has tried a multitude of exotic foods, from guinea pig to snake.
"My inspiration was foods I missed eating when I was abroad," said Cvetkovich. "If I couldn't find [those foods] back home, I told myself I'd make them."
Walking through the doors of Nue for the first time, I was immediately bombarded with a mouthwatering scent, along with a smile and a gesture to sit anywhere I like. Instead of separate booths, long tables are set up side by side. The communal space makes it feel like a gathering of distinct cultures and backgrounds, as patrons are encouraged to sit together.
Adding to the atmosphere, the mixture of cozy string lighting and paper lanterns has an air of casual sophistication that feels like home. Large pictures painted onto wooden boards dominate much of the visible wall space.
To another side of the building, architects designed floor-to-ceiling shelves that house a myriad of trinkets, artwork and eclectic pieces from all across the globe. They are all souvenirs Cvetkovich bought while traveling, and they had been sitting in his basement just waiting to be admired.
After you finally tear your attention away from the exceptional aesthetic appeal of the place, you next need to focus your attention on the interesting mix that is the menu.
If you wanted Romanian mititei and Indian kale pakora one day, or South African bunny chow and Syrian fattoush the next, you could get it all at Nue right now.
This new hotspot won't be getting old anytime soon, either. According to Cvetkovich, about 50 to 80 percent of the menu is set to be changing and constantly revolving. However, the chefs will keep the most popular 20 percent of dishes constant.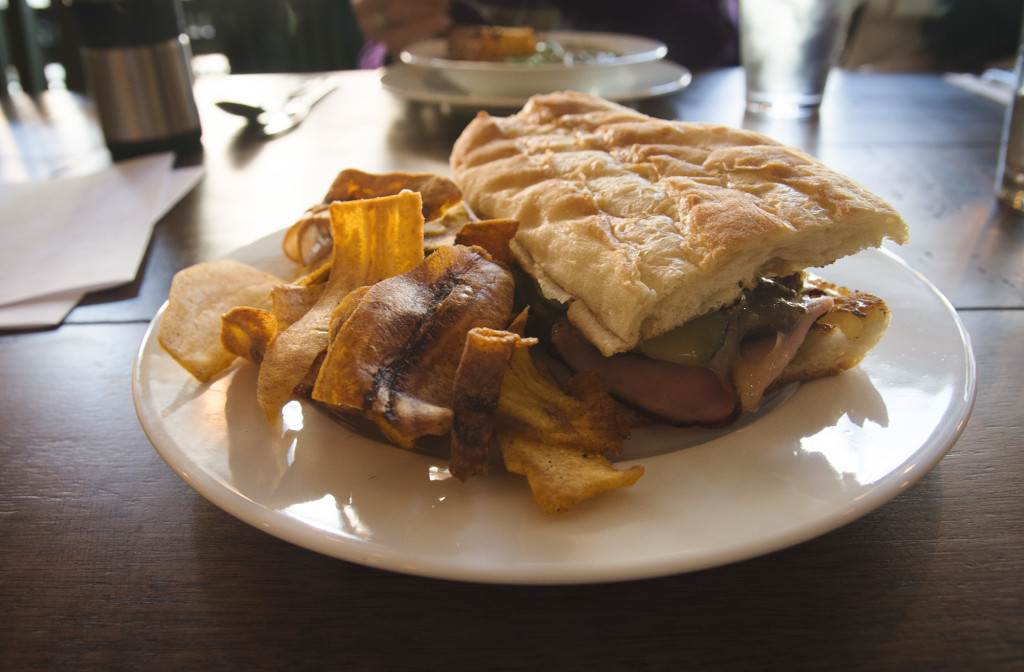 Get a little taste of Cuba at restaurant Nue located between Pike and Pine on 14th Avenue.
Since its grand opening, the two dishes currently reigning as the top picks are the Trinidad goat curry, the restaurant's most complex dish so far, and the grilled Barbados pig tails.
After much temptation I was persuaded to try the latter, and the resulting delectable dance my taste buds did with the crispy, tender meat dipped in the accompanied glaze proved it worth all the hype. (I honestly fantasize about when they can tango again; they were that delicious.)
Dishes like the Japanese katsu sando (panko breaded pork loin with kewpie mayonnaise on white bread) and Togarashi chips and the Malaysian prawn laksa (a spicy peanut and coconut curry) can also do a mean cha-cha. Flavorful and light, with beautifully simple presentation on pristine white ceramic, Nue certainly succeeds in making a tasteful food journey.
As if the distinctive meals aren't diverse enough, the numerous gluten-free, vegan and vegetarian options on the menu are sure to unite the rest of the community.
"It's all about bringing everything back home," Cvetkovich said. "You fall in love with this one dish that you can't find anywhere else, but you want to share it with everyone."
Tremendously friendly staff with even friendlier foods to delight you, Nue seems to have it all.
Vikki may be reached at [email protected]