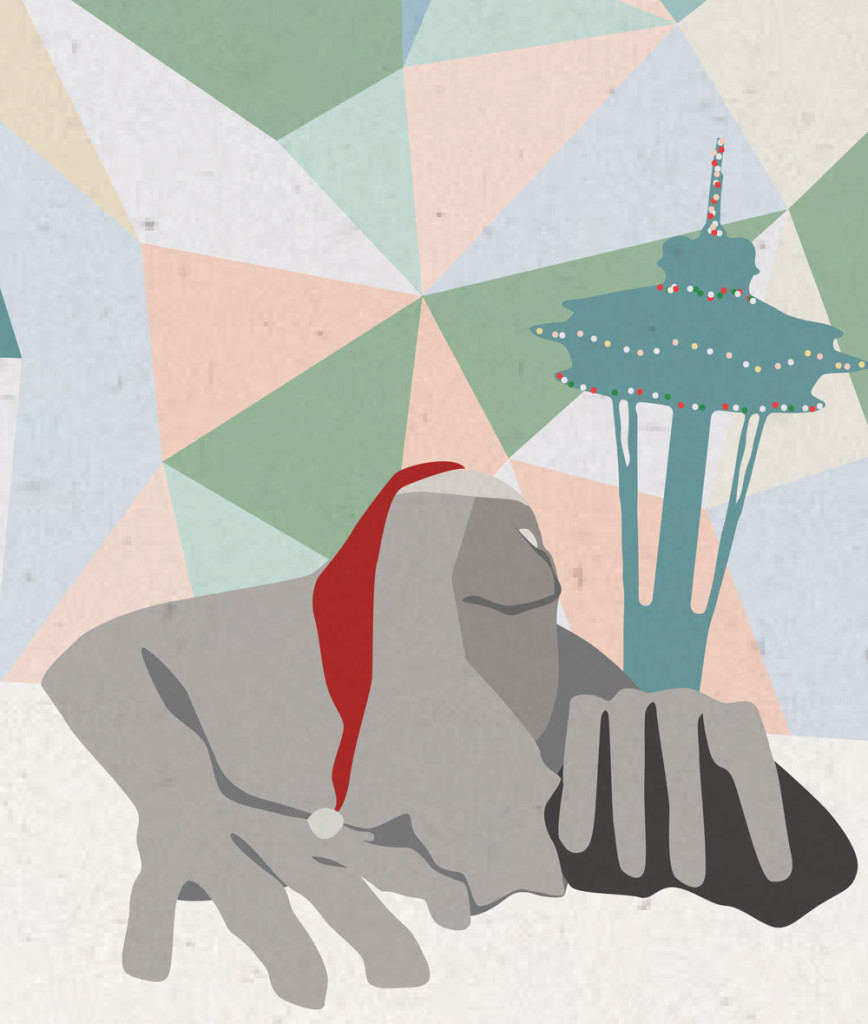 'Tis the season for magical nutcrackers, a special red-nosed reindeer, lighted decorations and hanging stockings by the chimney with care. The editorial board selected the best and brightest festivities throughout the month of December that are sure to bring you Christmas cheer.
Woodland Park Zoo Lights | Woodland Park Zoo
All month except Dec. 24 and 25, 5:30–8:30 p.m. |$6.50 for children, $9.75 for adults
www.zoo.org/wildlights
The orangutan will be dreaming of egg nog. The mountain goat of a snowy Christmas. And the hippopotamus of the dreidel, dreidel, dreidel. Meanwhile, you can be sipping a peppermint latte, strolling happily through the brightly-lit Woodland Park Zoo.
It happens every holiday season: Seattle's favorite animal home becomes decorated by hundreds of thousands of LED lights. Wild animals and wild places will be recreated in vibrant electric fashion. There will even be a pair of real reindeer. And yes, there will be snow for the little ones. Friendly snowball fights are encouraged.
This classic holiday escapade is ideal for families and lovers alike. For those seeking a mild thrill—or perhaps a romantic endeavor—free carousel rides will be available. Remember: the holidays are a time to invest in people and to practice self-care. So bring the family, get courageous and pop the date inquiry, or come alone and bask in a moment of LED-laden solitude.
To avoid lines, tickets may be purchased online but you can also buy them at the zoo's gates.
Urban Craft Uprising | Seattle Center Exhibition Hall
Dec. 6, 10 a.m.–6 p.m. and Dec. 7, 10 a.m.–5 p.m. | Free
www.urbancraftuprising.com
Sick of all the Black Fridays and Gray Thursdays and Cyber Mondays? (What's next, Credit Card Debt Wednesday?) This year, skip the mall and get all your shopping done at this giant indie craft show featuring local and traveling jewelry makers, ceramicists, fiber artists and more. Whether it's a madrona candleholder for your dear old mom or a carnivorous terrarium for your horrible roommate, there's sure to be something for everyone among the hundreds of vendors. There will also be a full schedule of book signings from cookbook and craft book authors. Once you've shopped your heart out, grab some sustenance from one of the visiting food carts, like Honest Biscuits or Pampeana Empanadas.
A Christmas Carol Improv | seattle theatresports
Almost every night in December | $12-$15
www.unexpectedproductions.org/show/Christmas
There is nothing better than gathering your family and heading to the theater to see the heart of a grinchy old Scrooge transform into that of a fun-loving man in Charles Dickens' classic, "A Christmas Carol." Unless that transformation inexplicably doesn't occur as expected. Unexpected Productions is putting on a show with just these twists of our fabled tale. Performed in this matter since 1985, the improv group will put on "A Christmas Carol" as never seen before—changing even from one performance to the next. Whether Tiny Tim is actually sick and other such plot points are entirely up to the audience. With over 15 shows this month, you never know how the plot might turn out.
Unsilent Night | Begins at on the Boards' Merrill Wright Mainstage Theatre Lobby
Dec. 13, 5:00 p.m. | Free
www.unsilentnight.com
If you're sick of classic Christmas carols, perhaps Phil Kline's "Unsilent Night" might be a little more your style. This contemporary twist on holiday caroling is celebrated annually around the globe. But don't worry, there's no singing involved—all you have to do is download an app.
Kline's "Unsilent Night" is an electronic composition written specifically for outdoor performance in December. Participants each download one of four tracks of music which, when played together, comprise Kline's ethereal "Unsilent Night."
Countless participants meet up with boomboxes, speakers, or any other type of portable amplifiers and each hit "play" at the same time. Then they walk through the city streets creating an ambient, aleatoric sound sculpture that is unlike any Christmas carol you have ever heard.
The interweaving of electronic recordings creates an experimental soundscape full of shimmering bells and time-stretched hymnal melodies, capturing the magic and enchantment of the holiday spirit without any of the corny Christmas classics.
Teddy Bear Suite | Fairmont Olympic Hotel
Now until Dec. 24, Mon–Thurs 11:00 a.m. –5:00 p.m., Fri–Sun 10:00 a.m. –7:00 p.m. | Free
www.redtri.com/seattle/teddy-bear-suite/
Big bears, little bears, white bears—oh my! It's un-bear-lievable how many bears of all shapes, sizes and colors will be on display. Whether you bring the kids you babysit, have an affinity for cute cuddly, larger-than-life stuffed animals or simply need a big bear hug to recover after finals, this is the perfect place for you.
It's a perfect photo-op—make it a day with all your loved ones and take an awkward family photo wearing ugly Christmas sweaters. Then wander around the hotel to browse the gingerbread displays in the lobby.
While it is a free event, donations for Seattle Children's Hospital will be accepted.
Homo for the Holidays | ODDFELLOWS HALL
Dec. 11–14, 17–24, 26–27 | $20-25 advance, $30-35 at the door
www.centuryballroom.com/home/events/homo-holidays
Spending Christmas at home with your extended family can be such a drag. Why not make the yuletide gay with a trip to "Homo for the Holidays," Seattle's snarkiest and sparkliest Christmas spectacle?
"Homo for the Holidays" combines the best of burlesque, cabaret, comedy, dance, drag and musical delights into one truly glittery and gay holiday spectacular. With big wigs like BenDeLaCreme of RuPaul's Drag Race, Kitten LaRue of the Atomic Bombshells burlesque troupe, and Cherdonna Shinatra and Lou Henry Hoover of "The Cherdonna and Lou Show," it is one big campy Christmas party you do not want to miss. After all, why come home for Christmas when you can come out?
Winterfest | Seattle Center
All month long
www.seattlecenter.com/winterfest
The Seattle Center is usually on the top of the list of places to see in Seattle—it houses the go-to tourist spots like the Space Needle, the Experience Music Project, and the Pacific Science Center. But many people don't realize that the Seattle Center also hosts a number of cultural and holiday-themed events throughout the year.
This winter, stop by the famous center any time until Dec. 31 to tour the Winter Village. Events include ice skating at the Winterfest Ice Rink (experience not required, if you don't mind making a fool out of yourself), Winterfest Ice Sculpting by professional artists every Saturday and student showcases featuring the artwork of local public and private school students. These are just a few of the many winter-themed events that can be found at the Seattle Center this December—there truly is something for everyone.
Pacific Northwest nutcracker Ballet | McCaw Hall
Dec. 5-7, 11-14, 17-24, 26-28, various times | Ticket prices vary
www.pnb.org/Season/14-15/Nutcracker/#Overview
A mysterious uncle, mischievous mice, a special nutcracker—all part of one girl's magical journey.
The Nutcracker is a holiday classic, and for 31 years, the Pacific Northwest Ballet has dazzled audiences with its one-of-kind Nutcracker performance created by founding artistic director Kent Stowell and beloved children's author Maurice Sendak.
If there's one event not worth missing, it's this—a timeless piece, and for good reason. Escape once more and fall in love for the last time with a magical kingdom of dancing snowflakes and flowers, as this will be PNB's last season of the Nutcracker. After this, it will be put in the vaults.
SAM Lights | Olympic Sculpture Park
Dec. 11, 5:30–7:30 p.m. | Free
www.seattleartmuseum.org/lights
Need some festivities to brighten up the dreariness that is finals week? Head down to the Seattle Art Museum's Olympic Sculpture Park (on the waterfront, accessible on foot or by bus) where everyone of any age is welcomed to experience the park like never before.
Take a stroll down the park's path lit up by hundreds of lumanarias while enjoying live music from local artists Lydia Ramsey, Ben Hunter and Joe Seamons, and D20 Brass Band. Watch shadow puppets, witness mobiles made with recycled materials, and make your own paper lanterns with the help of teaching artists.
And if that's not enough to convince you to leave the comfort of a warm bed with Netflix, there are free hot drinks and treats from Bikelava, a local bike food cart that serves up artisan baklava and other sweets. This is an event not to be missed by art junkies.
Christmas Ship Festival | Market Theater at Pike Place
Weekends | Ticekt prices vary
www.argosycruises.com/dining-cruises/christmas-ship-festival/
Gather your blankets, s'mores and cocoa and head down to your closest shore for this Northwest Christmas classic. Since 1949, Argosy Cruises has brought its Christmas Ship Festival to water-bordering communities in the Washington area—around 45 in total. Spectators congregate amidst bonfires on the shore as they eagerly await the arrival of the cruise ship. On board, varying local choirs provide their listeners with a 20 minute performance, broadcasted on a sophisticated speaker system allowing all to hear. Be sure not to miss this Christmas tradition, as Will Ferrell's "Elf" teaches us, "the best way to spread Christmas cheer is singing loud for all to hear."