It's that time of the month in which Capitol Hill shows off its talented exhibit-curating, paintbrush-twirling artists.
The Capitol Hill Art Walk takes place the second Thursday night of each month. Various local businesses and art venues set up shop for a few hours to present the work of local artists, free for public viewing. Several Seattle University students' artworks will be featured in the upcoming walk this Thursday, thanks to the help of the student-founded arts organization Yours in Art.
Yours in Art is a community for student artists where they can both create art and gain exposure.
"Everyone kind of has their role, but we don't really have titles or [expected] roles just because you should be able to do what you want and what you're interested in at any given time," said art history and humanities double major Kaya Payseno, a founding member of the group.
The group strives to help students get involved in the Seattle art community and build a bridge between working artists and student artists.
"One of our goals is to get Seattle U as a part, like a stop on the art walk," Payseno said.
For now, Yours in Art's place on the walk will be at the In Arts Northwest on 17th Avenue, affectionately dubbed "the In" by those who frequent the establishment. The swanky-looking building has 23 rooms in its interior, which will feature the art of Seattle U students, both YIA members and nonmembers, as well as the work of the artists who live at the In.
"What's cool about this space is that it's kind of in between a formal gallery and also like a living space," Payseno said. "So not just like having a show in your dorm room, but kind of elevating that a little bit; but it's still very comfortable."
One of the Seattle U students featured will be visual art and creative writing double major David Strand, a YIA member who is submitting one piece to the exhibit.
"I come from a background of drawing, and this kind of speaks to where I was artistically in a lot of senses—and now I'm kind of moving away from that," said Strand. "I'm moving towards more abstract, mixed media pieces a little bit more. So I've been doing a lot with draped muslin and canvas, and kind of also taken up embroidery as well."
Strand's piece will be featured amongst several other artists' works of different media. Much of the house will be curated for the exhibit to feature both student and live-in artists, and the house's basement will feature live music.
According to In Arts Northwest manager Michael Craft, the In is home to all kinds of artists, including tattoo artists, writers and even a comedy troupe.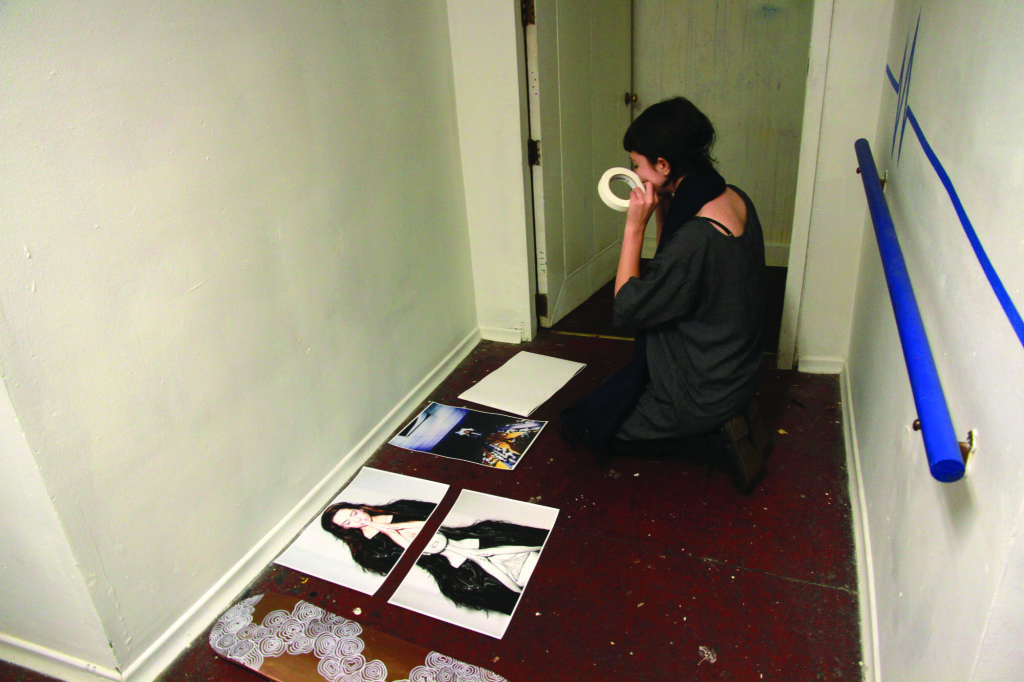 Yours in Art is curating a space at In Arts Northwest for this month's Capitol Hill Art Walk.
"They're constantly either stimulated or bombarded with other people's passion," said Craft. "And some people eat it like caviar, some people it stresses them out."
The In stands, he said, as a reinvention of what it was.
"[We] started the In to hold a space for artists to eat and talk," Craft said. "And then figured from that, the magic would happen."
After the In first got rolling in 2009, it was active five nights a week—to the thrill of many Capitol Hill show-goers but the displeasure of many neighborhood residents.
"It started as a DIY venue," Craft said. "And about three and a half years into it the city came and made sure that we weren't going to keep operating like that. So we had to reinvent what we were doing."
Now, the In only hosts shows a few nights a month, one of those being the Art Walk. According to Payseno, In Arts Northwest is a great way to start off YIA's year.
Craft was enthusiastic about featuring YIA, having worked with the student group to curate an art walk together last spring.
"She is a friend of the house; she's been coming around here for a few years," Craft said.
"I ended up coming over here a lot, and just feeling like it would be a really good space for the level of stuff we're doing—which is kind of trying to be a bridge between professional working artists and student artists," Payseno said.
Yours in Art's installment on the Capitol Hill Art Walk will be at In Arts Northwest this Thursday, Nov. 13 from 5-10 p.m. All are welcome, and admission is free.
Lena may be reached at [email protected]