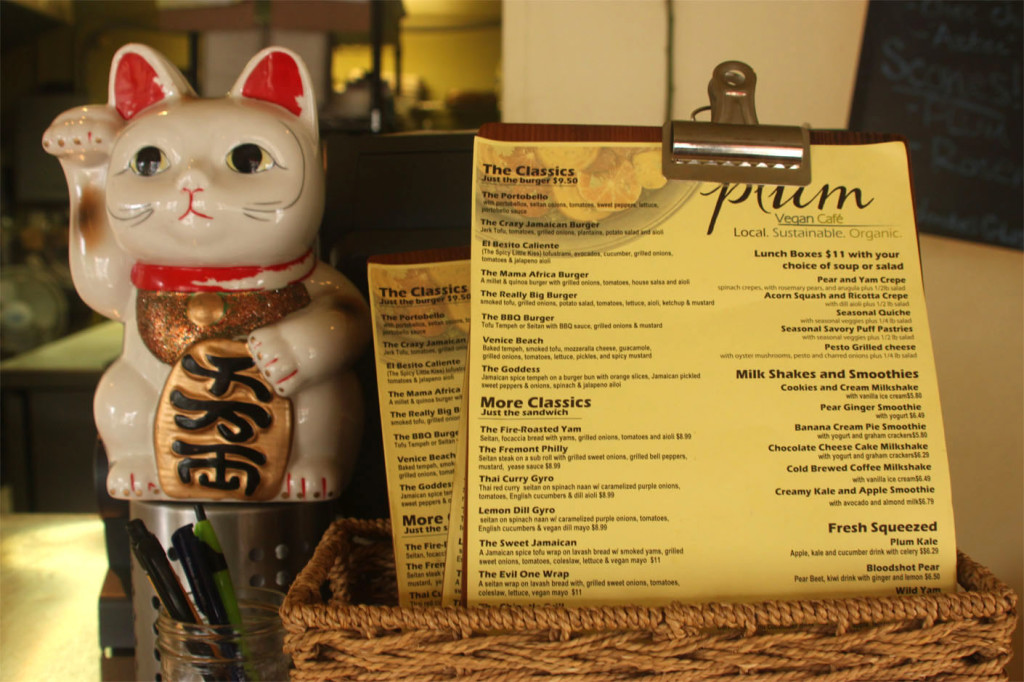 Quick! Come grab a delicous vegan snack at Plum Cafe before their temporary closure and reopening as Sugar Plum.
The soy milk-toting, rice-cake-munching vegans of Capitol Hill have a new reason to celebrate: vegan dessert!
The Seattle Plum family of vegan restaurants will close its beloved Plum Cafe on 15th Avenue on Nov. 1 and reopen as Sugar Plum before the close of winter.
Sugar Plum will be a vegan dessert venue with a variety of sweets and ice cream.
Seattle University junior Susanna Waldrop stresses the importance of vegan options both on and off campus. Having maintained a vegan diet since her freshman year, Waldrop has found most of her meals at C-Street. Still, she said the more vegan options there are, the better.
"It's really important to have a wide variety of vegan options on and off campus," Waldrop said in a Facebook message to the Spectator. "If a menu has just one vegan option, people are probably less likely to order it since it could be something they don't like. The more options there are, the more inclined people are to give them a try."
Makini Howell, the chef behind the series of Plum restaurants, provides exclusively vegan options. Plum Cafe was Howell's original project, but she later extended her restaurant business to include Plum Bistro on 12th Avenue and Plum Pantry near Seattle Center. Still, Plum Cafe holds a particular significance for Howell because it was there, almost ten years ago, that she put in hours of dedication and developed her vegan menu.
"That was where I lived," Howell said. She describes Plum Cafe as a representation of what she has learned and where she has been. She started out there and has evolved ever since; now she is taking another step forward by making the cafe into a sweet shop.
Howell pointed out that the transition is also representative of the evolution of the community, which is the primary reason for making the switch.
"We've seen the neighborhood change a lot," Howell said. "I wanted to make sure that we kept up with the change that was going on."
Howell believes that the businesses that last the longest are the ones that are most adaptive to change.
"It's not that Plum Cafe can't offer anything, it's just that Plum Cafe needs to evolve," Howell said.
The transition is being funded through Community Sourced Capital, a lending system which allows community members to buy investment "squares" of $50 each, which the business will then pay back over time.
If Plum Cafe meets their fundraising goal of $23,000 to $25,000, they will be matched in funds by Craft3, a local community development financial institution.
The idea behind Community Sourced Capital is that the community can help Plum expand their restaurants, just as Plum is evolving to better service the community with vegan cuisine.
The Plum Cafe offers items like burgers, sandwiches and milkshakes using a variety of meat and dairy alternatives.
Waldrop said a variety of vegan options are especially important on menus.
"It's hard and scary for people who are unfamiliar with vegan food to try and cook it," Waldrop said. "If it's at a restaurant or the cafeteria, it's a more viable option to get people to make little changes in their lifestyles and eating habits. Therefore, a good amount of vegan options on menus can potentially make a big difference for the earth and all beings that
live here."
Sugar Plum's new menu will include vegan soft serve and old-fashioned sweets. Since Howell grew up vegan, she wants to provide a place where others can access all of the things that she wanted as a kid but couldn't have. She also wants to accommodate people who have dietary restrictions by making these vegan options more common.
"Since I grew up vegan I didn't really feel super normal, and I want it to normalize veganism," Howell said. "[I want to] make it a part of the everyday dining experience and remove the notion that vegan food is bad food, because it's the best food that you can eat."
The ideology behind veganism even inspired Plum's restaurant name. "In Japan, plum blossoms are the first flowers to emerge from the dead of winter, symbolizing perseverance and hope for a better tomorrow," their website reads. "Taking inspiration from our name, we endeavor to craft Plum Restaurants into a realization of our values of community and hope for a brighter future."
At the end of the day, Howell argues, we need to change the way we eat. Veganism is sustainable for the human body, the environment and animal life, she said.
"All of this fear, the anxiety and all of that stuff that's in the animals when they die, that goes into your body," Howell said. "You are what you eat. So we need to eat better."
Lena may be reached at [email protected]