For a school built upon a mission of social justice, not everyone is as jazzed about ethics as you might think.
Ethics Week is a time when speakers from area businesses visit over 100 Albers School business courses and present about ethics. This year, the listed keynote speakers were Howard Behar, former president of Starbucks International; Andy Hinton, VP of Global Ethics and Compliance at Google; and Nancy Higgins, VP of Ethics and Compliance at Bechtel Corporation.   
"The most important value of [Ethics Week] is how it signals to the students how [seriously] we take it," said Dean of Albers Joseph Phillips. "You know, by making it a week and trying to get speakers in to every class that's meeting for that particular week, and of course then having other events throughout the week that further underscore it."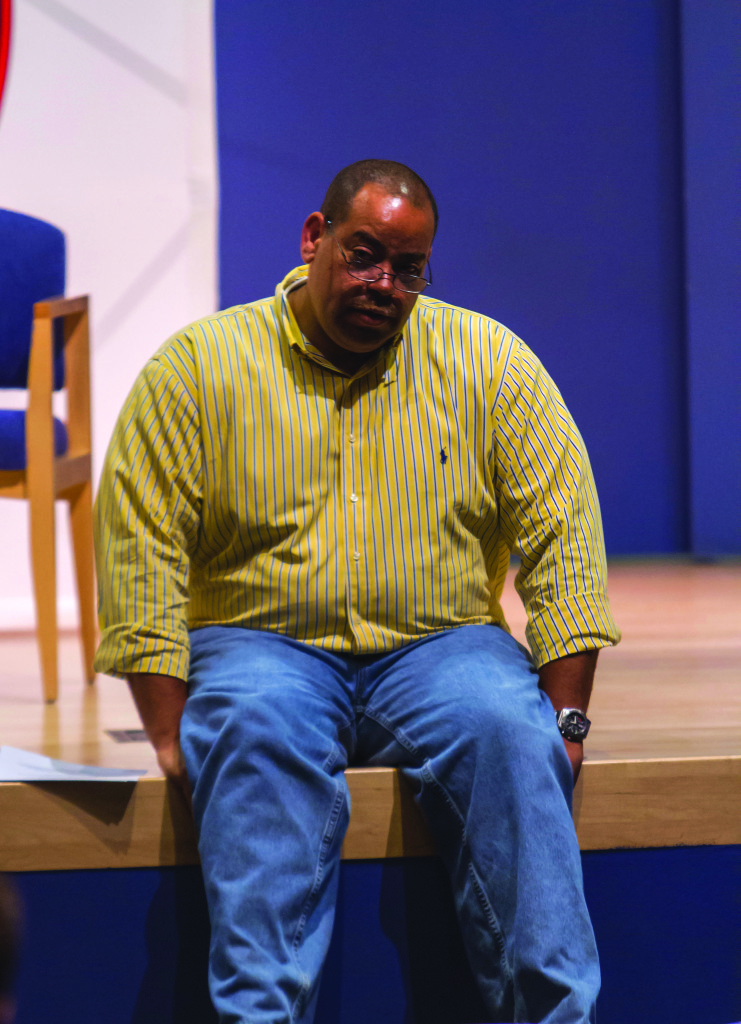 Andy Hinton, the chief global ethics and compliance officer for Google gave a talk on Tuesday, May 6 for Ethics week.
Having a week dedicated to ethics means that any Albers student could potentially see a variety of presentations. Hundreds of speakers are invited, and this year, about 70 participated. Business majors taking Albers classes will probably see a presentation in each class. However, if a particular class meets more than once a week, they won't have more than one Ethics Week presentation. Phillips said that while not every single business course hosts a presentation, they are pretty close to 100 percent coverage.
"It puts it in more of a real world view," said junior Erica Paup, who also added that some of the subject matter during Ethics Week presentations can seem overwhelming or irrelevant to the course.
Not every Albers student believes that dedicating a full week to ethics is necessarily a good use of time.
"Not all of them are really worth the two hours," said student Nikki Brous, adding that ethics is something they already knew about.
"It's a lesson that students don't have a hard time comprehending and understanding and embracing, but nevertheless we have to be very intentional about it," Phillips said.
Part of that intentionality can be seen in the way that the event has grown in the last three years from a day into a full week. The decision was generated by the Center for Business Ethics Advisory Board, and for the first year they just picked a day for the board to talk to business students about ethics.
"The first year we picked a day and it was way more people than just the advisory board," Phillips said. "I'm sure we covered over 50 classes that day. And then some of the feedback was from students and faculty who didn't happen to have class on that day, and they said 'Well, you know, what about us?'"
So last year, the program expanded to a weeklong event and Phillips sees it growing in quality from there. He said it has gotten better over the last few years as far as coverage and quality of speakers. In the future, Phillips said it could grow past just the business college.
"It would lend itself very well to the professional schools," Phillips said. "In fact, the Wednesday evening event was done in conjunction with the law school….so you know maybe at some point it becomes a campuswide ethics week and not specific to the business school."
As for the amount of time taken from classes, Phillips said that most of the professors seem content to make some room.
"If you're asking somebody to give up two or three hours that's one thing, right? But we're not doing that. We're saying maybe take an hour, or half an hour, or whatever you want to give up, but give up a little bit of time," Phillips said.
However, there have been presentations that lasted a full two hours. According to professor Marc Cohen of Albers, who is also on the organizational side of Ethics Week, professors could contact their speakers beforehand to arrange the conditions.
"We tried to put professors in touch with speakers before the event—we provided contact information—and we encouraged the professors to talk with the speakers prior to the event. That way professors and speakers would be on the same page about content, format, etc.," Cohen said in an email.
Junior Elizabeth Masman says that she sees some students become more engaged during ethics week.
"I think it's pretty good, pretty brilliant," said Masman.
Professor Joe Barnes said that for him, it's all about what's right for the students. After encountering a variety of ethical dilemmas during his experience in the business world, Barnes said that it's critical to prepare students for such situations.
"I think one, hearing from speakers is important because I think the speakers help the students understand what they will encounter in the real world," Barnes said. "I think two, ethics isn't something that might happen; they will run into uncomfortable situations that will challenge their ethics and values. It's a given. That's the world we live in. And three, I think students need to learn how to be prepared to voice their values."