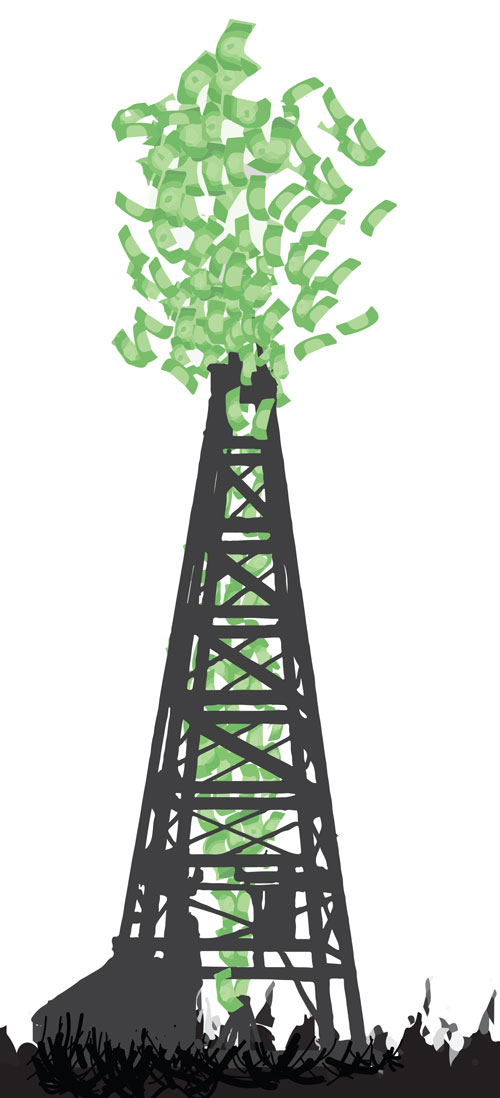 Last week, Seattle University's Sustainable Student Action club (SSA) met with Seattle U's Vice President for Finance and Business Affairs Connie Kanter, a huge turning point in the divestment campaign on campus. The club has been pushing for the university to divest for some time from financial investments from companies they deem environmentally unethical.
As reported in The Spectator last week, SSA finally received an answer from Kanter and Administration at that meeting.
That answer was a resounding "no."
Along with their meeting, Kanter issued a letter on Feb. 21 to SSA with the administration's official answer. The letter informed SSA that their contributions, efforts and dialogue with the administration were appreciated, and hopefully going to continue. However, divestment is not something Seattle U is going to pursue.
"We believe there are more effective ways to address climate change. For these reasons, we are not prepared to move forward on a feasibility study of divestment from fossil fuel companies," Kanter said.
As of press time, it appears the tone between the two groups had changed some. SSA member Delaney Piper reported to The Spectator that her club and Kanter had had another meeting late Tuesday, March 4, at which both groups expressed some interest and excitement at the prospect of forming a joint student-administration subcommittee to work toward "more positive investment." Piper was hesitant to say whether or not her group would move forward in conversation with administration in this way, but expressed that they would be exploring the option.
The conversation between students and administration had begun informally a little over a year ago, when students from SSA met with Kanter in her office.
"They've got a really great group of students involved in SSA," Kanter said. "I started meeting with them in January of last year and it's really been an ongoing dialogue."
After initial informal meetings, SSA and the administration got together a few more times leading up to last week.
"It was a long process, it really was," Kanter said.
Seattle University Students inform donors about the divestment issue.
SSA presented to the Board of Trustees Investment Committee last May, and then again to the President's Cabinet in November.
"The way we approached it was to really try and engage the students to really try to hear what their concerns were, what their actual motivations were, and what their interest is," Kanter said.
According to Kanter, encouraging this kind of conversation between the administration and students is more prevalent at Seattle U than at other universities who are also pushing for divestment.
"We really gave the students voice in a number of ways…I think most other universities didn't give their student the opportunities to express themselves, and to really bring the issue up to a broader group of people," Kanter said. She continued that the promotion of conversation between administration and students is a product of Seattle U's Jesuit values.
Piper agrees that conversations have been relatively positive thus far, despite the university's initial "no".
"I think there's been a respect of open dialogue between administrators and students, and we've been very happy with that relationship," said Piper.
Kanter said that open dialogue is one of the things she values most about her job, and encourages students to come in and speak with her.
However, members of the SSA pointed out some areas in which the dialogue has still not been as open as they would like.
"We also have been unsatisfied with the way that that relationship has maintained between just administrators and students," Piper said. "We would really hope for conversation with the Board of Trustees in the future."
Another missing member from the divestment conversation has been the Seattle U faculty. A professor recently emailed The Spectator expressing support for the movement, complete with reasons as to why now is the time to act. Still, educators on campus have not been heard much within the divestment dialogue.
SSA member Katherine Dietzman also expressed awareness of an obstacle that they keep running into when it comes to conversation about divestment.
"It's been kind of hard to be able to talk about a possibility of a feasibility study and what that kind of looks like, because there is no transparency in terms of investments, direct and comingled," Dietzman said. "So it's hard to be able to have that dialogue where it's really meaningful, and you actually get stuff done, because we don't know—and so I think that's one of our frustrations as a group, is trying to figure out how we can go about this in a very educated way. Except we don't have any way to be educated about it."
Kanter points out that there's a distinct difference between budget transparency and endowment investment transparency.
"We don't specifically publish what our specific investments are within the endowment. That's not something we've ever done, that's not something we'd really see in the institution's best interest, in terms of that kind of disclosure," Kanter said. She said that as a private institution, endowment investment transparency is not a goal.
But that's not the same as budget transparency.
"I think more important for our student body to recognize is, in terms of budget transparency, we're doing tremendous work in that area," said Kanter, saying that in an upcoming SGSU forum, to which everyone is invited, budget transparency would be apparent. "So the question of where do your tuition dollars go is a question that will be answered on March 11 for the students."
"There is a distinction—and I think we as a group are more interested in financial justice as a holistic kind of approach," said Piper. "I think the student body is especially interested in budget transparency, but with that opening of a conversation about budget transparency [comes interest in] endowment transparency."
Piper went on to reference the school's mission statement.
"I for one would love to know that the money that is supporting my school in this budget is not only coming from good sources, ethical sources that I feel fulfill this mission of a just and humane world, but then that is also used in a just and humane way in our school."
The endowment fund is rooted in gifts from donors.
"Our gifts generally come from individuals. Sometimes they'll come from foundations… families, alumni…people that want to make a difference in the education of our students and the scholarship of our faculty," Kanter said.
Some donors specify say that they want their gift to be used for immediate need; others say that they want it to be invested. So it goes to the endowment fund, and the return off of that fund is what gets used.
"Then the endowment funds have to be invested, and then the issue is how do you invest those funds," Kanter said, explaining what divestment is.
34 Companies you should divest from
…according to SSA. From a list of the 200 most carbon-intensive companies compiled by 350.org SSA club members selected these 34 companies as those they wished Seattle U would divest from. This list was later whittled down to 20.
Alpha Numera Resources
Ameren
American Electric Power
Anglo American PLC
Arch Coal Inc.
BHP Billiton
BP PLC
Chevron Corp.
Conoco Phillips
Consol Energy
Datang International Powerr Generation Co. Ltd.
Dominion
Duke Energy
Edison International
ENI S.P.A.
Exarro Resources Ltd.
Exxon Mobil Corp.
First Energy
Gazprom OAO
GenOn
Lukoil Holdings
Mechel OAO
MidAmerican Energy
Patriot Coal
Peabody Energy Corp.
Petrobras
PPL
Rosneft
Royal Dutch Shell PLC
Severstal JSC
Shanxi Coking Co. Ltd.
Southern Company
Total S.A.
Xstrata PLC
SSA originally proposed that in the divestment process Seattle U divest from a list of 34 fossil fuel companies. That list had been compiled from 350.org, based on what the most carbon intensive companies are.
"And by carbon intensive," Dietzman said. "That means coal, oil or natural gas. So it's all three different fields of carbon extraction and that sort of thing."
Piper added that by selecting the biggest offenders, they are trying to make the divestment process a
little easier.
"Instead of investing in the investments that we currently have," Kanter said, explaining what divestment would ask of the university, the school's endowment "should not include any investments that are under 34 fossil fuel companies."
And according to Kanter, that's why the answer to divestment is no.
"At what times would you consider using your endowment, for anything other than the donor's intent?" Kanter said. She cited this as the first question the university needed to ask when it came to considering divestment.
"When I say using endowment funds for anything other than the donor's original intent, their intent is to make a difference and the difference they're wanting to make is in the lives of our students and the scholarship of our faculty, and the wellbeing of the university," Kanter said.
"The real goal with endowment investment is to create a mix that's going to be very secure to maintain the principle. Our goal of our investment…is to maximize return, while maintain a risk that's appropriate for a university," Kanter said.
Basically, if the donors want to make a difference, Seattle U needs to invest in things that are going to make the greatest difference.
"I think she has a lot of validity to what she says about keeping a diverse pool," Dietzman said. "I guess I just kind of question it because it doesn't seem like a donor would be like 'Oh I want you to take the money that I'm giving you and invest it in Exxon Mobil, and that would be great.'"
When it comes to the future of divestment, Kanter said she wants to maintain a relationship with SSA and continue their conversation as it pertains to environmental action.
"If their only interest is in divestment, then we probably don't have a lot to talk about," Kanter said.
"I think when you look at an issue like divestment from fossil fuels, it can get a lot of energy around it…but sometimes it's in a vacuum. I think it's important for our students to really look holistically at the issues of climate change, and what Seattle U can do as it relates to climate change. And what we are doing," Kanter said.
She also spoke of the success of the Climate Action Plan implemented in 2010, the new center for Environmental Justice and Sustainability, and investments they've made in the Environmental Sciences major.
"I absolutely don't see the door closing at this point. In terms of divestment, yes, it's closed, but in terms of the discussion of what Seattle University can do to best influence climate change, I think the door's wide open," Kanter said. "I think that if we're going to enter into dialogue with the students in general, it would be inappropriate to just look at one little slice through one little keyhole…at least open the door and have the dialogue of where we are and where we're going."
"Our Climate Action Plan does not include anything that relates to investment strategy or policy. I'm open to investigating some opportunities there, I shared some ideas with the SSA group last week and certainly that's part of the dialogue that I would hope would continue," Kanter added.
SSA is still discussing their future goals, but Dietzman endorses further dialogue with the university as the right direction.
"The steps we want to take as a group are small steps," Dietzman said. "We want to make this a realistic goal for our school so we can keep this running dialogue and keep this really good relationship that we have right now and that we really value with our administration."
Lena may be reached at [email protected]