Women's Basketball Soars Again
The Redhawks managed to hold on for another victory in conference play as they set their sights on the Western Athletic Conference (WAC) tournament.
On Thursday night, Seattle U's women's basketball team played a highly contested game against Utah Valley that came down to the final seconds which ended in a score of 69-65.
The game started off slow as there wasn't a lot of scoring. Through the first five minutes, the most exciting play was made when senior Sylvia Shephard went for a steal and ended up accidentally tackling one of the referees on the sideline.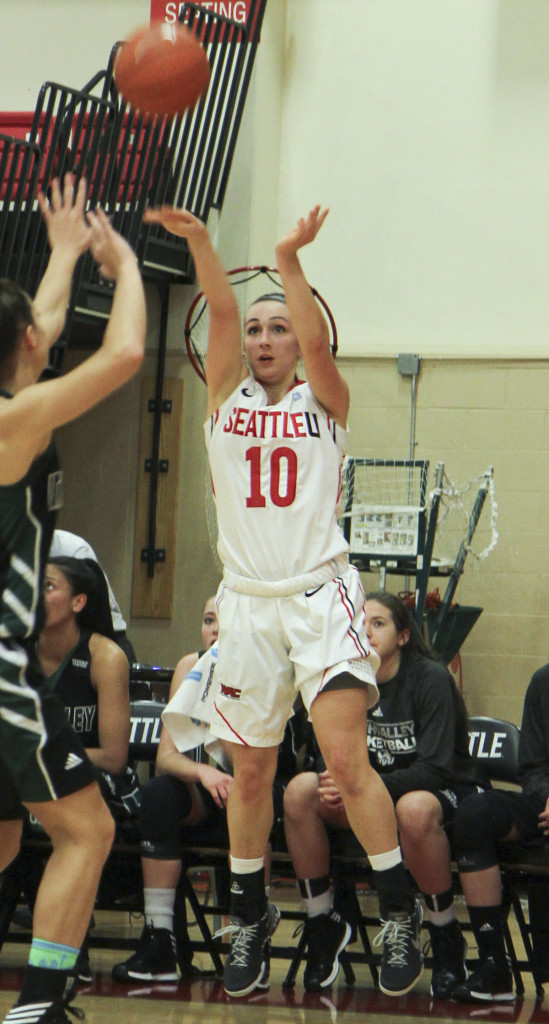 Makenna Clark shoots a 3 point shot in the first half of play vs. Utah Valley on Thursday, Feb. 13 2014. Clark had 14 points in the game to put the Redhawks on top 69 – 65.
But as the game picked up, it was all Redhawks. With less than four minutes to play in the first half, Seattle U had a commanding 23 point lead. Then the Utah Valley Wolverines started clawing their way back in. By halftime, the lead was reduced to 14 points.
Junior guard Makenna Clark tied her career high in points with 14, thanks to a couple three pointers that helped the Redhawks get their big lead in the first half. As the second half progressed, the lead kept getting narrower and narrower.
"It was a big game to hold down the lead and win," said Clark. "They fought back really hard and played a good game."
To everyone's surprise the lead had been reduced to just two points as the score was 63-62 with just over two minutes to play. It made for a very exciting finish as the teams traded free throws and made some impressive defensive plays.
Trailing by two points with just seconds remaining, an offensive foul ended all hopes for Utah Valley as Seattle U increased the lead to four with nine seconds remaining. There would be no scoring in those final seconds.
Four of the Redhawks managed to rack up double digit points in the game, including seniors Ashley Ward and Sylvia Shephard who led the team with 20 points.
Head coach Joan Bonvicini was happy with the win.
"We played a really good first half," said Bonvicini. "We played with an aggressive defense and rebounded well. Makenna is playing at her best right now. But we let them back in, we got too confident. But we held on."
What looked to be an easy victory for the Redhawks turned into an intense game that had fans sitting on the edges of their seats.
"This was a really tough game for us," Bonvicini said. "We had a big lead and lost it. We've got to come ready for the next game."
And ready they were, as they also managed to take down Bakersfield on Saturday night by a score of 74-67 improving to an 8-4 record in the WAC.
Leave a Comment