SPD Tries To Arrest Chaos Inside and Out
For those who have been reading the surge of Public Safety emails sent out over the last few weeks, some might be wondering if Capitol Hill is as safe as it used to be. For veteran students, the chain of emails and updates—culminating in the stabbing of one of our own students—may seem like an increase in crime happening around campus and in the greater Seattle area. But are students living on the Hill really at more risk in 2014 than in years before?
According to Capitol Hill Seattle blog, the number of assaults that happened on the Hill didn't increase from 2012 to 2013. Robberies, however, increased by 43 percent and burglaries increased by 31 percent. The article also mentions that the area around Cal Anderson Park saw some of the worst numbers in both assault and robberies since 2008.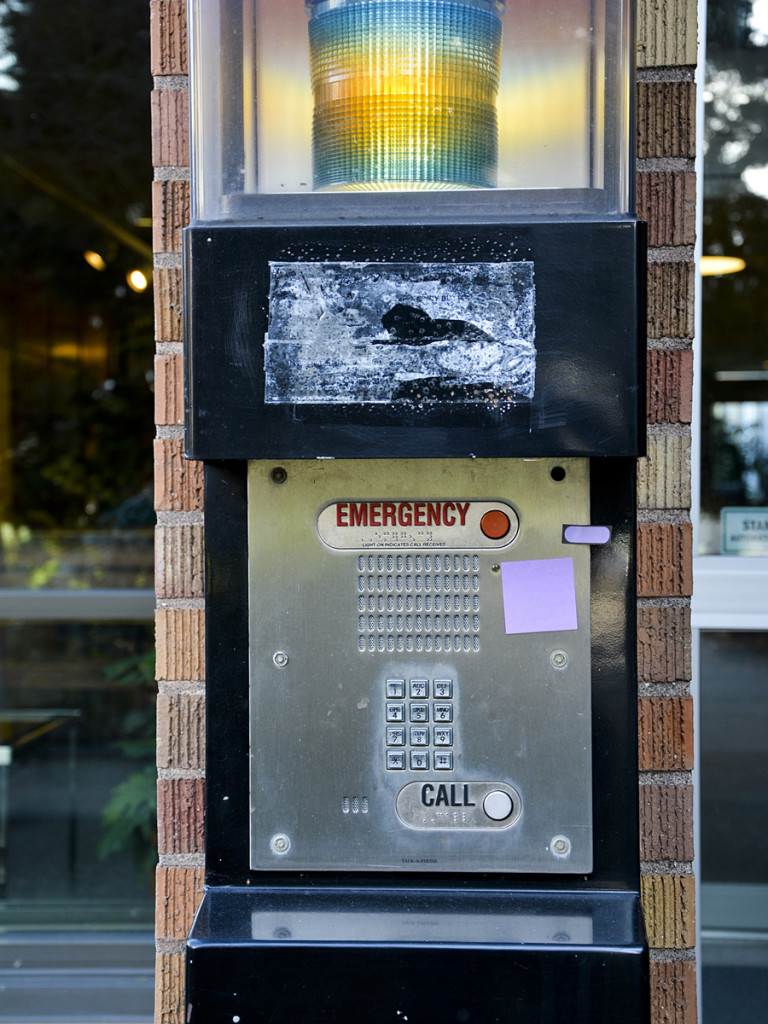 The emergency posts on campus are tools designed to help Seattle U students who are confronted with dangerous situations.
Seattle U Public Safety has begun to hold forums for students to discuss safety concerns around the area.
Tim Marron, director of Public Safety pointed out that, while the ultimate goal is to make campus "safer and more secure" it will never—because it is an urban campus—be entirely "safe and secure."
"We are not a gated community," Marron said, pointing out that Seattle U is an open campus. "That is not who we are."
He also mentioned that campus security has increased its measures to improve response times in the last six months by boosting the amount of uniformed officers and certified dispatchers on staff. Marron also hopes to increase the amount of officers on campus in future years, expand the Night Hawk driving program and enhance Public Safety's notification and camera systems.
Along with Eric Chalmers, the current SGSU president, Marron hopes to change the image of campus security from "enforcer to protectors."
Chalmers also stressed the importance of students assessing their surroundings when leaving areas in the city late at night.
Tim Calder from the SPD's East Precinct echoed the need for awareness, as well as the fact that crime statistics as a whole have decreased in the last 10 years. He recognized, however, that robberies are the primary crime on the Hill and that individuals should refrain from using their cell phones when walking at night.
Seattle Gay News published an article outlining a recent rise in robberies and assaults on the Hill, particularly against the LGBTQ community.
Rather than encouraging fear about these events, however, Social Outreach Seattle, a nonprofit organization aimed at aiding against social issues and injustices in the city, launched an anti-crime march last May with a very specific message: "Don't walk alone."
Simply being aware won't solve everything, though. The Seattle Police Department (SPD) is also needed to help curb the city's crime. But they are having their own struggles in hiring for departmental positions.
According to KOMO News, Police Chief Nich Metz was reinstated last week after being demoted by Chief Jim Pugel, the previous interim police chief, who was replaced by Bailey just two months ago.
The original demotion was part of a citywide effort to comply with the Justice Department's settlement in 2012 on account of the SPD's history of violence and misconduct.
These changes have invariably trickled down to different precincts in the city and Capitol Hill's department is just as chaotic. Just last week, only a day after interviewing the Hill's newest Interim Police Chief Mike Edwards, news was released that Captain Pierre Davis was replacing Edwards as the East Precinct's captain and will be fazed in over the next two weeks.
In the initial interview, Edwards announced a number of changes to policy that could have favorably impacted the area's crime growth. Edwards would have taken the lead integrating the department's new use of force policy as well the changes the Department of Justice's monitoring team would have implemented.
Of particular note was Edward's desire to increase foot and bike patrols of police officers around the Hill. The increase would have been concentrated along Broadway, 12th Avenue and down Jackson Street.
Darrell Goodwin, the dean of students, reminded students that, despite these incidents, we shouldn't allow reports to color our views of the surrounding area.
"We really want to think of [Capitol Hill] as your community," he said. "It's important that we don't start particularizing or profiling people based on an image we have in our head."
Leave a Comment