There's something incredibly refreshing about the energy in a roller derby rink. Saturday, Jan. 18, the Rat City Rollergirls kicked off their season with two bouts between their four teams at KeyArena. If you're unfamiliar with the concept of "roller derby", here's the gist: Everyone wears skates. One player from each team is called a "jammer," and they score the points. After they lap the pack of other skaters once, they get a point every time they pass a player of the opposing team. Naturally, if you're on the other team, you wouldn't be inclined to give them a free pass–so naturally, all of the stereotypical pushing, shoving and crashing that's generally lumped in with roller derby stems from the notion that the other team will try to block the other jammer from getting through. Each "bout,"–or "game,"if the unfamiliar terminology makes you uncomfortable–lasts 60 minutes on the clock, with additional space for halftime entertainment.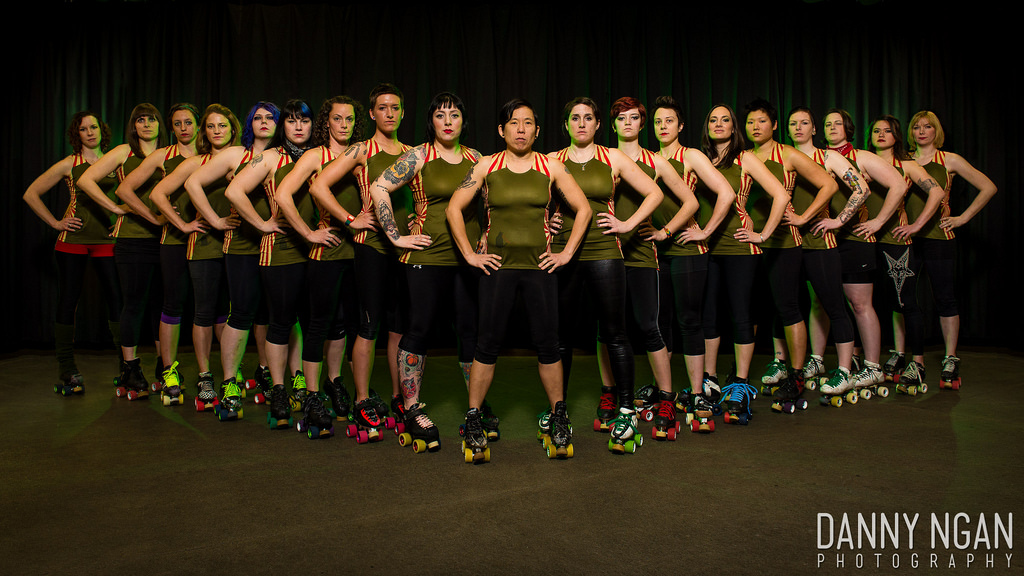 The Derby Liberation Front won against Grave Danger in a bout that was close until the last minute.
"Rat City Rollergirls" refers to the entire Seattle roller derby league. The league is comprised of four teams: Derby Liberation Front, Sockit Wenches, Throttle Rockets, and Grave Danger. They compete with other teams in various places, but also within their own division. Out of the two bouts, the second one was the most seat-gripping. League champion Grave Danger was neck and neck with Derby Liberation Front the entire game. DLF (as their fans affectionately call them from the stands) finally pulled away in the last few minutes, with one jammer who started
lapping Grave Danger. Everyone was on the edge of their seats- or jumping out of them- almost the entire time. But here's why Seattle's roller derby scene is cool: It's not just a "sports" thing, it's a "culture" thing. While it is a competitive sport, roller derby is lacking in some of the most abrasive aspects of modern-day sports culture. Despite the fact that there's a lot of physical contact, and injury isn't outlandish, roller derby seems to generally lack the breed of competitiveness that leads to bad sportsmanship. At least within their own league, the Rat City Rollers appear to have nothing but respect for each other as athletes. Roller derby comes with its own culture, as with any sport. But it's unique because its culture seems to be one of unity. More simply put, the competition is friendly as opposed to cutthroat. Everyone in the crowd wears their most unique garb to the bouts. The announcers are comical and borderline raunchy in their commentary. The referees wear skates, kilts, and anything else they want to sport while watching for fouls. The players all have game names, like Yoko Onoudi'nt, Missle America, and Mad ScrapHer. With a comedic approach to competition, it makes more sense as a community than other sports. Make no mistake, these players will fight for a win. They just seemingly maintain a good attitude about it. In the action leading up to the Superbowl, there has already been a lot of tension, abrasive words and advances. It's refreshing to get to watch a sport that doesn't carry as much ridiculous competitive baggage.