Students Pay High Price Under Metro Changes
The wheels on the bus may not be going round and round much longer.
The King County Metro Bus System has struggled to receive enough funding and may be forced to eliminate or reduce several bus routes including the 3, the 4 and the 12, which all run close to the Seattle University campus.
Tanary Gomez, commuter rep for the Student Government of Seattle University (SGSU), has taken a stand against these proposed bus cuts. She has joined forces with the student government of Seattle Central Community College to voice concerns for both schools' students. Because the decision to stop these bus cuts completely is out of university and student control, the student government has also been preparing a backup plan if the cuts do occur.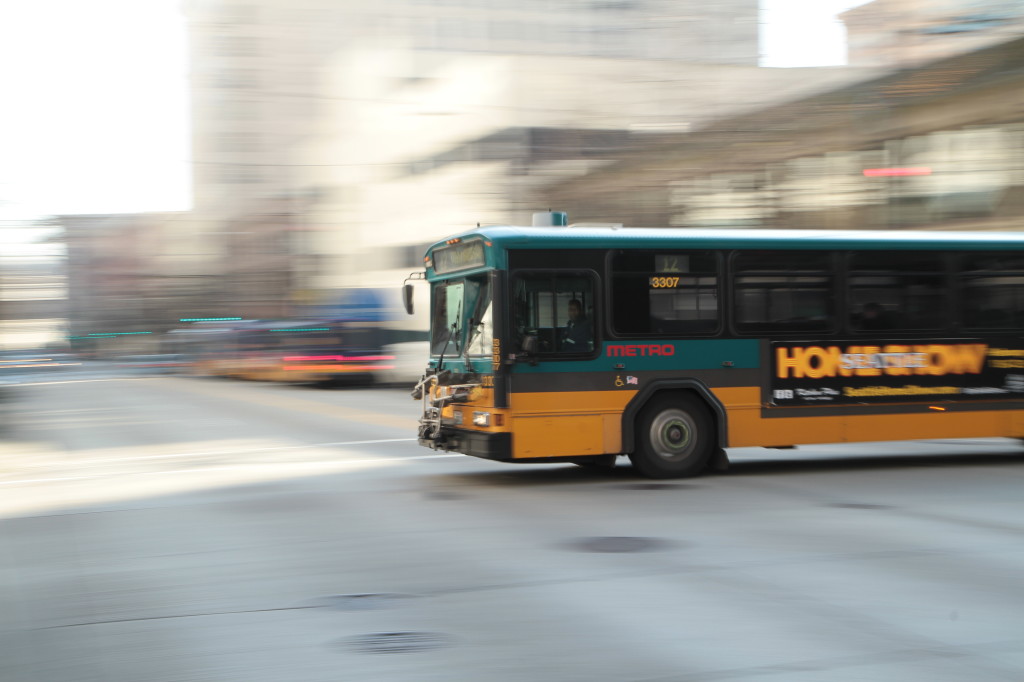 Many students rely on buses to get to and from school and around the city. New budget cuts in the Seattle Metro system could result in the loss of several routes around Seattle University. Such cuts could affect commuters and students traveling through Capitol Hill.
"We would have shuttle buses to take over the 12, the 3 or the 4," Gomez said. "The shuttle buses can be used to take students downtown and to other main places. That is one of the things I have been working on this year."
According to the Seattle U website, 77 percent of the student population lives off campus which includes 59 percent of all undergraduates. There are several transportation options available to these commuter students, with buses being the most common. If the routes are changed or reduced, many students may have to adapt the way they get to school—in many cases, commuting would go from being a nuisance to a serious challenge.
"Aside from the commuters, this will negatively impact all students," Gomez said. "If they reduce the buses, there will be more people driving, longer commutes and less available parking spaces. It will not only affect people who take the bus."
Several commuter students have already expressed their concern. Freshman Khadija Diallo alternates between driving and taking the bus.
"If they were to cut down the buses, I would have to resort to driving every day which would cost more on parking and I wouldn't really like it," Diallo said.
"I use the bus almost every day, especially in the afternoons," said freshman Oshian Coates. "If they cut my route, it will make getting home much harder. And when it gets late and dark in Seattle it can be scary, especially as a girl. I wouldn't be too pleased."
Fewer routes would mean more waiting time—something that wouldn't be convenient after a later class. Sophomore My-anh Doan and freshman Lynn Doan said that the bus is the only option they have to get to school and go home.
Senior Briana Jordan shared her concerns for commuter students.
"It's not really fair to cut buses because what are people supposed to do if they don't have a car?" said Jordan. "I understand that maybe they need more money in the budget not to cut the routes, but it would make things so difficult."
The metro bus system has also proposed an alternate solution to possibly avoid cutting the routes. If they are unable to receive more funding before the summer, they may choose to keep the routes and instead raise fares. Although it would save the bus routes, raising the cost could still negatively impact students and community members who can't afford a higher bus fee.
"If they raise the fares, that would mean the ORCA cards will cost more," Gomez said. "I can already barely afford it for the quarter so I don't know how I would do it."
Several students may be forced to find some sort of alternative transportation to campus.
"If they change the routes or raise the fare, I would be less likely to take the bus. I would choose to commute with my parents more often," said freshman Maddy Robles.
If a change is absolutely necessary, more students would prefer higher fares as opposed to the cut routes as ORCA cards are still available for student use at Seattle U. Cutting the routes would present a bigger problem for students who need to find a way to school, home, work, or any other place in Seattle.
"Getting rid of the buses reduces the likelihood of the youth getting to the resources they need," said Gomez.
Leave a Comment