City Hall's modern architecture and welcoming atmosphere make the building feel like more of a place of business than of politics. Upon traveling up to the seventh floor to meet the mayor, however, I got a glimpse of what working at City Hall is really like–as soon as I stepped off the elevator the voices of angry protestors filled the lobby.
The loud protestors serve as a reminder of the challenges of being a leader. With a city as large as Seattle, it is impossible to make everyone happy all the time, and Seattle seems especially keen on voicing its people's opinions when opposition arises.
Mayor Ed Murray, however, is facing these challenges with poise. As Murray welcomed me into the office for the interview, explaining that the space is still a work in progress as he moves in, I could sense his excitement for his new position as mayor and his eagerness to share some of his ideas with the Seattle University population.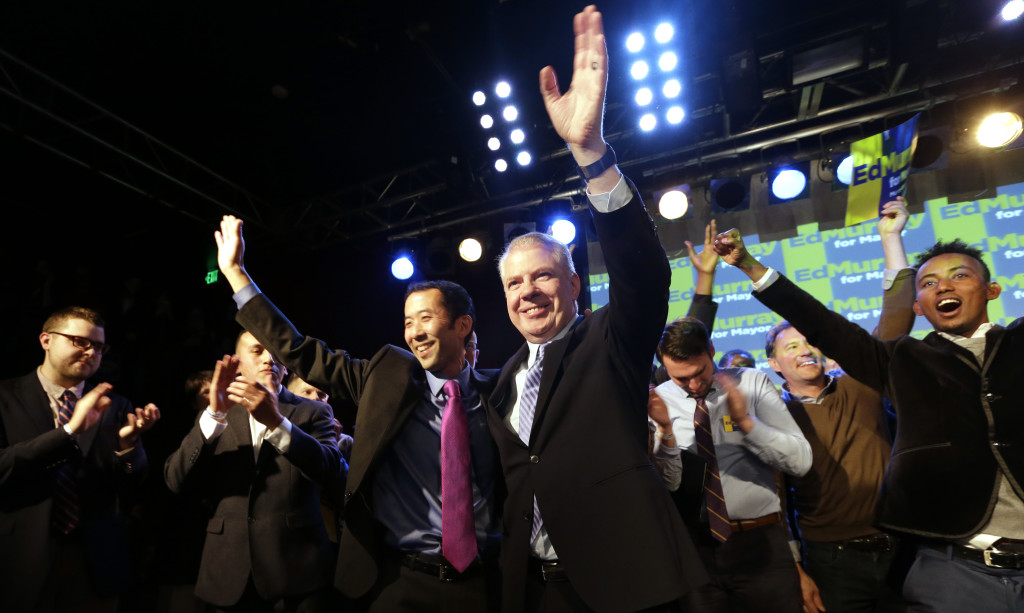 Seattle mayoral candidate state Sen. Ed Murray, center right, waves with his husband, Michael Shiosaki, at an election night party Tuesday, Nov. 5, 2013, in Seattle. Murray challenged incumbent Mayor Mike McGinn in a race where both candidates have been trying to establish themselves as the more liberal choice for voters in the Northwest's largest city. (AP Photo/Elaine Thompson)
In the Spectator's exclusive interview with the new mayor, he expressed hope that the city and the university can work together to solve issues facing the Seattle U community.
"I hope that the city and Seattle U can develop some relationships on these very issues. And I look forward to getting to the campus. I've been there as a legislator but I'm looking forward to coming by and meeting the students and faculty in my new role as mayor."
During his campaign, Murray promoted many goals similar to those of his opponent, incumbent Mike McGinn. These goals included reforming the Seattle Police Department, expanding transit and increasing minimum wage. Murray, however, was able to present some of these ideas with a much less abrasive tone than his predecessor, which many attribute his victory to.
During his campaign, Murray promoted his own vision of mending relationships with Olympia and concentrating police efforts on preventing crime downtown. It was these promises that contrasted Murray from McGinn, who caused fights with the City Council and other departments during his time as mayor and who made claims that crime rates in Seattle are the lowest they've been in 30 years.
Murray, however, is not without opponents. Some took issue during the election with Murray's apparently much more corporate slant, particularly citing the large donations he received from Comcast and drawing links between this giving and former Mayor McGinn's plan to bring gigabit fiber to the area. Both Murray and Comcast denied these claims.
Murray, a Capitol Hill resident, is well acquainted with the Capitol Hill community and with the city of Seattle itself. Murray hosted his campaign party at Neumos venue on Capitol Hill and his campaign headquarters were in the old C+K Graphics building on Pike.
Many Seattle residents know Murray for his strong reputation in Olympia and as Seattle's first openly gay mayor, but his liberal policies are beginning to take their own form as the transition pushes forward – especially now that they aren't being displayed against the backdrop of what became a somewhat contentious campaign against an opponent as loud as as fervent as McGinn.
Murray fully supports the push for $15 per hour minimum wage in Seattle, a movement which has been gaining publicity, but faces major opposition from small businesses. In addition, Murray has spent a good amount of his short time as mayor focusing energy on the Seattle Police Department reform, demonstrating his dedication to public safety.
Murray acknowledges that crime is an issue on the minds of many Seattleites, especially Seattle U students who have been faced with an increasing number of incidents on and around campus. He addressed this issue in a recent exclusive interview with The Spectator by explaining his plans for the police department reform, and how residents can expect these changes to impact crime rates and safety.
"Obviously I know that everyone knows that the police department has been under a federal investigation and is now under a court order for reforms that happened before I became mayor," Murray said. "I am committed that we actually reform our police department on issues like use of force and issues like bias policing, particularly as it relates to race. But in addition to that we want to change how we police in Seattle. We want to move towards a model of not just using the term 'community policing' but actually having police officers who are on the streets on a regular basis walking the streets. Most people in Seattle commute not by cars but by other means. And we need our police officers on bicycles, on foot patrols. And not just one or two days a week but every day of the week. Particularly in dense urban neighborhoods like Capitol Hill or First Hill."
While Murray and the Seattle Police Department hope that these changes will be beneficial in the long term, Murray also addressed the apparent increase in crime around the Central District and Capitol Hill areas that has attracted attention from the media and Seattle U students alike.
"In regards to the current problem, we have increased patrols in that area and police presence in that area and of course they are investigating this," Murray said. "But we have to take it a step further which is why I mentioned actually looking at different methods of policing. The other challenge the court has given us is that the police department doesn't do a very good job of using technology—of tracking data and looking at patterns. And that's one of the ways that you can identify a neighborhood that's having problems earlier on and move to do something about it."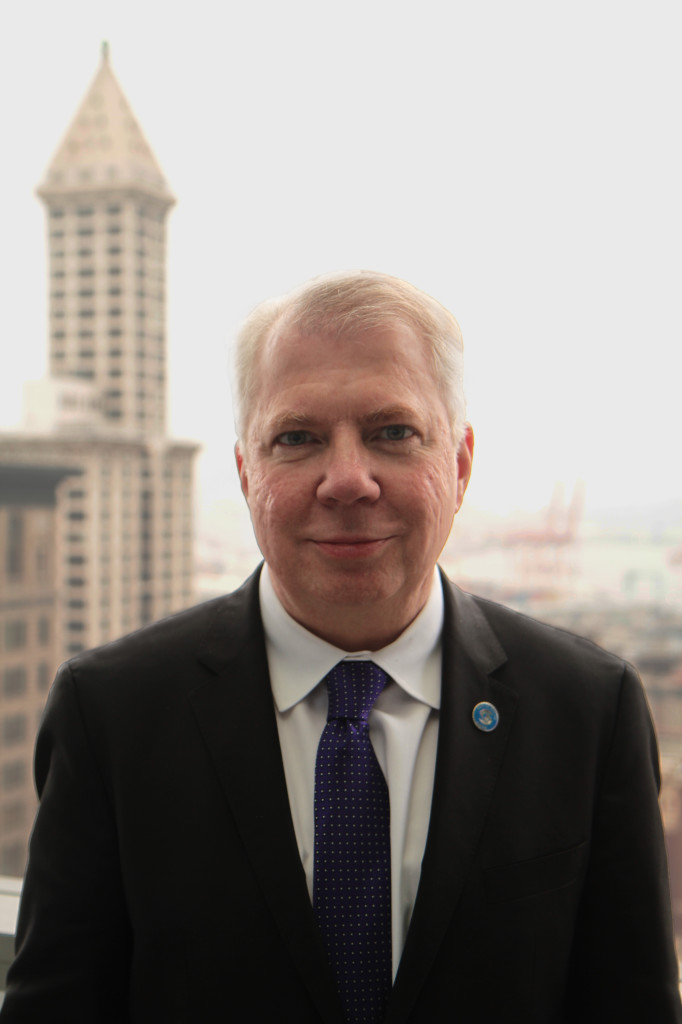 Seattle's new mayor, Ed Murray, met with The Spectator to discuss issues of public safety and the minimum wage debate.
Another issue that many Seattle U students are experiencing firsthand is that of affordable housing. Upperclassmen hoping to move off campus have probably found that affordable housing is hard to come by in a popular neighborhood like Capitol Hill. And it's not just college students, but many Seattle residents living off of working wages as well, who are dealing with this problem.
"When I ran the campaign this last year, one of our themes was that of having an affordable city," Murray said in regard to the rising cost of living in Seattle. "A city not just for the wealthy but a city of people who live here and want to work here. And we're attempting to deal with that on several different levels."
Some of those main levels are the minimum wage, access to affordable housing and programs that would begin to build what Murray refers to as "workforce housing"—housing specifically aimed at lower income families and people. According to Murray, Seattle gave out close to 9,000 housing permits last year—one of the highest numbers ever.
"But we don't mine that data," Murray said. "We don't look for trends, and it's only after the fact that we saw that most of the rentals that were proposed to be built are high end. And there's a lot that we can do if we know what's happening in our city."
Murray also gave insight on the possibility of increased popularity of aPodments, or microhousing. These offer an inexpensive housing alternative for those who are willing to sacrifice a large living space for an affordable option. Critics, however, worry that the aPodments will create infrastructure problems.
"Some neighborhoods in Seattle can handle more density, and more density will help with the costs, but we need the density with the infrastructure," Murray said. According to him, the areas around Seattle U are the neighborhoods that have to walkability to maintain high density housing. The goal is to figure out how to make just housing available and affordable throughout the city.
"I think this comes down to an affordable city. The idea of livable wages, the idea of being able to afford to live in the city," Murray said. "I grew up in a working class family in the city and there were seven kids in my family, and our parents were able to own a house. That's not true today. That's not good for this city. When we talk about diversity we need to also remember economic diversity. As someone who goes to mass at St. Ignatius at Seattle U, the Jesuit principles and Ignatian spirituality about helping those in need, about giving to others, are personal values of mine that I would like us to translate into public policy—that we really do concentrate on those who are trying to make their way up in this city."
When asked about how his goals have changed since the election, Murray said that the core goals he promoted during his campaign are still a priority today. Specific strategies and planning, however, have changed slightly based on what Murray has learned from his experience.
"I think that the issue of public safety, reforming our police department, adding more police officers, choosing a new police chief, and changing the way we do policing, is far more time consuming than maybe even I realized," Murray said. "Many of our departments need to be reorganized. We're in the process of reorganizing our civil rights department, completely revamping our immigration office, completely revamping our human services offices, and these are offices where there is a lot of confusion and we need to streamline how they function so that they can actually serve the people who they need to serve.
"We knew that there were problems there, and there have been more problems there than we realized. But generally the idea of the affordable city, public safety, a city that's a leader on the environment, those remain the top priorities for this administration, in addition to having a discussion about what we are going to do with the high rates of immigrant students and minority students dropping out of our public high schools and not graduating.