Student Artists Won't Draw From SU Funds
Outside of the art department at Seattle University, there are not very many places for student artists to display their own artwork for the student body to see. Last April, current junior Kaya Payseno was given the opportunity to showcase some of her artwork in Xavier Global House and soon other students wanted the chance to show off their work as well.
"Others approached me and asked about me displaying my art in Xavier," Payseno said. "I was able to do it by chance, but there wasn't a place for students to go to have art displayed in a meaningful way. There was a void in the artistic community."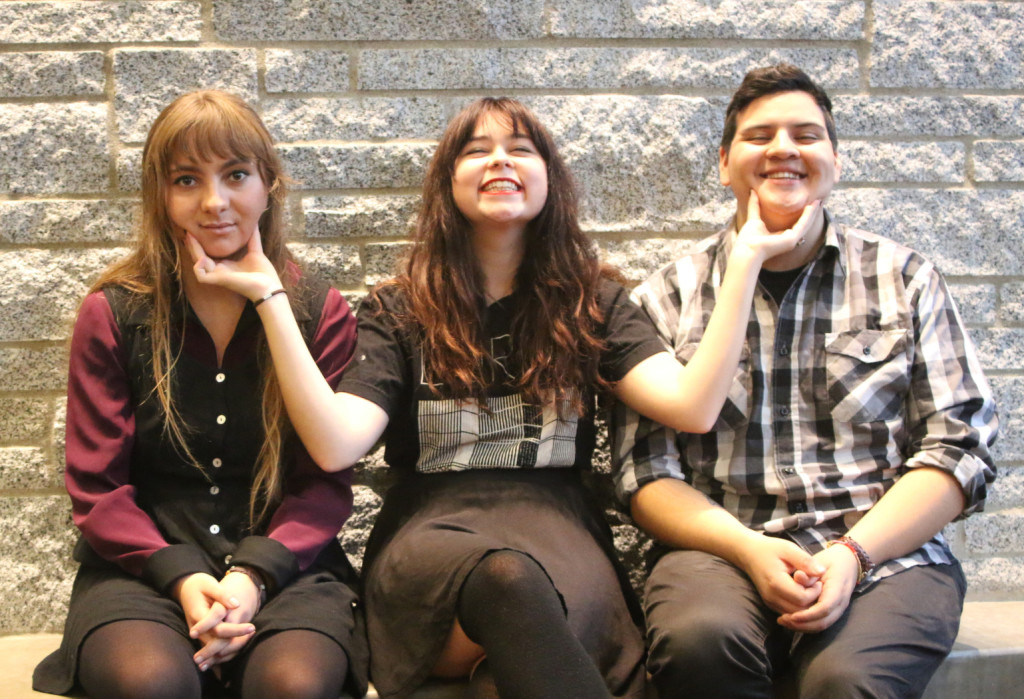 Although the collective —including sophomore Gabriela D'Elia and juniors Kaya Payseno and Axel Villa — has chosen to not be affiliated with Seattle University, Yours in Art has many ideas in the works for the coming year.
Soon after, enough students got together and the art collective now known as Yours in Art was formed. Their goal was to allow students with a passion for art to showcase their work for an audience by putting on events either on or near Seattle U's campus. During spring quarter of 2013, the collective held two art shows.
"One was in the Xavier basement. It was a fundraiser with chili, art and live performances," said member Taylor Gawlik. "The other show was at one of our houses where we displayed student art."
Although the group is comprised of Seattle U students, Yours in Art is not an official club affiliated with the school.
"[That] was a conscious decision." said junior Axel Villa. "I'm not saying it's a bad thing for organized clubs [on campus], but there are a lot of restrictions."
"We want to have an independent spirit. We want the art to be something that people really care about and are interested in rather than something that's set up. Because we are not part of the school, we can have the freedom to do what we want," Payseno said.
The group held their first event of the new school year on Oct. 25: a "Bring Your Own Pumpkin" fundraiser, which consisted of a pumpkin carving contest with prizes for the top three.
"We had the fundraiser to get our year in the making," said sophomore Gabriela D'Elia. "It gives us future opportunities for shows."
The collective plans to make the most of their opportunities with plenty of events over the year. Next quarter, they hope to host a Female Musicians Night and, toward the end of the year, they would like to do something theater-related such as a play reading. Along with these events, the group hopes to publish a small magazine that will be released following some musical or spoken word performances.
The next opportunity to experience Yours in Art will be next Friday, Nov. 22 when they will be putting on "The Undead Art Show: Bring Your Art to Life." It will be held at 6 p.m. in the Student Center and is the first of the collective's art shows with an actual theme.
The artists will be taking people and turning them into their very own artwork. "It will be art that incorporates the human body. It may be an actual body or depicting the human form," Gawlik said.
The group is currently looking for artists to submit their work and ideas for the show.
By forming this art collective and putting on shows, the group hopes that in the future, students will have more places on campus to utilize in displaying their art and that Seattle University will become a bigger part of the Capitol Hill art scene.
"We want to see the Casey building become a space for rotating student galleries. That would be our overall goal for this year," Payseno said.
Gawlik echoed these sentiments. "We are asking for space to open up more opportunities," she said.
As of right now, there are no set plans for future years of the art collective at Seattle University.
"It might be carried on by people here or we will take it with us to the outside world as it can connect with more people than just those at SU," Payseno said.
There are plenty of ways to get involved with Yours in Art. People can become members, volunteer, or simply bring their art to be displayed at an event. If anyone is interested in becoming involved with the collective or participating in their next art show, contact a member or "like" Yours in Art on Facebook.
Leave a Comment