Mike McGinn, Seattle's current mayor, is known for supporting the people and the environment and has a faithful following of supporters to help him win the upcoming election.
McGinn made himself a household name in Seattle early in the 2009 mayoral race by promoting himself as an opponent of the infamous proposal to replace the Alaskan Way Viaduct with a tunnel. The tunnel replacement would be a major issue throughout both McGinn's campaign and his time as mayor.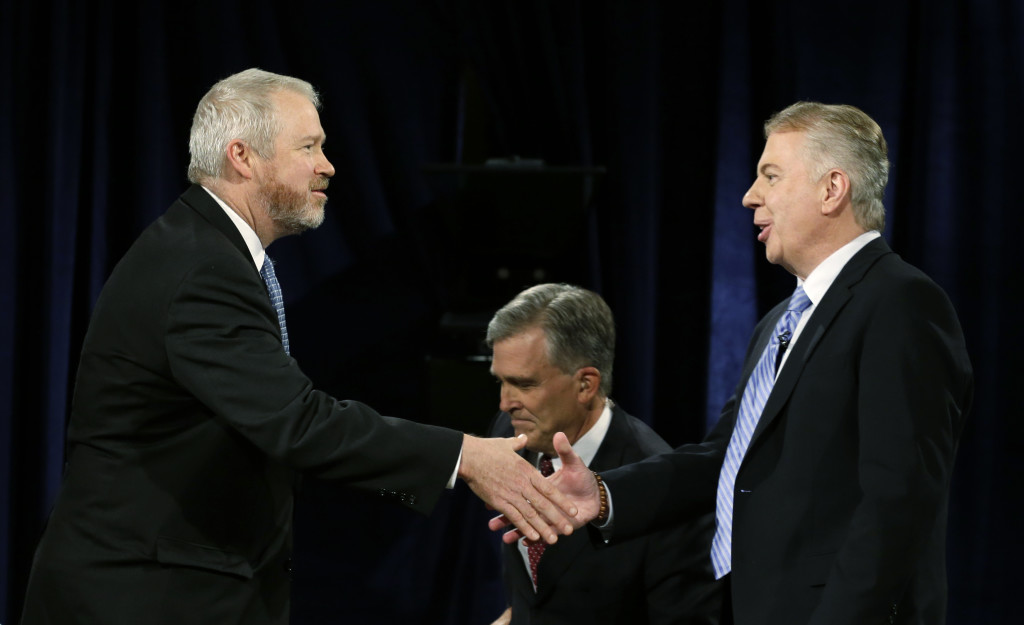 Seattle Mayor Mike McGinn, left, shakes hands with State Sen. Ed Murray following a debate in their race for mayor Wednesday, Oct. 9, in Seattle.
McGinn changed his stance to reluctantly support the tunnel project just before the 2009 election, but repeatedly attempted to shut down the project throughout his term as mayor. The issue was finally put to rest by voter approval of the tunnel.
Another highlight of McGinn's career is his proactive environmentalism. One of McGinn's key supporters is the Sierra Club, a well-known national environmental organization.
In addition, much of McGinn's time as mayor was spent working to reduce the number of cars on Seattle streets by promoting biking and increasing the number of bike and bus lanes in Seattle.
As far as the 2013 election goes, McGinn's stance on current issues might determine his fate in the upcoming election. McGinn supports expanding Light Rail throughout the Seattle, which he plans to fund by voter approval. McGinn is also a strong proponent of increasing pay for low-income workers. As mayor, McGinn supported the move to require paid sick leave for all employees, but set no firm plans for increasing the minimum wage. McGinn also drew attention during the elections by preventing construction on Whole Foods in West Seattle because of the company's non-union status.
Crime is another issue that has gained increasing attention throughout Seattle and McGinn has made clear his support for working on reforming the Seattle Police Department after recent controversy with excessive force.
McGinn, however, claims that crime in Seattle has dropped and has shifted his crime focus to promoting social services rather than harsh punishment for low-level offenders. He has also created controversy over his disagreements with the Department of Justice over reforming the Police Department.
McGinn supports building low-income housing throughout the city. In addition, he has declared his support for tent encampments, which were recently shut down by the city. McGinn claims that his accomplishments as mayor and vision for Seattle prove that he deserves four more years in office.
Ed Murray gained Seattle's attention with his adamant support for gay marriage and his experience as a well-liked state senator. Highlights of his campaign include his idea to hire 100 police officers as part of the Police Department reform and to fight crime in downtown Seattle.
Murray is in the lead with campaign financing, with $682,060 raised in total compared to McGinn's $415,367. In addition, Murray came out on top with voter approval after the first televised debate, taking 52 percent of votes to McGinn's 32 percent (about 15 percent were undecided) according to a poll by SurveyUSA.
Murray receives heavy support from the corporate sector, drawing much of his funding from groups like the Chamber of Commerce.
However, voter confidence should not prevent Murray from showing support for specific issues as election day draws nearer.
Like his opponent, Murray also supports expanding Light Rail in the city, but plans to finance the project by rearranging current transportation spending rather than raising more money. Murray has demonstrated his support for a higher living wage through his work in the Senate, and has proposed that the city aim for a $15 minimum wage.
Murray has taken a firmer stance than McGinn on fighting crime in downtown Seattle. Like his opponent, Murray has agreed that work needs to be done to reform the Seattle Police Department.
However, Murray is differentiate by his opinion that violent crime in downtown Seattle is a major issue that needs to be addressed by arresting low-level offenders.
Murray agrees with McGinn that low-income housing for Seattle homeless is a priority. Unlike McGinn, however, Murray does not support expanding tent encampments. He criticized large housing projects that are not to scale with neighborhood size.
Here on Capitol Hill, Murray gained publicity with his opposition to the Opportunity to Dance Tax, which would have affected local club and dance venues such as Century Ballroom.
Another of Murray's proposals is to focus on domestic violence by restoring the Office of Domestic Violence Prevention and creating a Family Justice Center. He rivals McGinn in his support for the environment, and promotes education and ending teen homelessness. Murray claims that his experience, vision, and values would make him a great mayor of Seattle.
Another race to watch in the upcoming election is the showdown for a City Council Seat between 16-year incumbent Richard Conlin and newcomer Kshama Sawant.
Sawant, an economics instructor at Seattle Central Community College, is a socialist candidate.
Sawant claims that Conlin is too conservative.
Sawant is a controversial figure. She was arrested in July while protesting an eviction in South Park and, according to The Seattle Times blog, was accused by Conlin of "a 'lack of civic engagement' because she registered to vote two years after becoming eligible."
Sawant's most prominent platform point is her fervent support for a $15 minimum wage in Seattle. She claims that she's "been calling for the $15 dollar [wage], as The Stranger has pointed out, way before it was cool."
As far as keeping up good communication with the mayor, Conlin argues that his experience gives him an advantage in creating an environment of collaboration between the mayor and the City Council. Conlin also supports the $15 minimum wage by examining the SeaTac model. Sawant, however, has argued that Conlin did not support higher minimum wage in the past and only recently changed his mind.
Two important measures on the ballot this November, Proposition 1 and Charter Amendment 19, are intended to improve City Council Elections. Proposition 1 is supported by several members of the current council and would use taxpayer money to match private donors in publicly financed campaign programs.
The reasoning behind Proposition 1 is that increased finance will increase competition in elections. However, according to The Seattle Times, "A March 2013 evaluation by the Seattle Ethics and Elections Commission found little evidence to support claims that public financing increases competition in elections. Even if more candidates run, the commission's experts found challengers regularly lose."
Essentially, Proposition 1 uses taxpayer money to fund campaigns without giving voters the chance to decide who their money is going to support. In addition, it makes it easier for incumbent City Council members with established campaigning networks to gain access to this money, while challengers will have a more difficult time benefitting from the tax levy.
Charter Amendment 19 also affects the Seattle City Council. With the current system, all Seattle City Council members are elected "at large." This means that certain areas of Seattle, especially those in which no council members live, do not have an active voice on the Seattle City Council. Charter Amendment 19 proposes a new plan in which council members would be elected in a 7-2 model, with seven representatives for each of seven districts in Seattle, and two at-large representatives. The district boundaries were determined by Richard Morrill of the University of Washington using the 2010 census. The boundaries will be adjusted every decade using census data.
Initiative 522 is another of the most talked-about initiatives on the November ballot. I-522 would require labeling of genetically modified(GMO) food. Supporters of the initiative claim that labeling of GMOs allows consumers to be educated about purchases.
"In our wired community," write Andrew Stout and Luke Esser, guests to the Seattle Times, "We count on easy access to reliable information to make many important decisions in our lives. In the grocery store, we are able to make informed decisions about whether to buy groceries with natural or artificial flavorings, or fish that was farm-raised or wild-caught, because these products are labeled in these ways."
Initiative 522 would expand consumer knowledge by clearly labeling GMOs, though debate still continues within the scientific community about whether or not these substances are harmful. Opponents of the initiative claim that 522 would raise prices of food, but there is little evidence to back this claim.