Growing up in the Midwest is hard enough. Add in an alcoholic mother struggling with a cocaine addiction, a stepfather who's a little too friendly, and a grandmother who runs a drug business when she isn't stripping, and "hard" doesn't really do the job. For 13-year-old Bo-Nita, life is anything but easy.
At a glance, "Bo-Nita," the new play currently showing at the Seattle Repertory Theatre, seems like it's all about the essentials. It features a single set—nothing more than a park bench, a basketball hoop and a bike rack—and only one character for a runtime of 90 minutes. No intermission, no scene changes and no pausing until the play finally ends. That's about as far as the simplicity goes, though–in that short time frame, young Bo-Nita takes the audience on an explosively comedic and tragic journey through the lives of seven Midwestern vagabonds and delivers one of the most vivid performances theatregoers will probably see all year.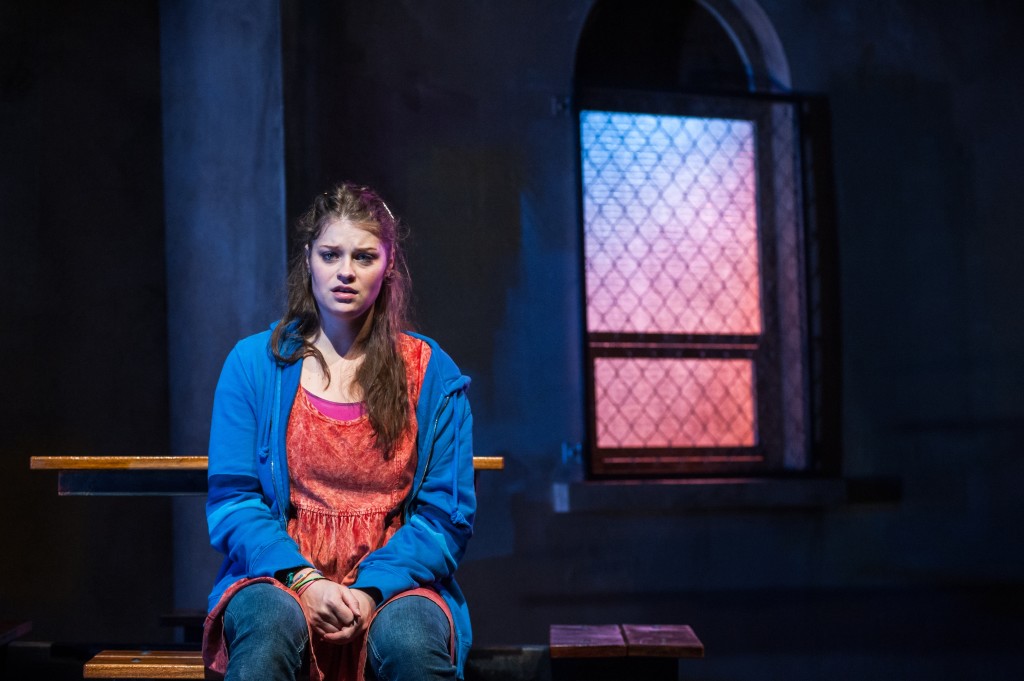 Hannah Mootz rules the stage as Bo-Nita, a quick-witted midwestern girl with a knack for storytelling and impersonating her absurd family.
The play, a one-woman show, begins at a nondescript location and the girl wastes no time in lambasting the audience with the story of her life, focusing on a time when she and her mother had to deal with her stepfather's 300-pound corpse. As she does so, she bounces around to other moments of her life, embodying every other character along the way. By the end, we've been tugged along by Bo-Nita through the most tragic and hilarious moments of her life, oscillating between the 13-year-old's boundless wit and injured vulnerability.
From the very beginning, it's obvious the play is about more than just a young girl telling stories. Bo-Nita voices and acts out every character, giving each a unique dialect and set of movements, as she recounts the different interactions she has with her absurd, drug-running family. On account of this, the bulk of the play's work is placed on actress Hannah Mootz, a 2011 Cornish graduate. This performance marks her first at Seattle Rep and it will be a hard one to beat.
Mootz's performance here is absolutely incredible. By the time you've seen each impression, there's no need to explain who's speaking at any given moment. It's so well-done that viewers may find themselves forgetting–as she screams at Bo-Nita as her mother Mona, then switches to her bumbling stepfather, and then back to the young girl again–that they are watching a single actor on stage.
The approach is an astounding testament to the power of the imagination. While Bo-Nita never changes from her frayed pink dress, ratty sweatshirt and baggy jeans, I always had a surprisingly vivid image of each character in my mind.
Director Paul Budtraiti's use of visual and audio queues to let the audience know that we're jumping to another moment in time ensures that we never lose track of the plot. During Bo-Nita's fits of rage, the stage is bathed in red; when she recounts some fond memory of her mother, a projection of clouds meanders on the cement wall behind her. Considering that the set never changes, and Bo-Nita has to explain most of the action to us, the play never becomes boring or alienating.
Aiding in this is that fact that Mootz leaps and bounds to different parts of the stage—accompanied by what sounds like a rewinding VCR—during these transitions.
Of course, even Mootz's outstanding acting would count for nothing if the script by Seattle playwright Elizabeth Heffron wasn't as good as it is. According to the play's program, Heffron grew up in St. Louis with her mother until she was 10 years-old and continued to visit the city every summer as she grew older. The effect of this makes Heffron's characters cantankerous and lovable, despite the fact that most are equally self-pitying and morally questionable.
Heffron's vagabonds are particularly Midwestern and hilarious, but never to the extent that they become over-embellished caricatures of the region. It's obvious that, despite their often terrible treatment of young Bo-Nita and their absurd claim at the American dream, Mootz and Heffron want us to empathize with these characters and the actor delivers just the right lines to humanize them. Mootz makes no excuses for their behavior, but injects them with enough kindness to keep the audience away from simple judgments.
The show will be playing at Seattle Rep until November 17, with tickets priced from $12 to $65. If you see any performance this year, make sure it's this one–you won't be disappointed.