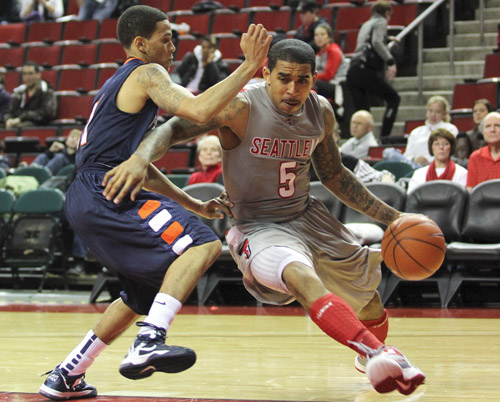 The Seattle University men's basketball team fell in another close game against University of Texas San-Antonio 78-75 Thursday at KeyArena. UTSA started the game fast, stretching the lead to 14 with 10:31 remaining in the first half. Seattle U was able to cut into the deficit, only trailing by seven at the break.
Seattle U continued the momentum after the break, often cutting into the lead before it would stretch back out again. However, with just over six minutes to play in the game, Seattle U went on a run that saw them tie the game for the first time since tip. Seattle U was made to rue their miss chances though, as UTSA made the most of Seattle U missed opportunities.
One positive, however, was the effectiveness of the Seattle U press against UTSA. The Redhawks forced UTSA into tough shots and turnovers throughout the second half, allowing them to cut into the lead, often utilizing a smaller, guard-heavy lineup to counter the UTSA guards.
"It was something we wanted to do because we wanted to press so a small line-up would help move up the floor faster and double faster," said forward Deshaun Sunderhaus.
Michael Hale, a Federal Way High product, had a career night for UTSA, pouring in 35 points in 39 minutes, more than double Sunderhaus, the highest scoring Seattle U player. Sunderhaus finished the night with 16 points on 7-14 shooting, but couldn't make the difference for the Redhawks, who were plagued by late mistakes.
"You have your chances, and it's one of the nights where not only can you not put it in the hole, but you can't even get it up to the hole," said head coach Cameron Dollar. "Too many times we got turnovers or made good defensive plays and then came up empty on the other end."
Guard D'Vonne Pickett was next for the Redhawks with 14 points on 6-8 shooting, including the driving basket that tie the game at 65. He also kicked in seven rebounds, a category that the Hawks won 43-34. Forward Clarence Trent had nine points and 
eight rebounds.
Neither team was able to take care of the ball, Seattle U and UTSA lodging 20 and 18, respectively. The difference maker, however, was the amount of times UTSA got to the free throw line, totaling 32 attempts to the Redhawks 23, making 22 to 14 for Seattle U. Hale led the way, making 16-17 attempts, including six straight to end the game.
The Redhawks went into the weekend game 1-7 in the WAC and were unable to add to the win column, falling 86-83 against Texas State. The win marked the fourth time in the last five losses that the team has fallen by less than seven points.
Next action for the men's basketball team will be against San Jose State at KeyArena on Jan. 31.
Kevin may be reached at [email protected]